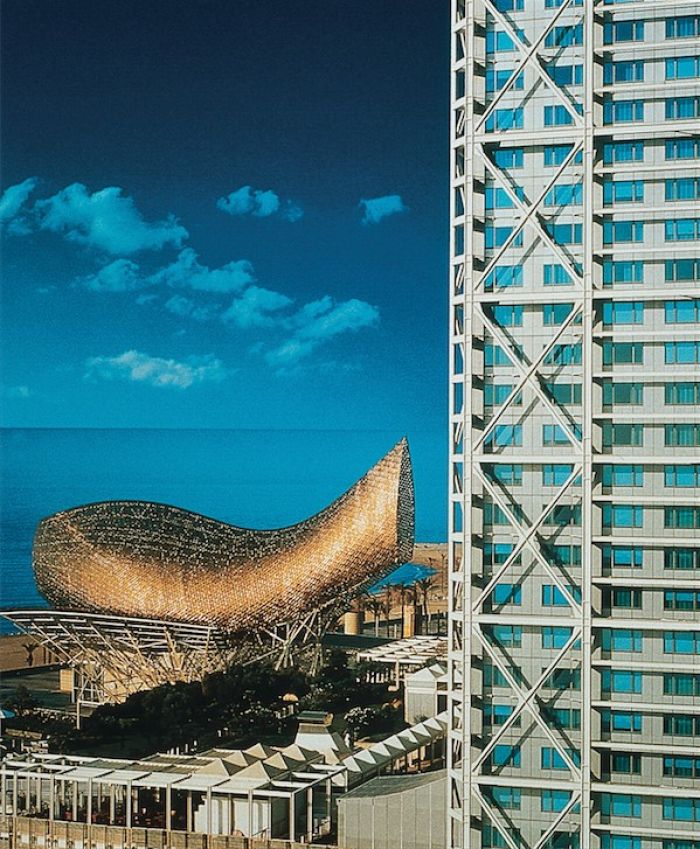 Hotel Arts Barcelona
Frank Gehry is celebrated internationally as a legendary architect, who bends the rules of construction, resulting in masterpieces unlike anything created before or since. His swirling metal structures have been known to increase urban pride in the various cities where his work is housed, one such city isBarcelona. The Peix Sculpture, meaning fish in Catalan, is iconic and synonymous with the city ofBarcelonaand Hotel Arts Barcelona, whose grounds it graces. In honor of the Gehry's legendary, golden fish envisioned 20 years ago, as well as in celebration of new Gehry structures opening in Panama, Pars, and Sydney, Hotel Arts Barcelona is introducing "A Suite with a View" as well as a limited edition Frank Gehry Cocktail menu.
Hotel ArtsBarcelonais a luxurious retreat perched on the shores of theMediterranean Seain the heart of the city's Olympic Village Area. "A Suite with a View" will provide guests with a scenic angle and unique views of the Peix structure from the comfort of their room, set against the backdrop of theMediterranean Sea. For those in search of the full Gehry experience, a trip to Frank's Bar, named after the icon, will surely complete the experience. Hotel ArtsBarcelonahas crafted a menu to highlight both personal aspects of the usually very private Gehry's life, as well as the various urban locations which Gehry's architecture has impacted, affectionately including a tribute to his wife Berta with Bertita Margherita.
As for cocktails sculpted around his architectural impact, the selected cities featured on the cocktail menu includeBilbao,Panama,Barcelona,Paris,Los AngelesandSydney. Each tempting cocktail has been carefully crafted and planned to reflect the location from which it is named.BilbaoSpainalone draws millions of visitors a year, over a million due to Gehry's futuristicGuggenheimMuseum. The cocktail corresponding to the city proudly incorporates regional ingredients such as strawberries and Etxeko Patxarana (a classic Basque liqueur made nearby inNavarra,Spain.) TheBarcelonacocktail also picks up on regional tasting notes and is constructed around a base of Spanish Gin Mare. The Sydney inspired selection incorporates lime and Cointreau, a variation on a tart cocktail (the Cointreau Blush) which has been on the rise at Sydney happy hours in recent summers. Similarly on the rise, Gehry'sUniversityofTechnology,Sydneyis about to pop up on the city's skyline, adding to the list of cultural centers Gehry has impacted.
As evidenced by the name of the hotel, Hotel Arts Barcelona is an excellent destination for arts enthusiasts with its spectacular collection of Spanish contemporary art and luxurious amenities.
http://www.ritzcarlton.com/en/Properties/Barcelona
http://www.hotelartsbarcelona.com
Hotel Arts Barcelona
Peix Sculpture and Gardens
Hotel Arts Barcelona
Frank's Bar
Hotel Arts Barcelona
Room with a View
Hotel Arts Barcelona
Bertita Margarita