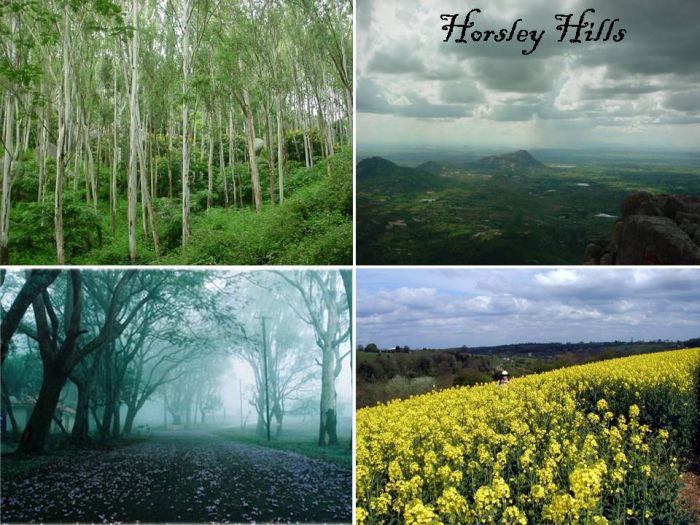 Horsley Hill Station Tour
Horsley hills fall in Andhra Pradesh State offering as best hill station destination for nearby located hustle bustle town. In past few days, this place has gained lots of attractions of travelers, picnic makers, leisure travelers and many more. This place is a perfect one to have a best time out form busy scheduled time. It is very closely located from Bangalore and Hyderabad and many other cities of Karnataka and in Andhra Pradesh, turning into most visited place for weekends and family out excursions. Maximum number of peoples from Bangalore and Hyderabad ways to this place for having a joyful time out and weekend picnic.

Horsley hills is located on an altitude of 4100ft. from ground level. This hill is fully covered with heavy planted trees like; Eucalyptus, Jacaranda, Mohogony, Gulmohar, Sandal wood and many other. The lush green surroundings and cool breeze environment makes it a beautiful one and gives a panoramic view to valleys and down regions viewed from this hill. It's beautiful environment soothes mind and relaxes it from all day workout and activities. This hill also gives adventures options like trekking, running bungee, horizontal ladder and many other such adventures activities.

For perfect enjoyment and time making, Horsley hills offer a good accommodation by having resorts and other Accommodation places nearby in Hyderabad. The Tourist Destination is very near to Hyderabad that's why people pre reserved the hotels in Hyderabad to reach These are perfect for family travelers and other leisure travelers. Andhra Pradesh Tourism Corporation is taking various steps to enhance this point for a best gateway to weekends and have a good time from daily workout and harassment.

To know more about Hyderabad Tourist Attraction Contact us:
Street    : N-161, Gulmohar Enclave, Community Center, New Delhi - 110049, India
Call Us  : +91-11 - 49814981
Fax Us  : +91-11 - 49814999
Mail Us  : info@heritageindiajourneys.com