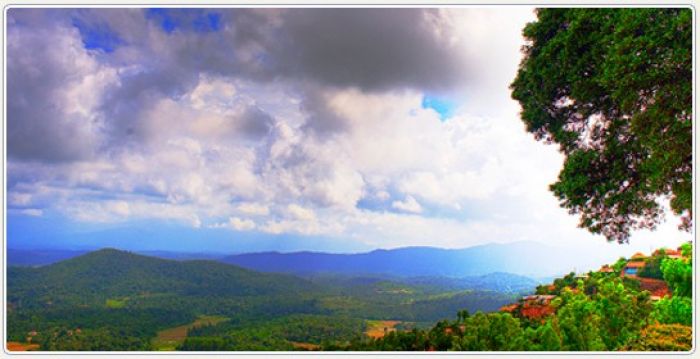 Coorg may not be a very popular destination but it is one of the best places to visit where you can enjoy a great holiday in the company of nature. It offers something for everyone and is located at a distance of just 150 km from Mysore. It is well known for its coffee, cardamom, pepper and beetle nut estates that attract a large number of people. There are a lot beautiful places in Coorg where you can discover a lot of new things and it is fondly known as Kodagu and it is one of the most beautiful hill stations located in the Western Ghats region. You can enjoy hiking trails, waterfalls, woods, forests and delicious cuisines at this serene and captivating hill station.
Coorg is located at a height of 1,525 meters from the sea level and it is a different world in itself. It has a quaint and old world charm with old houses full of teakwood that lends it a unique feel of its own. There is a famous Buddhist monastery known as Namdroling Monastery that was built in the year 1963 which is known as the Golden Temple. It has more than 5,000 monks living together and offers mesmerizing views of old pagodas and monks meditating peacefully. You must try your hand at the Tangkha paintings and must taste Tibetan food like delicious momos and their mouth watering noodle soup known as thugkpa.   
There are a lot of home Stay Options Bangalore, where you can stay and also get a chance to enjoy authentic food and enjoy some refreshing walks in coffee plantations. Though you can visit Coorg all round the year monsoon season provides it a great charm and it is the best time to come here. Some nice places to visit are Abbey Falls, Rajiv Gandhi National Park and the Naalkunaadu Palace built in the year 1792. You will surely enjoy a visit to Coorg and have some great memories to cherish.