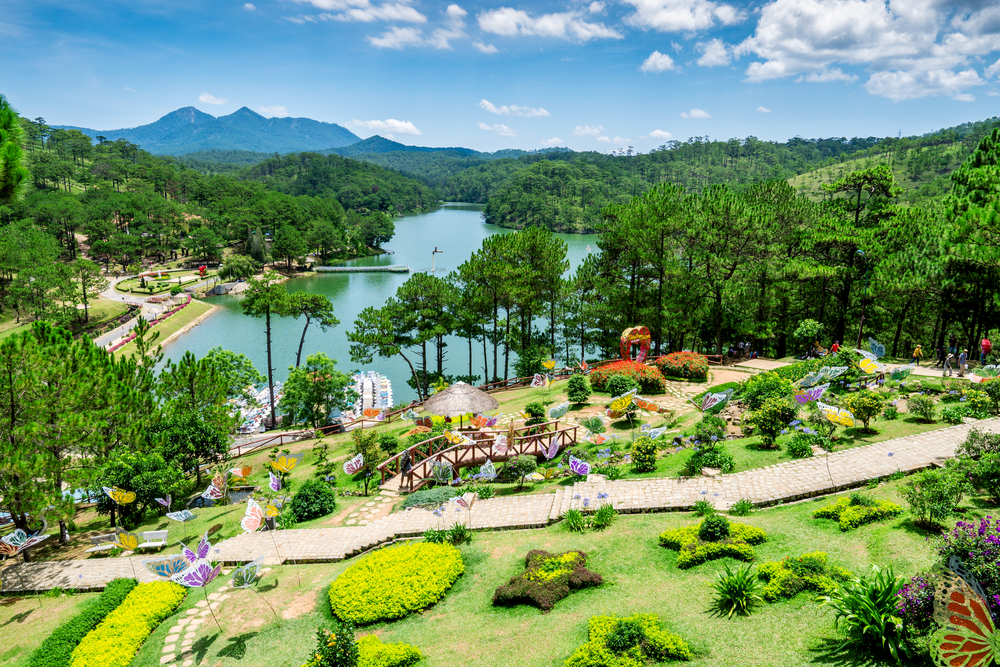 Photos Credit: Shutterstock.com
Dalat
Dalat is located in the south central highlands of Vietnam, sitting at an altitude of 4,921 feet above sea level. Known unofficially as "The City of Eternal Spring," Dalat also lays claim to the title of "le Petit Paris." With the cool European climate and the rolling mountainous, pine-treed terrain, Dalat became the summer hill-station retreat for royalty and high society. Dalat is the destination of choice for honeymooners. Smiling young couples drift across Xuan Huong Lake in paddle boats shaped like giant swans, while brides in flowing white dresses clamber aboard ponies and pose for photos. Romance is also in the air at the city's various flower gardens, including an amazing orchid garden where visitors can see rare blue orchids. More utilitarian, but equally colorful, is the town's central market, overflowing with fresh-cut flowers and an incredible variety of fruits and vegetables. No matter when you visit, spring will be in the air.
Phu Quoc Island
Being a new destination in Vietnam, Phu Quoc Island now is one of the most attractive spots for international and Vietnamese tourists. It is not hard to see why many tourists are boasting of the splendid natural beauty and untouched remote beaches of this spectacular tropical island. To honeymooners, an escape after a long worried and busy wedding process is essential. Phu Quoc is the best choice where a couple can relax on a remote and stunning beach, enjoy a delicious romantic dinner and drinks at one of the restaurants and enjoy accommodation at variety of hotels and resorts. Besides this, they also can experience the culture of Vietnam at the local market or join in some short trips to discover the island and its untouched natural environment, as well as taking part in a fantastic scuba diving and snorkeling.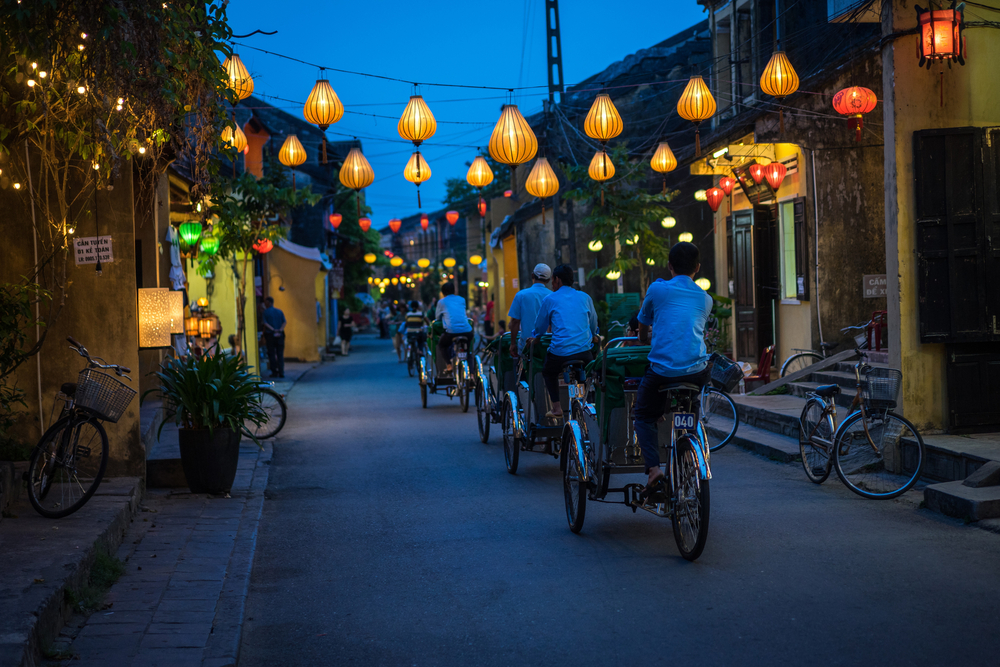 Con Dao Island
Resting in the quiet waters of the South China Sea, the Con Dao archipelago remains an unknown gem, 112 miles off the coast of Southeast Vietnam. Con Dao is a 16-island archipelago within Ba Ria Vung Tau Province, in southeast Vietnam. It is famed for its crystal-clear, blue-green waters, soft golden sand beaches, lush mangrove forests and beautiful coral reefs. Six Senses Con Dao is nestled within a beautiful secluded bay 5 miles from Co Ong airport. The resort has a magnificent beach, a beguiling one mile strip of golden sand with sloping dunes leading to turquoise waters, and the dramatic Elephant Head Mountain as a backdrop.The renowned luxury travel magazine Travel and Leisure has put Con Dao Island on the list of the top 20 most mysterious islands in the world. Getting there is easy, as Con Dao is not far from Ho Chi Minh City, which is served by many of the world's leading airlines. The transfer flight to Con Dao takes approximately 45 minutes.
Nha Trang
Consider a honeymoon holiday or romantic getaway in Nha Trang. From Nha Trang to Danang and Hoi An in the north, the central and south central coastline of Vietnam offer some of the country's finest beaches, fringed with swaying coconut palms and dotted with quaint fishing villages. Relax on Nha Trang's Tran Phu Beach, a long stretch of golden sand fronting the scenic Nha Trang Bay and bordered by forested mountains. Shelving gently into the bay, Tran Phu Beach is fringed by a long park lined with mature palm trees, colourful flowers and a range of beachside facilities, including bars and restaurants (mainly along the southern end of the beach).You can also explore Nha Trang on a cycle, visit the Po Nagar Cham towers, pamper your body with a soothing mud bath at the nearby Thap Ba Hot Springs and perhaps learn tai chi. In the evening, savour a culinary treat at one of many seafood restaurants or try the local bird's nest soup, regarded as one of the best in Vietnam. A short drive up the coast along Highway 1 lie the secluded and unspoilt white-sand beaches of Dai Lanh and Doc Let, generally frequented by local Vietnamese families. To the south of Nha Trang sits quiet, sun-drenched Hong Chong Beach. These beaches offer safe swimming and can be enjoyed on a day trip. Or head off shore to relax on the white-sand beaches of Bai Tru Beach on nearby Bamboo Island and Whale Island in Van Phong Bay.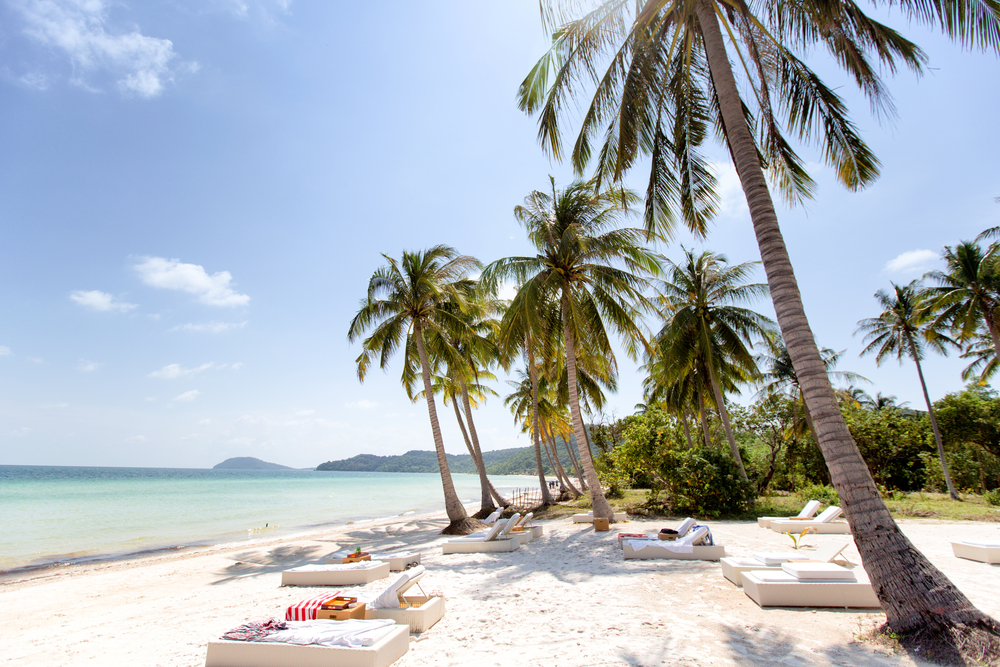 Hoi An
Ancient Hoi An is located 18.5 miles south of Danang. Hoi An used to be an international trade center in the 16th and 17th centuries. It was the busiest trading port in the Dang Trong region, where merchants from Japan, China, Portugal, Spain, Holland and elsewhere often landed for exchanging and purchasing commodities.Though this small town is very popular for summer holidays, it is also one of the most ideal and romantic place for honeymooners too. Relax on the beach, enjoy spas, wander through small streets or go cycling to discover the rural area or just join in a cooking class to experience the local culture, which will make your honeymoon the trip of lifetime.
Quy Nhon
Situated almost midway between Danang and Nha Trang, Quy Nhon is a new destination for vacationers. The landscape around Quy Nhon is dramatic and you will enjoy the beautiful sandy beaches, limestone islands, sun and good seafood.The central coastal city of Quy Nhon has both nice landscapes and an interesting history. It lies in the cradle of Vietnamese traditional martial art, classical opera and the Cham culture. Besides a series of surviving Cham Towers, the city also has beautiful landscapes and unspoiled beaches. Now travelers can reach Quy Nhon, Binh Dinh Province by air from Hanoi, Danang or HCMC instead of by train. Life Resort Quy Nhon is the finest resort for your dream honeymoon.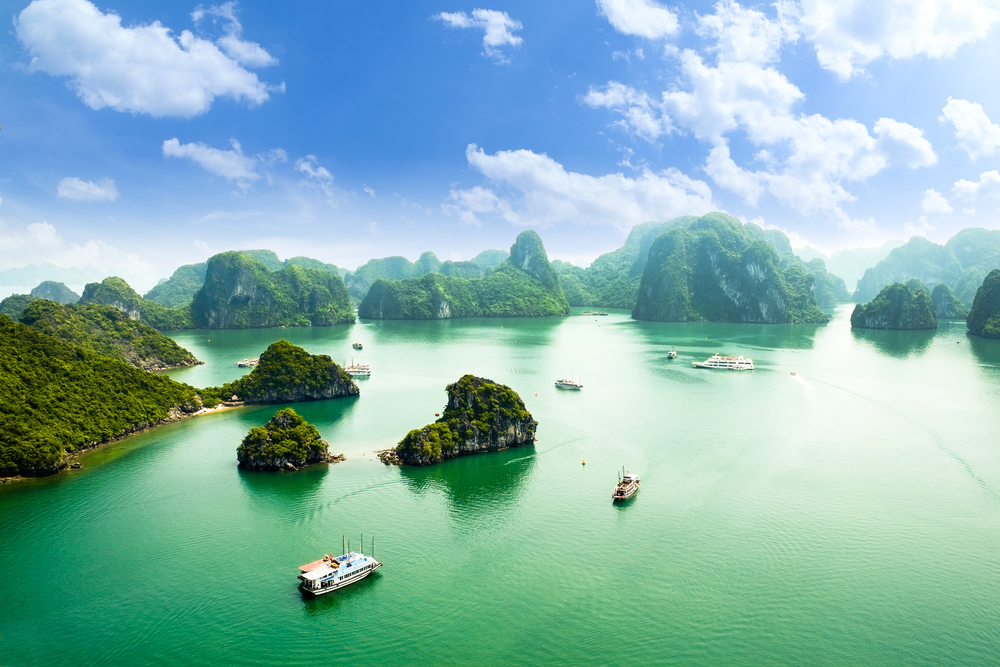 Halong Bay
Nothing is more wonderful than spending your honeymoon in a resort near the beach, enjoying the resort's luxury facilities, your private beach and totally escaping from the noisy city and work. Officially recognized as one of the New Seven Natural Wonders of the World in 2012, Halong Bay is a must-see on anyone's itinerary for Vietnam, thanks to its turquoise water and thousands of jagged, limestone islands. The best way to appreciate this magical scene is from a boat, cruising between the karst cliffs, which loom like fairytale castles, complete with rocky spires and hidden caves. Still used to for fishing, whole families live on floating villages that are easily visited. Some will even take you out on a fishing trip. It was also among Asia's top five tropical island paradises as selected by CNN.
Phan Thiet
Just a three hour drive from Ho Chi Minh City, the quiet beach resort of Phan Thiet is a perfect change of pace from modern city life. Not far from the municipal city of Phan Thiet, Mui Ne has transformed from quiet fishing village into a major surf and beach destination. Surf is the best between August and December. Expect to see kite-surfers launching themselves aloft as you sip a mojito on the beach, and all resort guests are allowed on Mui Ne beach. Ideal for those who want to walk directly from their villa onto the sand, and with a 6-mile-long beach, there is plenty of sand to go around. Ke Ga is on the other side of Phan Thiet and is getting popular with high-end holiday makers. Facing a century-old French lighthouse, the Princess d'Annam Resort & Spa is the first all-villa luxury boutique resort in Vietnam and other upscale resorts are set to open soon. Mui Ne is an ideal place for rest and relaxation for honeymooners. Sweethearts can enjoy swimming in the blue water of the sea, climbing the sand dunes or relaxing by a swimming pool. In fact, this oasis entertains people of all ages, and furthermore, provides endless inspiration to photographers and other artists.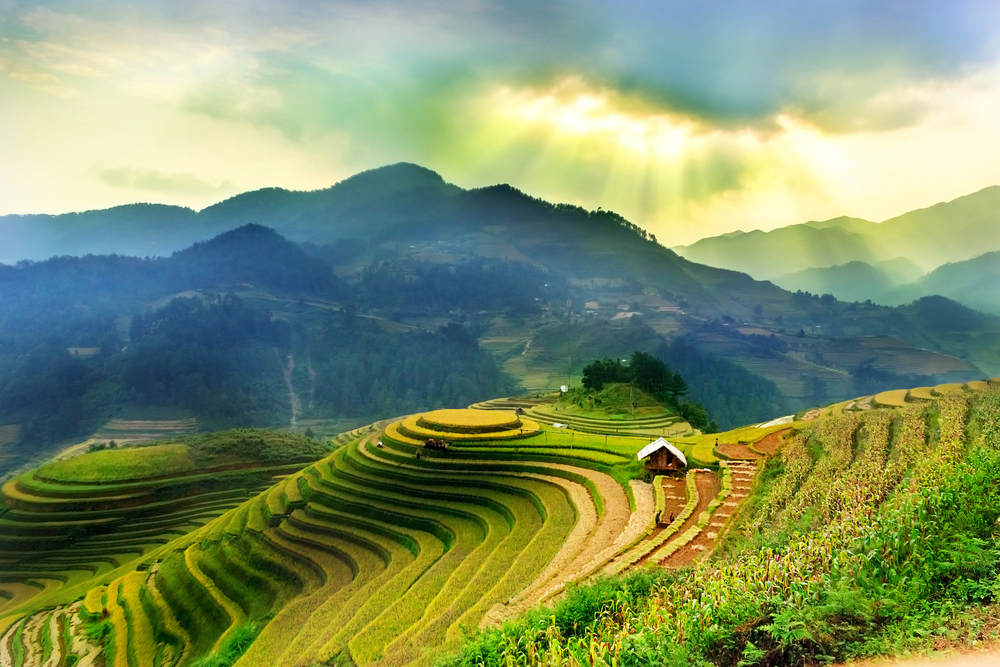 Sapa
Tucked high in Vietnam's remote northern mountains, close to the Chinese border, the former French military outpost of Sapa offers some of Vietnam's most colourful experiences to honeymooners. Vietnam's highest peak, the 10,311-foot Mount Fansipan, looms overhead, while the surrounding valleys feature terraced rice paddies and blazing green fields cut by fast-flowing streams. Layer upon layer of green ridges fade into the distance, edged by sharp, rocky peaks. The region is home to several ethnic minority groups, all wearing their traditional and colorful attire. Traveling to Sapa by Victoria Express, you can both stay in a Suite with a valley view. Dine in style at TaVan Restaurant, and do not forget your spa and swimming pool experience at the Victoria Sapa Resort.
Victoria Hotel Sapa, the most charming hotel in the area, opened in March 1998. Built as a traditional mountain French chalet with an accented wooden decor and a welcoming stone hearth fireplace, Victoria Sapa Hotel overhangs the village, blending perfectly with the natural surroundings. The Victoria Oriental Train Express offers the best of comfort and services from Hanoi to Lao Cai. The "Orient Express"-style train has one restaurant and two luxury sleeping cars with seven cabins each, all with air-conditioning.
Hue
The beauty of Hue resides in its opulent palaces, gardens and mausoleums on the banks of the Perfume River. This peaceful central city has long been synonymous with royalty, culture, spiritual reflection and romance. Enjoy your privacy amid the quietness of the former capital city. Enjoy a private beach and spa at Ana Mandara Hue in Thuan An Beach. Pamper yourself at Pilgrimage Village with spa treatments, La Residence Hotel and Spa de Hue, and if you like colonial style, stay in the oldest hotel in Hue, the Morin Hotel Hue. Take a boat trip on the Perfume River and you'll find yourself drifting past small boats bound for market, set against a backdrop of low, pine-covered hills.Occasionally, as if in a dream, an imposing royal mausoleum looms out of the trees. In this stately setting, you will discover the contemplative, solemn and tranquil side of Vietnamese culture.