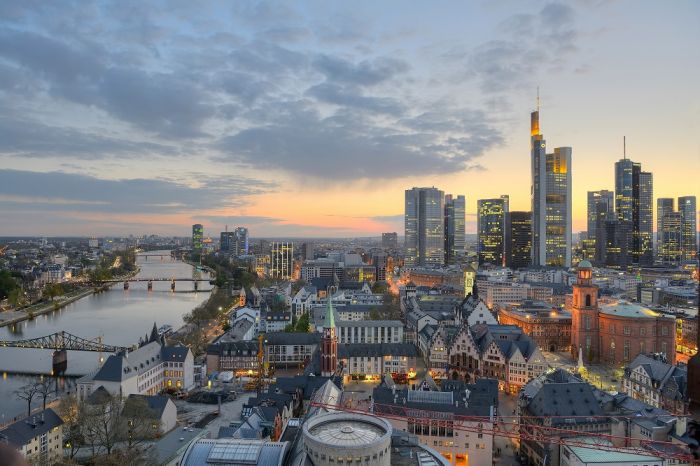 Photo Credit: Frankfurt Tourism
It isn't often that Frankfurt tops the list of Germany's must-visit cities, due to its often misunderstood reputation as a staid financial services center. One of Frankfurt's most visible distinctions contributing to stereotypes is its impressive skyline, most dramatically viewed from MaiN ToWer's rooftop observation platform. While World War II bombings obliterated downtown's original architectural treasures and footprint, they also gave the city a clean slate for reconstruction largely funded through the Marshall Plan.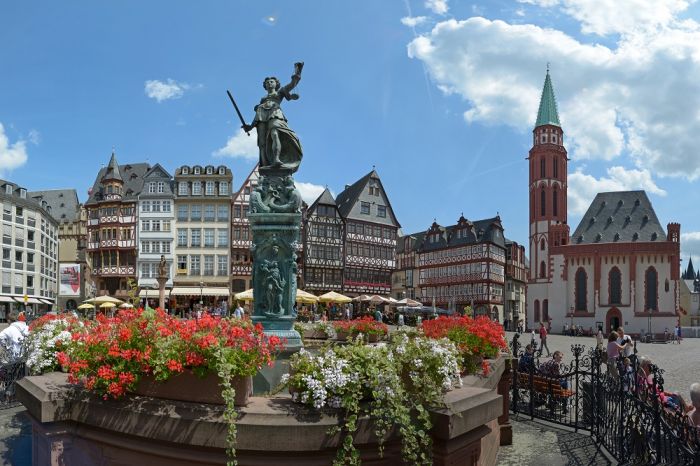 Photo Credit: Frankfurt Tourism
Thankfully, Frankfurt's historic old town and other surrounding neighborhoods' narrow cobblestone lanes, leading to small squares with fountains surrounded by ornately trimmed houses, were spared the same fate. Domrömer Quarter is currently experiencing a renaissance, with 15 original reconstructions and 20 new buildings soon opening between Emperors' Cathedral. "Dom" and Frankfurt's time-honored town hall "römer" are anchored by the Stadthaus am Markt.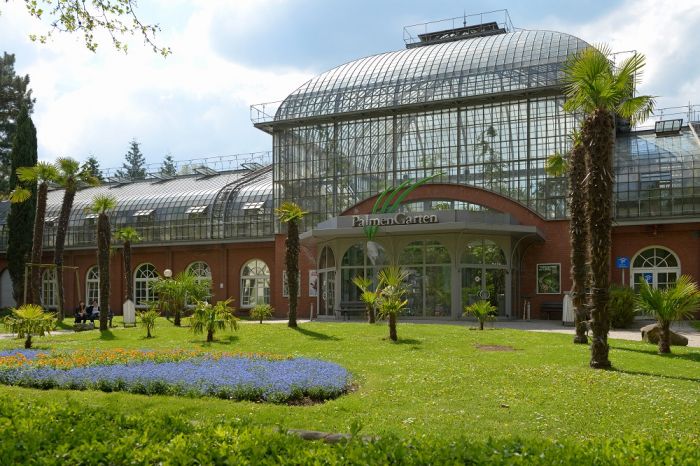 Photo Credit: Frankfurt Tourism
The city's lush, green riverfront promenade and an extensive array of parks and gardens, like Palmengarten, are perfect for cultural immersion particularly during summer. With 13 museums overlooking the River Main, Frankfurt's museum district houses extensive collections, many of them in grand, time-honored villas surrounded by lush gardens, cozy cafés, and top-rated eateries like Fujiwara and Parthenon.

Photo Credit: Frankfurt Tourism
With residents originating from more than 190 nations, Frankfurt's international status shapes the diversity of its menus. Cuisines range from Persian to Tex-Mex, but for something uniquely Frankfurt, the apple wine ritual can't be missed. While "Epelwoi pubs" are prevalent in the Rittergasse, Paradiesgasse, and Klappergasse neighborhoods, Sachsenhausen is the epicenter for pouring apple wine (Stöffche) from a traditional stoneware jug (Bembel) into glasses (Geripptes). Typically served on wooden tables flanked by long benches, you'll find yourself also ordering beef & green sauce (Grüne Soße), a creamy concoction made from seven regional herbs and reportedly a favorite of celebrated poet Johann Wolfgang von Goethe. Additional snacks like hand cheese (Handkäs) and pretzels are also sold by roving merchants who make their rounds to the various pubs.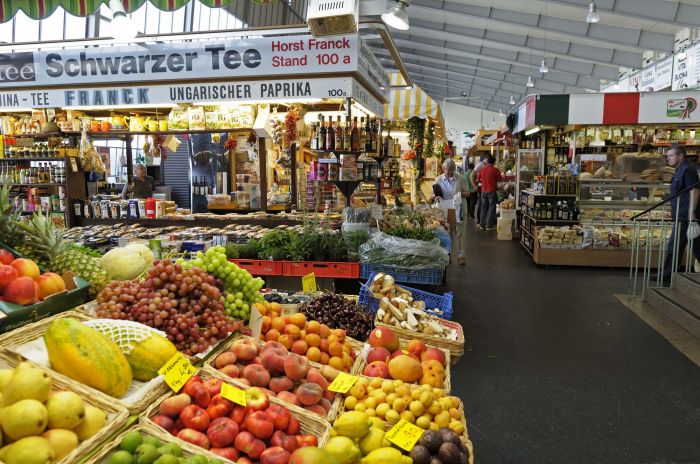 Photo Credit: Frankfurt Tourism
Getting food on the run is a snap here with indoor market Kleinmarkthalle, a culinary paradise featuring nearly 156 stalls selling a wide range of fresh foods and produce. Bauernmarkt Konstablerwache is Frankfurt's largest outdoor farmer's market. Held every Thursday and Saturday, it serves as a popular meeting place for locals doing their weekly shopping and sampling the latest regional wine vintages or sweet treats. Try the Frankfurt Crown Cake (Bethmännchen), a famous local treat made of almonds and marzipan.

Photo Credit: Innside by Melia Frankfurt Ostend
Where to Stay
Recently opened 4-star Innside by Melia Frankfurt Ostend (Eastend) was built from the ground up right across from the European Central Bank with the business traveler in mind, but is also situated and filled with amenities leisure travelers appreciate. A street car stop right outside the front door whisks you to the city center within minutes or for more further afield trips, the Ostend central railway station is just several blocks away.
Photo Credit: Innside by Melia Frankfurt Ostend
The hotel offers 168 bright, sunlit rooms and suites on six levels outfitted with wood floors and dining/living room areas perfect a quiet respite or enjoying a meal on your own. Rooms are outfitted with individually controlled air conditioning, motorized blinds, free soft drink mini bars, and open bathroom concepts with glass-enclosed tile showers.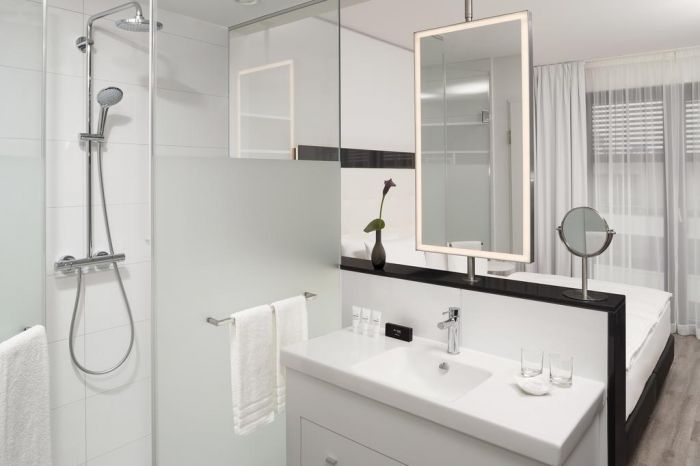 Photo Credit: Innside by Melia Frankfurt Ostend
Decor is dominated by monochrome white, black, and silver while indirect lighting creates eye-catching violet accents creating a modern vibe. A sauna, fitness area, and unconventional meeting break out space put quick productive brainstorming sessions within reach any time of the day.

Photo Credit: Innside by Melia Frankfurt Ostend
Stock Avenue 81, a hybrid blend of restaurant, hotel bar and outside terrace, provides a trendy open atmosphere of floor-to-ceiling windows overlooking street activity outside. The menu includes international crossover cuisine with a local touch, along with small plates like Stuffed Champignons or Chorizo de Pamplona Praline, perfect for pairing with their regional wine list and craft cocktails. A large video screen on the back wall, along with a sound system, transforms the space into a popular nightlife spot on select evenings.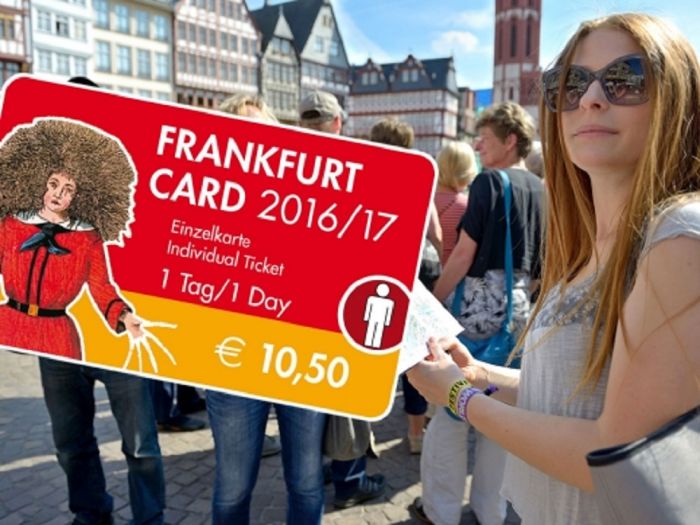 Photo Credit: Frankfurt Tourism
Best Way to Start Exploring
Guided city walks like those offered by Frankfurt City Walks are a great way to get an overview of the city before forging ahead on your own. The most hassle-free way to get around in town, as well as the nearby Rhine-Main region, is hopping on their super efficient RMV network of trains and buses. Daily and weekly passes give you an unlimited one ticket, one rate access to one timetable applicable for all routes.