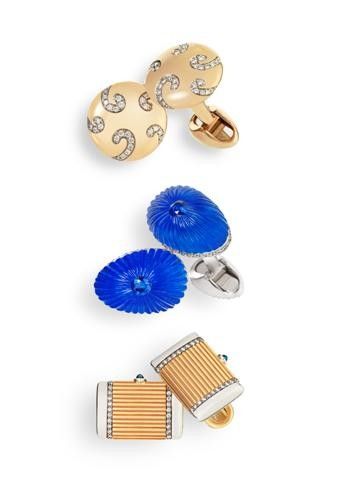 Fabergé
Living its legacy, Fabergé has created an innovative and contemporary new cufflink collection, bringing its passion for craftsmanship and design into the realm of men's accoutrements. With characteristic Fabergé wit and verve, the collection links the historic designs of the many cufflinks, dress-sets and famous cigarette cases created by the House of Fabergé in the early century, with their exquisitely refined yet masculine gold work, ribbed, swirled, textured and coloured, becoming the most elegant and fashionable male accessories of the day. 
The designs of the cufflink collection translate classic Fabergé themes into strong contemporary styles: the sunburst motif, in rose gold, enamel or carved stone, the iconic egg shape, in both the cufflink itself, in the form of carved hard stones, and in the smooth gold fittings; rococo, in the round gold links with inset diamond swirls; matelassé, the sumptuous quilted gold of Les Favorites de Fabergé; mother of pearl "framed" in rose gold; and the "cigarette case" cufflinks of rectangular ribbed and gem set gold, a line running around the silhouette to give the impression of opening, and a cabochon sapphire as the "clasp". 
The techniques and materials remain true to Fabergé: stone carving, in rock crystal carved into an egg-shape, set over a slice of lapis or ruby, or the striking deep blue lapis lazuli egg shapes carved with a deep ribbed sunburst design, centred with a blue sapphire, coloured gold, engraved, textured or quilted, and the refinement of superb hand-craftsmanship, gem setting and precious, perfect jewelled details. They are, Absolutely Fabergé.