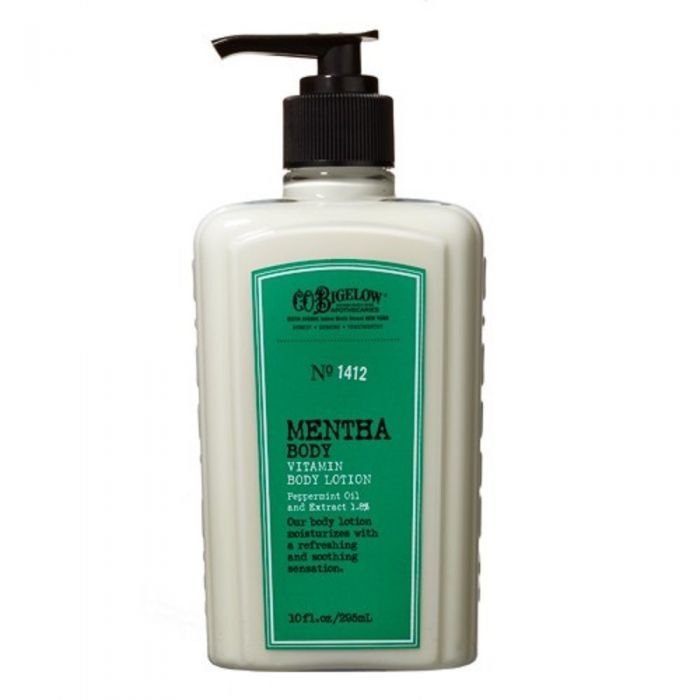 C.O. Bigelow
Now that the summer is over, it's time to think about fall beauty products. Here's a roundup of some of our favorites this season.
If you need a little pick-me-up, nothing says rejuvenated and refreshed better than C.O. Bigelow. We love their mint infused products from the Mentha collection. From an invigorating conditioner and all over body lotion made with Vitamins A, C and E to a deliciously fresh lip shine with breath freshener made with peppermint oil and a tingling foot cream to reinvigorate dry summer soles, this line will make you feel like a new person.
Elizabeth Arden
When it comes to beauty products, Elizabeth Arden does it best. We love their newest fragrance ALWAYS RED, a beautiful blend of vibrant blood orange, luscious red plum and passion fruit. The fragrance also combines hints of praline, mahogany woods and red amber. Even in the fall, you need some sun production. We recommend Elizabeth Arden'sEight Hour Cream Lip Protect Stick in Honeythat provides eight hours of moisture. Another fall favorite is their Beautiful Color Moisturizing Matte Lipstick in Chocolate.
Kohl
Every fresh face starts with a great moisturizerand no one knows that better than Christie Brinkley. If you want to look as great as she does at 60, try Christie Brinkley Authentic Skincare Recapture Day + IR Defense Anti-Aging Day Cream. With SPF 30, the rich lotionis a multi-level anti-aging cream that is formulated with a bio-copper complex that helps correct the most visible signs of aging. It uses three effective technologies to revive, improve and protect your skin while recapturing a youthful appearance.
jane iredale
With Breast Cancer Awareness next month, jane iredale has introduced a gorgeous Smell the Roses Hydration Spray, a 100 percent natural, 30 percent organic hydrating facial spritz that moisturizes and cleanses the skin, calms irritation and reduces redness. Its featured ingredient, Rose Damascena Flower Oil, penetrates deep into the skin to tighten, clarify and detoxify with a refreshing rose scent. Even better, 100 percent of the profits from the sales of Smell the Roses are donated to Living Beyond Breast Cancer, a national education and support organization whose mission is to connect people with trusted breast cancer information and a community of support, a mission that closely resembles that of the jane iredale brand.
Sustainable Youth
If you have sensitive skin, it's time to change up your beauty routine to free your skin of fragrances, detergents, dyes, acids, preservatives and even some SPF ingredients. Sustainable Youth has taken this into consideration and has incorporated the newly discovered, all natural ingredient called alasta—a concentrated anti-aging ingredient derived from inside the rind of the Aloe Vera leaf. Other pure ingredients include macadamia nut oil, pure jojoba seed oil, wheat protein, cucumber, white mulberry, green tea, licorice root and fig. With natural and anti-aging benefits, these gives you a break from harmful chemicals and treats sensitivity leaving you with clear, healthy, ageless and less delicate skin. We love theirElasticity Cream,a lightweight, daily moisturizer that soothes, hydrates and helps restore skin's elasticity and firmness for the appearance of thicker, plumper skin.
Lauren B Beauty
Last month, Lauren B Beauty, theLos Angeles-based, eco-friendly, luxury nail care company launched a donation program supporting Chrysalis, a nonprofit organization that helps put homeless and low income individuals on the path to self-sufficiency by giving them the resources and support they need to find and keep jobs. Starting August 1st, the brand donated 20 percent of the proceeds from the sale of the Lauren B. Cares Chrysalis Collection to the nonprofit organization. This might be the easiest way for women on the go to create the perfect manicure right at home. The polishes swipe on expertly and easily, dry fast, and stay glossy and chip-free (truly!) for at least 14 days.
RPZL
Sometimes you just want to change up your look but don't have the time to visit a salon or aren't feeling brave enough to make that next drastic cut. Instead, we recommend trying RPZL In an Instant. In just a few minutes, you can transform your look to beautifully chic with their clip-in extensions. Made with 100 percent Virgin Remy hair, this is the easiest way to create a beautiful side braid or high pony. Simply visit their website, choose your color and then choose the length of style you prefer (16-18" or 18-20").
Tara Smith
While the summer brought along with it high humidity, the fall is a tamer season for tresses, but for those of us who have curly hair, keeping our locks hydrated and frizz-free is a yearlong challenge. U.K. celebrity stylist Tara Smith has created Base Coat Serum to help keep locks looking gorgeous year round. The vegan, gluten-free serum not only controls frizz in 80 percent humidity for up to 24 hours after use, but it also increases shine by 65 percent.