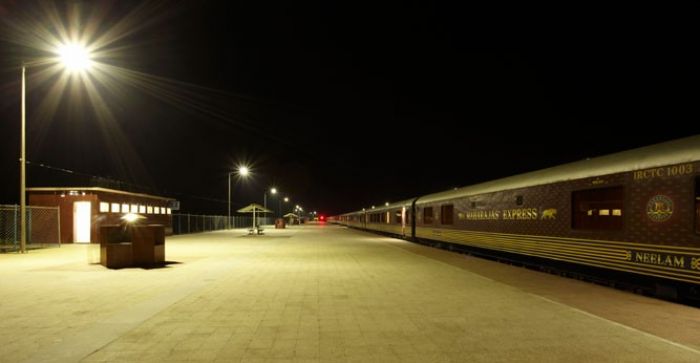 The concept of luxury train travelling in India began with a view to recapitulate the royalty & panache of erstwhile Indian maharajas in a journey lasting up to 7 nights and 8 days. To make passengers feel their opulence & ways of hospitality was the plan behind the conceptualization of luxury train tour in India. Palace on Wheels, launched on 26th January, 1982, was the best example of this concept as it was designed with the original rail carriages of Rajputana rulers, Nizam of Hyderabad and the Viceroy of India. Each guest carriage aboard this train is named after a particular region of Rajasthan and exhibit its traditional art & décor.
A journey on board a luxury tourist train is all about experiencing best of facilities & services, savoring delectable multi cuisine dishes and explore the famous tourist destinations with several unique insider experiences. Each of the guest carriage is appointed with a personal attendant aka 'Khidmatgar' to serve the individual needs of the guests.
The stupendous success of Palace on Wheels encouraged other state tourism boards to operate in this niche segment. Currently, there are six luxury trains running in India- Palace on Wheels, Royal Rajasthan on Wheels, Deccan Odyssey, Golden Chariot, Indian Maharaja and the latest is Maharajas' Express. The best thing about luxury rail journeys is their smartly planned tour itineraries wherein guests travel overnight and explore new destinations every day.
As far as destinations covered are concerned, Palace on Wheels and Royal Rajasthan on Wheels stresses upon covering the erstwhile princely states of Rajasthan. The itineraries of these two trains offer a dash of royalty, wildlife, culture & spirituality. Besides Rajasthan, luxury rail tours also explore the western and southern part of India. While Deccan Odyssey offers a journey across two captivating states- Maharashtra & Goa, the two itineraries of Golden Chariot-Pride of the South and Splendor of the South- lets you explore destinations in Karnataka, Kerala and Tamil Nadu.
There is also Indian Maharaja who's Mumbai to Delhi and Delhi to Mumbai itinerary is a combination of Rajasthan, Maharashtra and Uttar Pradesh. On the contrary, Indian Maharaja is the first and only luxury tourist train owned by a private travel company- Travel Corporation of India (TCI). Maharajas' Express, launched in 2010, offers 5 journeys across India including 2 shorter itineraries which aim to target time bound travelers.
Luxury rail journeys are fast catching up trend among the high end travelers looking for a comfortable and hassle free travel plan. To say that Indian luxury trains make you feel the majesty of erstwhile India will not be an understatement.
Palace on wheels Train
Royal Rajasthan on wheels Train
Deccan Odyssey - Luxury Train In India
Golden chariot Train
Indian Maharaja Train