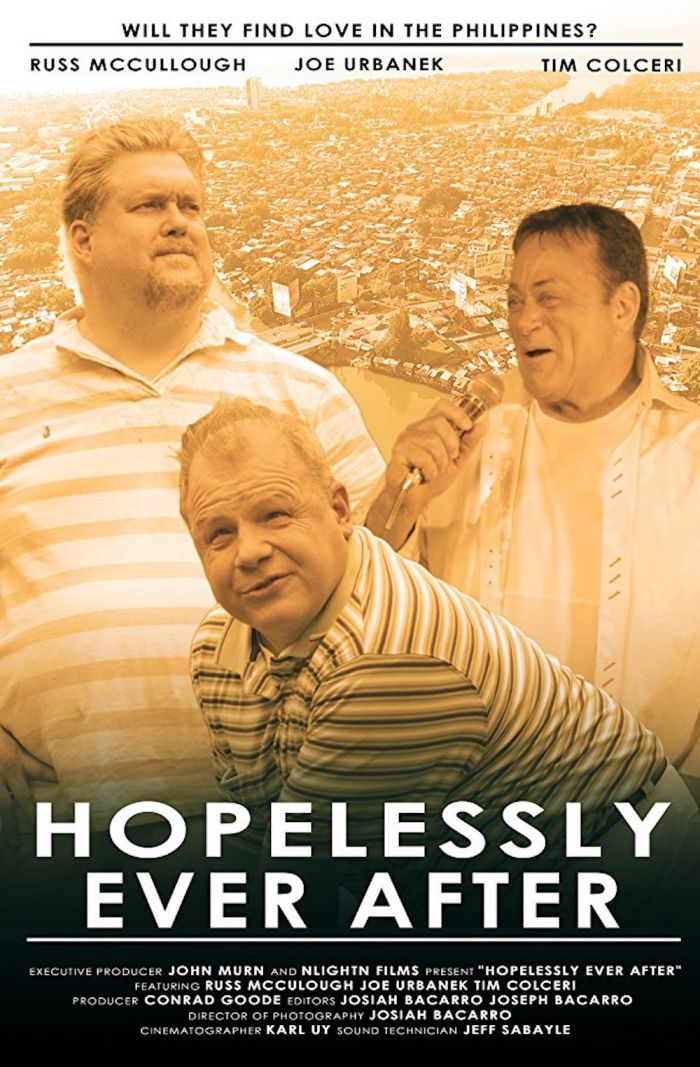 Photo Credit: Russ McCullough
Life has a funny way of working out differently than you plan. But sometimes the unexpected is even better. At least that's the way that it worked out for filmmaker Russ McCullough. McCullough, a former WWE star who was also signed by no less than four NFL teams, turns his talents to film for a mockumentary in the Philippines, in which McCullough and his two equally luckless friends head overseas to look for love (what could go wrong?). Creating Hopelessly Ever After is generally described as a real-life version of The Hangover, but Russ says that there are also shades of Bad Grandpa. The film came together somewhat spontaneously, although it had been percolating in McCullough's mind for years. McCullough tells JustLuxe about his madcap movie and the important lessons he learned while filming.
JustLuxe: How did the film come about?
Russ McCullough: John Murn, my boss and also the man responsible for financing the film, does business with blind business owners all over the country. Joe, the blind man in the film had been (forgive the colloquialism) busting John's balls about going to the Philippines to meet a woman, as he had been researching the dating site for several years and desperately wanted to go. I had been trying to get John to finance a small film unrelated to the film we made. Although John is from New York, he was out in California for business and while driving to a meeting one day, I asked John, "Wouldn't it be a great film if we shot me and Joe going to the Philippines to find a wife?" After 25 minutes of unfiltered laughter and sarcasm he agreed and four weeks later we were on a plane to the Philippines.
JL: This started out as a documentary that seems to have morphed as it went along. How would you describe the film now?
RM: The plan was simple, find a wife and document the outcome. I had added Tim, the actor, to the group because honestly I didn't want to have to babysit Joe the entire trip and have to do everything else. Also, Tim is very outgoing and I knew he could bring a certain energy level to the film that Joe or I lacked.
It's difficult to describe the film as it has multiple layers of humor, drama, real life situations and uncertainty. What seemed like an easy project became increasingly more complicated as we started dealing with the reality of the situation we found ourselves in.
As an example—spoiler alert—Joe had started dating a girl he met there on the second day for over two weeks. Without any knowledge of anyone in the group, he took her to another island as a romantic getaway. The problem, which all of us knew, was that the girl was a lesbian. He called me stranded, crying on another island telling me the girl had left him. When I researched the island he was on, there were several issues with ISIS having a presence there. This is all in the film. And while the outcome is very funny, at the time it wasn't great.
JL: Are there any films you would compare this to?
RM: The one comparison I get is The Hangover, repeatedly, but the real version. I see bits and pieces of that, with maybe a little bit of Bad Grandpa. But it's like no other movie I have ever seen, and I see everything.
JL: What was your was your main impetus for making the film?
RM: It was in the late '90s that I had a massive car crash. It was a head-on collision and the car that hit me was going over 80 miles an hour. My head went through the windshield. I found myself wandering the intersection covered in blood. The next thing I remembered was being in an ambulance and calling my mother on my cell to tell her goodbye.
Surprisingly I was at peace when I thought I was going to die. But there were three things that came to my mind as I laid there dying. Three major regrets. The first was I wanted to have a wife, the second was, I had wanted to know what it felt like to be a father. I hate to admit it, but I started to cry over those regrets. Obviously I didn't die that day and for the next decade tried as hard as I could, without being desperate or pathetic in the attempt, to find a wife. But it never happened.
Then I got the worse advice ever. They had told me I would find it when I wasn't looking. Almost another decade went by and still nothing. So having this chance to possibly find love was the real reason for the trip and the film.
JL: Is this your first feature film?
RM: This is my third feature. I had very little success with my first two. One is currently airing on ROKU and last I looked had 200,000 plus views, the other I scrapped after we finished. Mainly because it wasn't right.
JL: You've been a professional football player and a professional wrestler, how did you end up in the film world?
RM: This is a very complicated question with multiple layers. It could take a book to get to the point. After the NFL I ended up working in investment banking. My mentor was a man named Russell Armstrong. You might remember him from The Real Housewives of Beverly Hills. I had wanted to be a filmmaker since the first movie I ever saw in a theater was Star Wars. I went to work for Russell in hopes that he would help finance my film. Which he had promised to do, but when I showed real promise in the investment banking world, I gave up on films and focused on work. That went on for almost 15 years. But at some point five years ago I realized how unhappy I was with my life. I took what little money I had left and started my first film. I did go back to investment banking, but only to try and continue my path as a filmmaker.
JL: You seem to have done quite a lot on this film from producing to directing to writing to being in the film. What do you think were your biggest challenges?
RM: Another LOL moment. I'm almost wary of being totally truthful when giving an answer to someone when I'm unsure of what they may find humorous. Having to pay for the crew to go to the doctors weekly to get checked for STDs was an issue. But that is just a stupid humor answer even though it was truthful. The biggest challenge was actually trying to find a girl that I might call my wife. I was doing my best to coordinate the production, directing, etc. But I was there to find a wife. And honestly I did find three women that I thought had a serious chance to be my wife. That's when the reality of "Oh crap, can I really do this or is this really happening?"
JL: How did the film change from what you initially expected it to be?
RM: I have traveled all over the world and lived in Europe, Japan, Puerto Rico and all over the states, but the Philippines is an ENTIRELY different world. Everyone there is very poor, but happy. In the US we equate money with happiness, but there money is only an object to bring a family together to share for each other. These are honest hard-working people who are very family-oriented.
What I expected was more about what I researched about mail-order brides who only want to come to the US for a green card. That wasn't any of the girls any of us interacted with. Even though I wanted to find a wife, the cynical side of me knew there was little or no chance of that.
My perception quickly changed after one day.
JL: What type of reaction of you received when you screen the film?
RM: To date I've screened the film for over 300 people. I don't sit in the screening, but outside. I can hear the audiences response to scenes in the movie. Some screenings we had only had 20 or so people in them, but the from the laughter you would think the place was full. The best reaction I got was during a really funny part, one man started laughing so hard he began to choke. He was trying to catch his breath, but kept choking. We stopped the film so he could catch his breath. He laughed nonstop for 20 minutes after we stopped the film, until he got it out of his system.
I'm not sure that any filmmakers will confess that making something that people enjoy is more important than making money. But that is how I feel about this film. I simple know how good it is. And trust me when I say, I'm my own worst critic.
JL: What type of reaction did you get in the Philippines when they saw you shooting your film?
RM: I got such an overwhelming response. I'm almost certain that no one we interacted with had ever seen a 6'10" blonde giant before. I would walk through the streets and children would walk up to me just to touch me to see if I was real. I can't express how much love and affection the people of the Philippines showed to me and my crew everyday, regardless of what we were doing. Walking through the malls was especially funny as the entire crowded mall would almost stop and watch me wander through.
JL: Will there be a Hopelessly Ever After sequel?
RM: We are currently discussing the sequel and going to Bangkok. But people will need to watch the film to understand the reason we are going. I have to admit, that even though I did everything in the film, from directing, acting and supervising editing, when I saw the last three minutes of my film in the final cut I jumped up and clapped unconsciously.
On a personal note, this film is simply a feel good and truly entertaining movie. I can hardly watch the news or world events on TV. There always seems to be so much hatred and anger towards one another. But when three American idiots travel 8,000 miles to a foreign country and are truly embraced by a completely different culture without judgement, well that was the best part of the film for me.