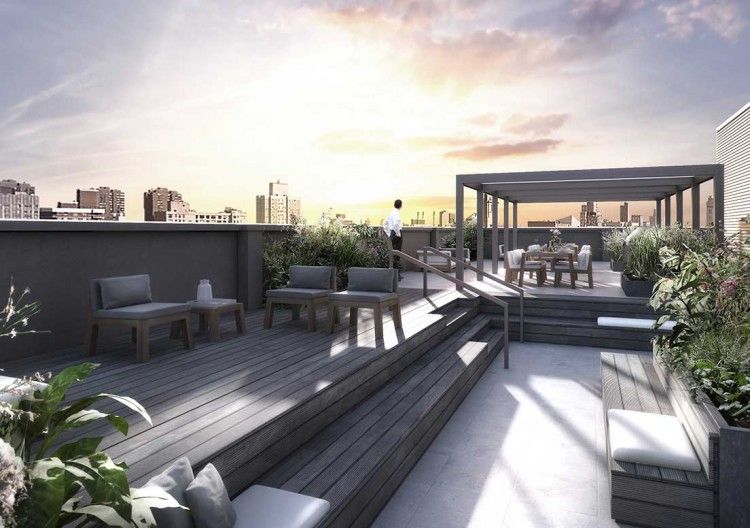 http://huys-nyc.com/gallery/se
Luxury real estate is always a worthwhile investment for those who can afford it, and there's no better playground for those looking to live the high life than New York City.
While, for the rest of the world, square footage and price may be the only two numbers that count when looking for that piece of fantasy real estate, in the city, it's not just how much space you have to cool your heels in — it's how much of your kingdom you can see from your castle.
With that mix of attitude and altitude in mind, we bring you the five key trends to look for when searching for the perfect New York City penthouse.
Wraparound Views
The biggest, and perhaps most important, benefit of living sky-high in NY is seeing all the city has to offer just below your window. However, to truly show you the city's majesty, a few small panes of glass will hardly cut it. Most apartment buildings that offer penthouse suites limit the number of units on the top of the building and factor in floor-to-ceiling windows on at least two sides of the apartment to best show off your playground below.
Private Outdoor Space
One of the most exhilarating aspects of living atop a tower is the unparalleled access you have to fresh air and unobstructed views — two things that are certainly at a premium in a major city. For those who find themselves calling a NYC penthouse home, this often comes with the added luxury of space outside of your apartment walls, like Huys' entertaining-ready enclosed terrace, adding a serene sanctuary to your rooftop estate.
Soaring Ceilings
When you have no upstairs neighbors, what's to keep you from raising the roof — literally? Unlike the traditional eight-foot ceilings you'll find in most homes, penthouses aren't constrained to create uniformity with other floors, so their ceilings can soar to astronomical heights, making the space feel unlike any other apartment.
Massive Square Footage
With only a few units atop each building, New York penthouses sprawl across a staggering number of square feet, making them bear more in common with detached homes than with most apartments in the city. New York's Spencer Condominium penthouse boasts an impressive 5,100 square feet of space, while 432 Park's massive full-floor penthouse towers above the competition, offering inhabitants a staggering 8,255 square feet across which to sprawl.
Amenities Galore
While most luxury apartment buildings offer a variety of services to their inhabitants, nothing affords you the royal treatment like penthouse living. Whether it's private entry directly into the home, like in 56 Leonard's crowning glory, fireplaces to keep your home cozy when the temperature drops, or storage space attached to your apartment, New York City developers spare no expense when it comes to outfitting their top-tier units — and tenants.
http://432parkavenue.com/resid
432 Park Avenue's Spacious Living Room
http://56leonardtribeca.com/am
56 Leonard's Indoor/Outdoor Theater