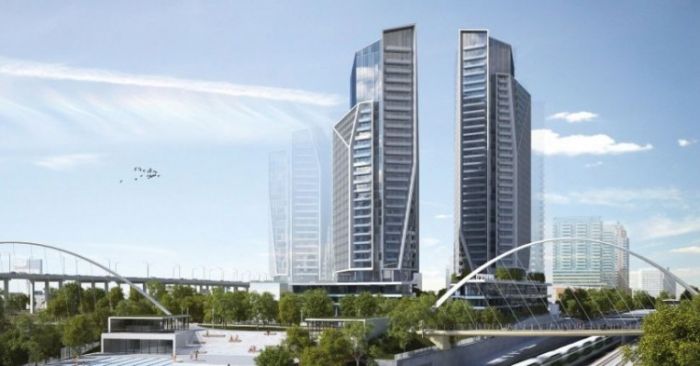 http://garrisonpoint.ca
All over Toronto, luxury hotspots are springing up. The city repeatedly demonstrates how to provide prime living space and amenities, at affordable prices. Here is our pick of Toronto's finest new restaurants, hotels and accommodation.
Bar Isabel
"Is this College Street circa 2013 or a Spanish tavern circa 1936?" asked Air Canada's enRoute magazine of Bar Isabel. This new culinary nirvana made it to the top of enRoute's coveted "Canada's Best New Restaurants", and a glance at the menu tells you why. The Castilian delicacies on offer are the creation of 'charcuterie wizard' Grant van Gameren; they include deviled duck egg with salt cod and morcilla, mojama (chewy cured tuna), roasted Alaskan king crab, smoked sweetbreads, and mouth-watering slices of jamon iberico. Bar Isabel's cocktail list is dazzling too; we recommend a Last Word, or the aptly-named Toronto.
Garrison Point
Toronto families are champing at the bit to get a Garrison Point apartment. The luxury community on 30 Ordnance Street has been designed by the award-winning architectural firm Hariri Pontarini, and is vaunted as the ideal alternative to suburban living. Garrison's Point's first phase is a sleek 29-story tower, boasting unobscured views of downtown Toronto. Suites range from 500 sq. ft. one bedroom, to 1800 sq. ft. three bedroom. Amenities will include polls and a fitness center. The new community will also feature a selection of townhouses. Many of these will adjoin Garrison's Point's 4.5 acre park, designed by landscape architect Claude Cormier. Awaiting Garrison Point residents is a superb range of retail, eating and drinking experiences. King West, Old Fort York, Queen West, the BMO Field and the CNE are all within walking distance.
Draw Me a Sheep
Eccentrically-named Draw Me a Sheep is the brainchild of Toronto-based interior designers Lina Marin and Paula Velez. The two entrepreneurs specialize in premium, artisan, and handmade products for babies and youngsters; it's the perfect shopping spot for parents, grandparents, aunts and uncles etc. looking for that something special. The handmade toys are the kind that will end up being passed down the generations. Draw Me a Sheep also offers a bespoke nursery design service, meaning your little one will have a unique space in which to sleep, play and learn.
shōtō
Tasting menus don't come much more tantalizing that shōtō's. Located in a glass cube in the heart of downtown Toronto, shōtō seats just over 20 diners, ensuring the personal touch every step of the way. The tasting menu changes depending on market availability, but you can expect the likes of Dungeness crab curry, dry-aged beef rib carpaccio with poppy lumpfish roe, and rhubarb and vanilla cake topped with pine-nut miso. Chefs serve every one of the ten or so courses, and the wine and beverage pairing is to die for.
Shangri-La hotel
A multitude of luxury hotels has arrived in Toronto of late. Among them are the Four Seasons, Ritz-Carlton and Trump International Hotel and Tower Toronto. Quite possibly Toronto's most elegant new build is the Shangri-La in downtown. At 214 meters tall, the Shangri-La is currently among the city's top ten tallest buildings. To wit, the vistas of Toronto from the hotel's upper floors are simply magnificent. The 202 guestrooms are some of the most spacious in Canada, while the Asian-inspired décor lends an exotic finishing touch.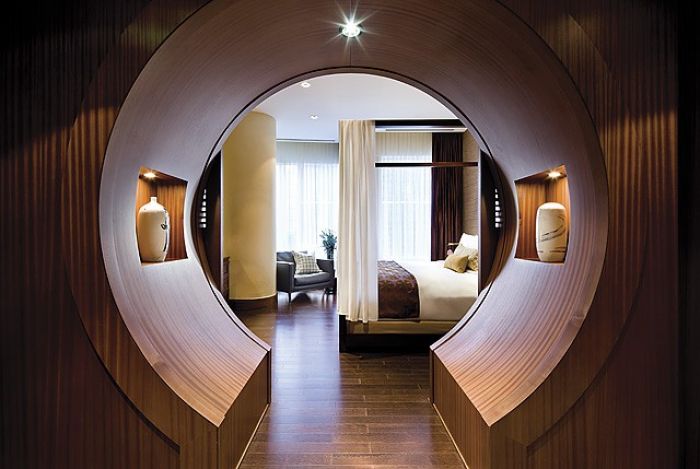 http://www.shangri-la.com/
Shangri-La hotel