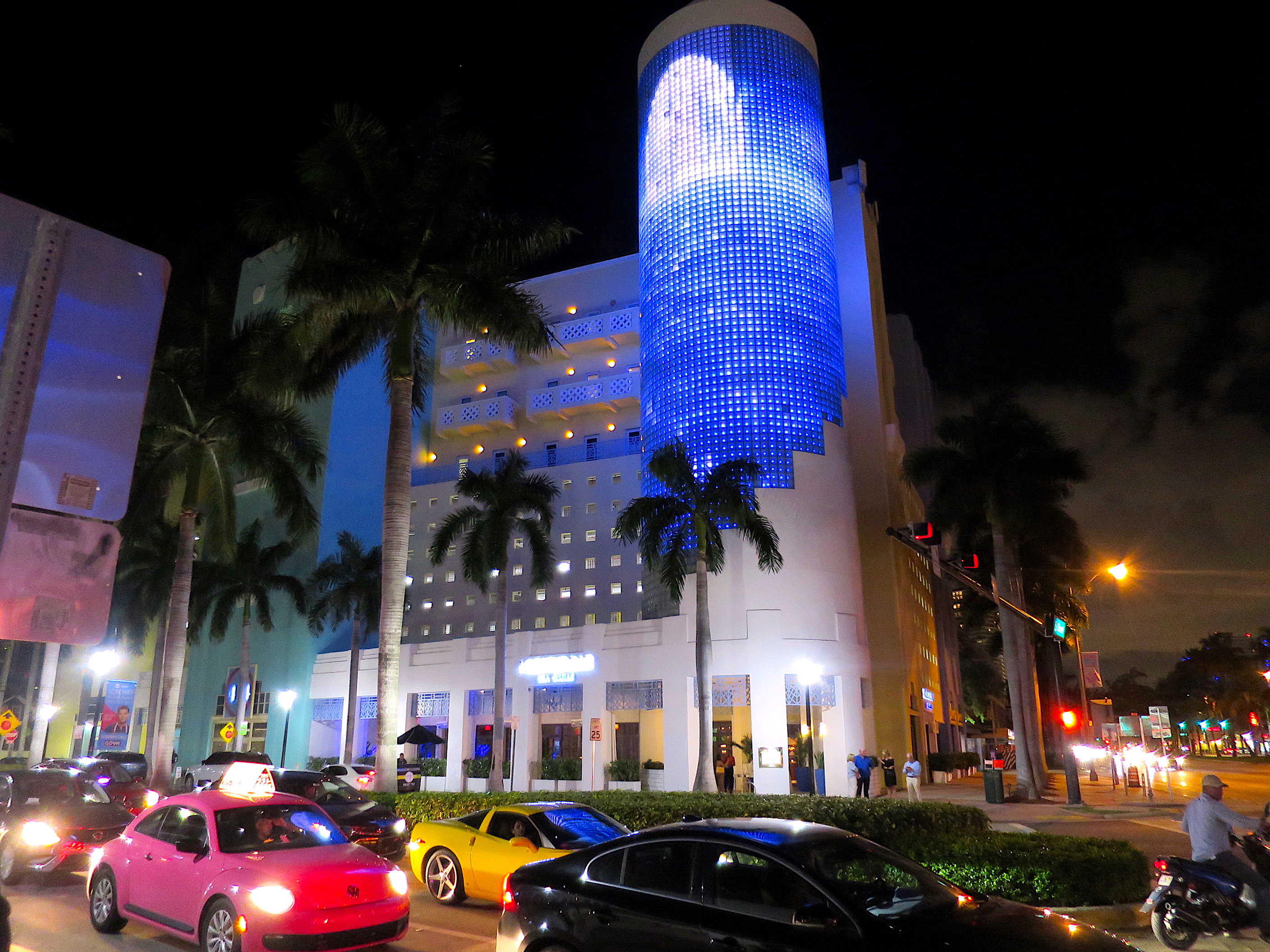 Photo by Michael Reiss
The Miami food scene ebbs and flows like the tides. Here are five current hot spots that make restaurant dining in Miami a top culinary destination.
Tea Room's Asian Night Brunch at EAST Hotel Miami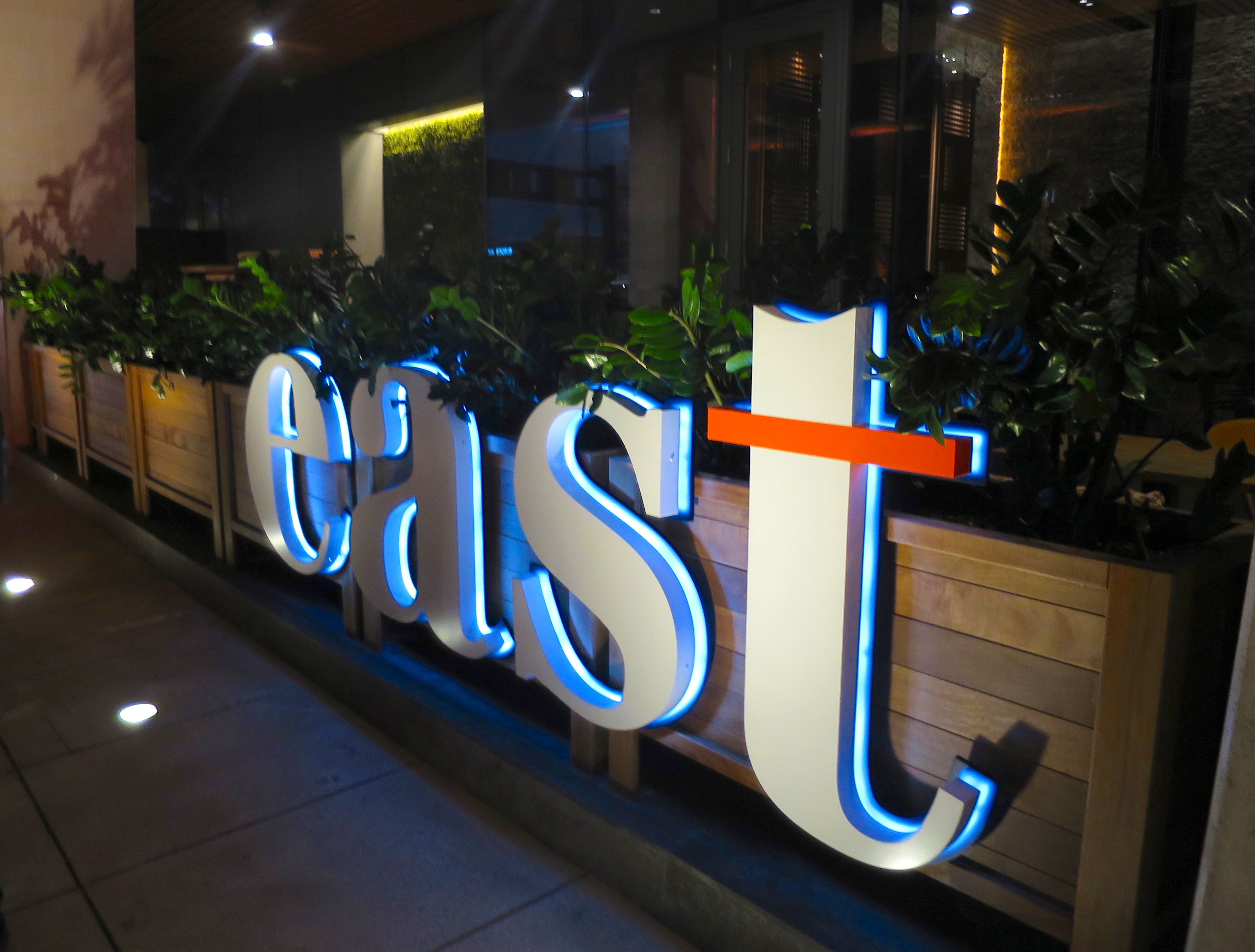 Photo by Michael Reiss
Saturday night at Brickell City Center in Miami is buzzing. There are endless dining and clubbing options, but there is only one place to savor an evening brunch experience. This somewhat secret find is on the 40th floor of EAST Hotel, and it is all the Tea Room.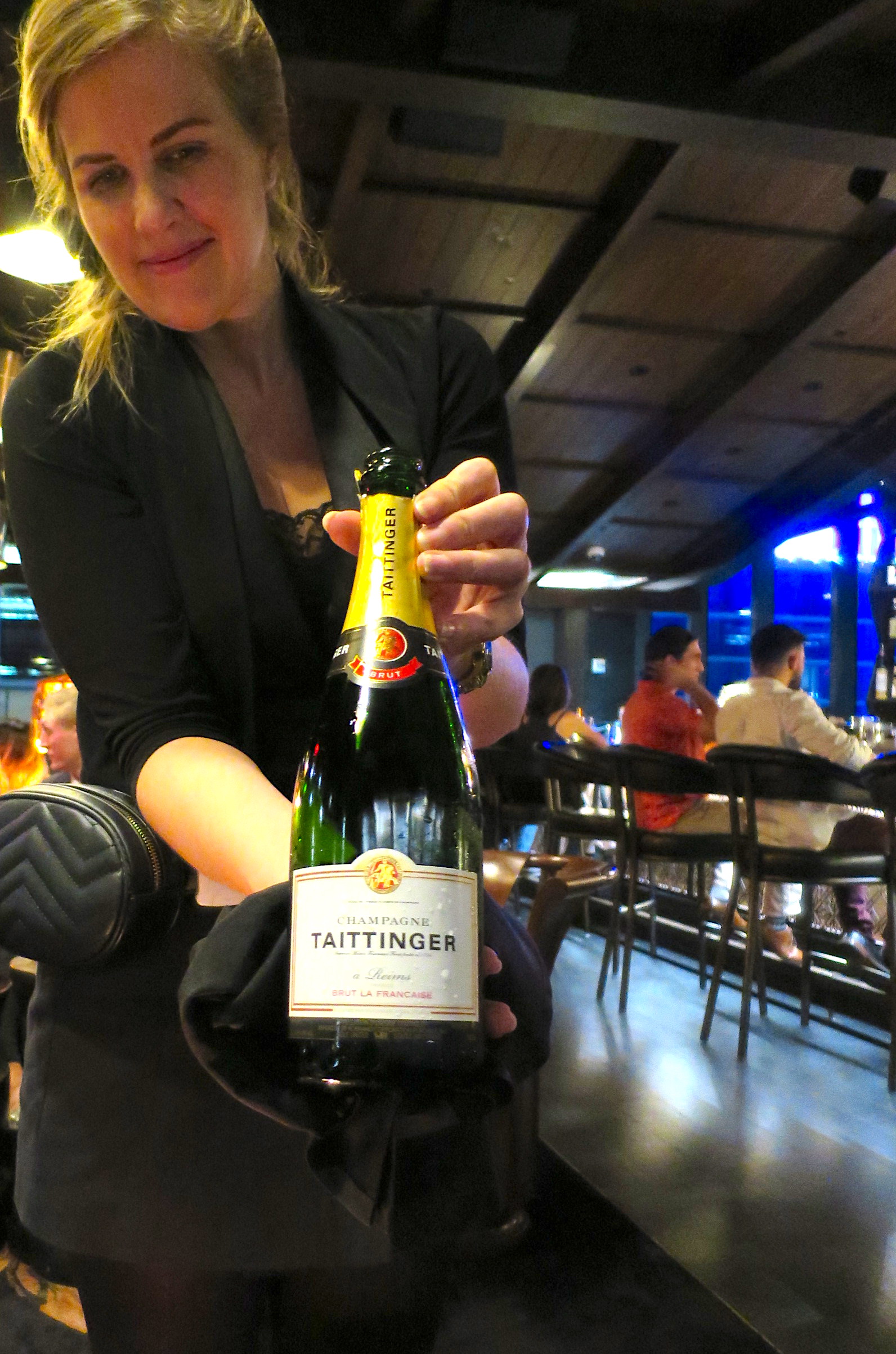 Photo by Michael Reiss
Think unlimited champagne, wine, beer, sake and a five-course gourmet spread of Asian-inspired, not-so-brunchy fare--with a live jazz combo and a spectacular city view thrown in for good measure.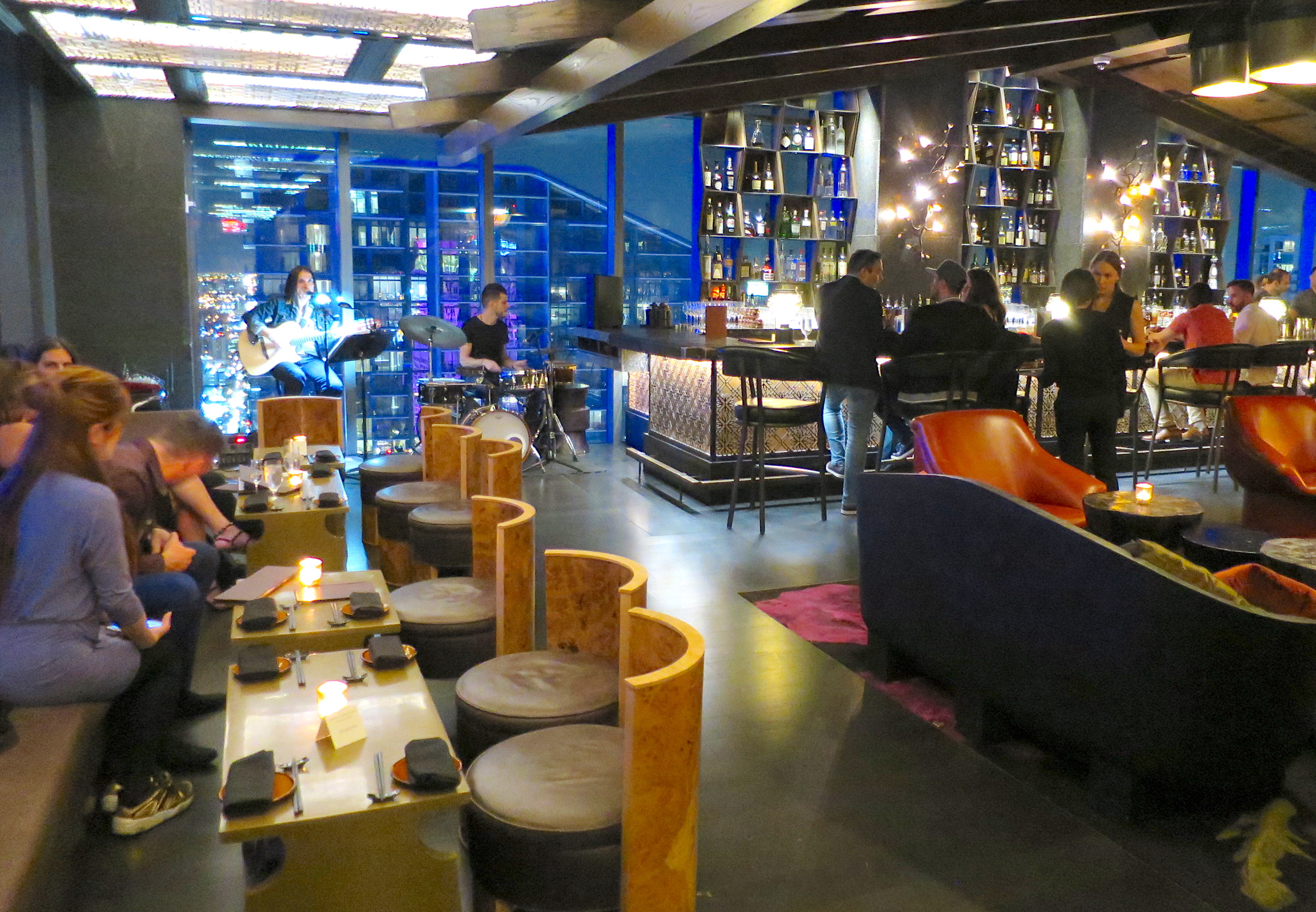 Photo by Michael Reiss
At the Tea Room at EAST Hotel Miami you need a reservation to enter the unmarked door offering access to this exclusive enclave. The brainchild of Carlos Grotewold, Director of Nightlife Operations, this concept is a first for Miami. Why wait until Sunday to indulge in brunch, when you can savor the flavors of Asia all night long on Saturday and have Sunday to recoup and rev up for the week ahead.
There is nothing traditional or mundane about the food and drink on offer. Start with Taittinger Champagne and work your way through the thoughtfully selected choices of wine, beer and sake to pair with your fare.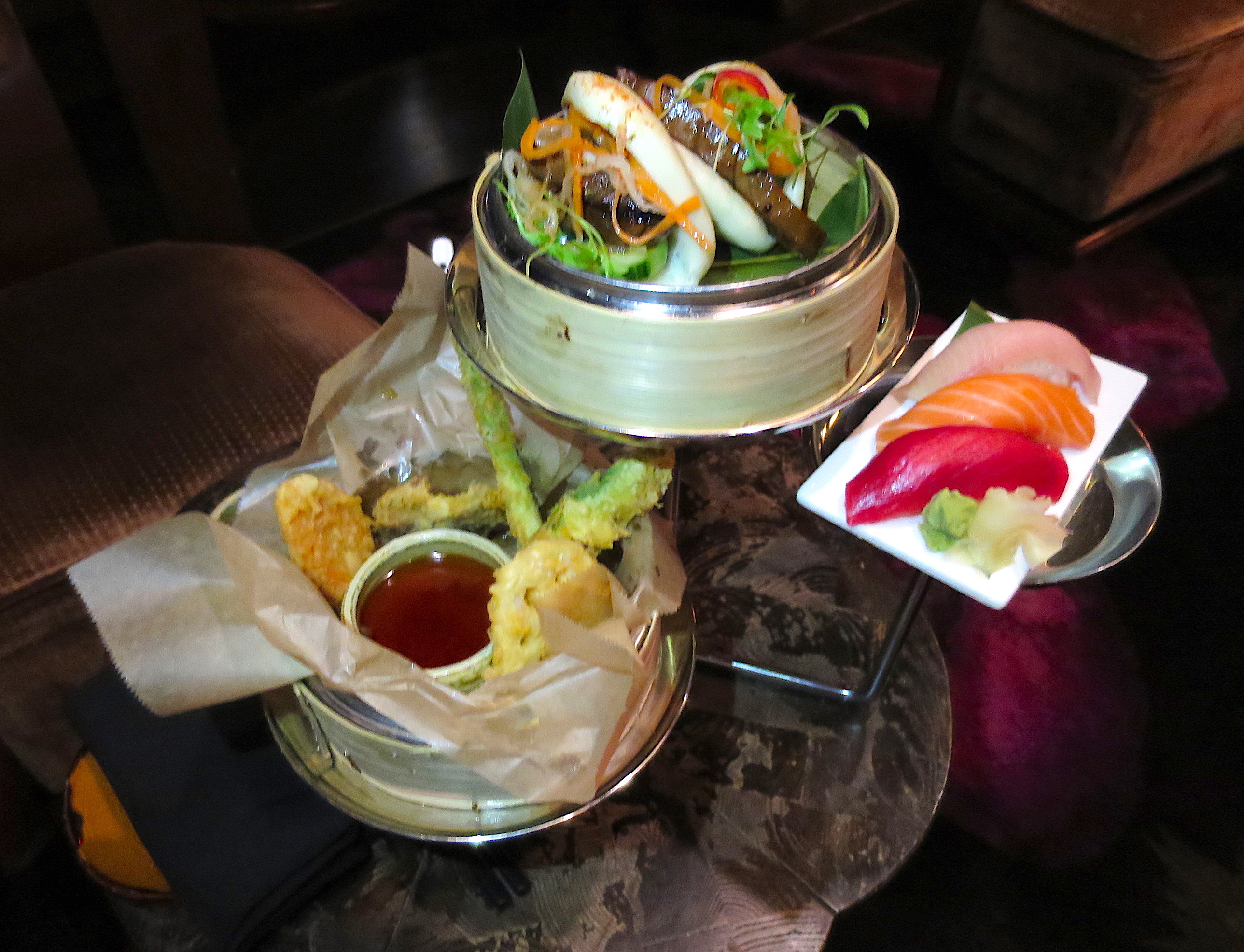 Photo by Michael Reiss
You can craft your five-course feast from a bevvy of delectable options including some of our favorites. We enjoyed the Tuna Tower, made with Ahi Tuna, Sushi Rice, Quail Egg and a Wasabi Soy Demi-Glaze, Korean Short Rib, served with Kimchee Spiced Cucumber and Soy Marinade, the Tamarind Duck Bun with Braised Crispy Tender Duck Breast and Tamarind Glaze, and the Lobster Roll, Made with Lobster Tempura, Avocado, Asparagus and a Kimchee Soy Demi-Glaze.
The spectacular Miami skyline and smooth, jazzy vibe makeTea Room's Asian Night Brunch at EAST Hotel Miami a value-laden weekend evening brunch an occasion to remember and repeat.
Chotto Matte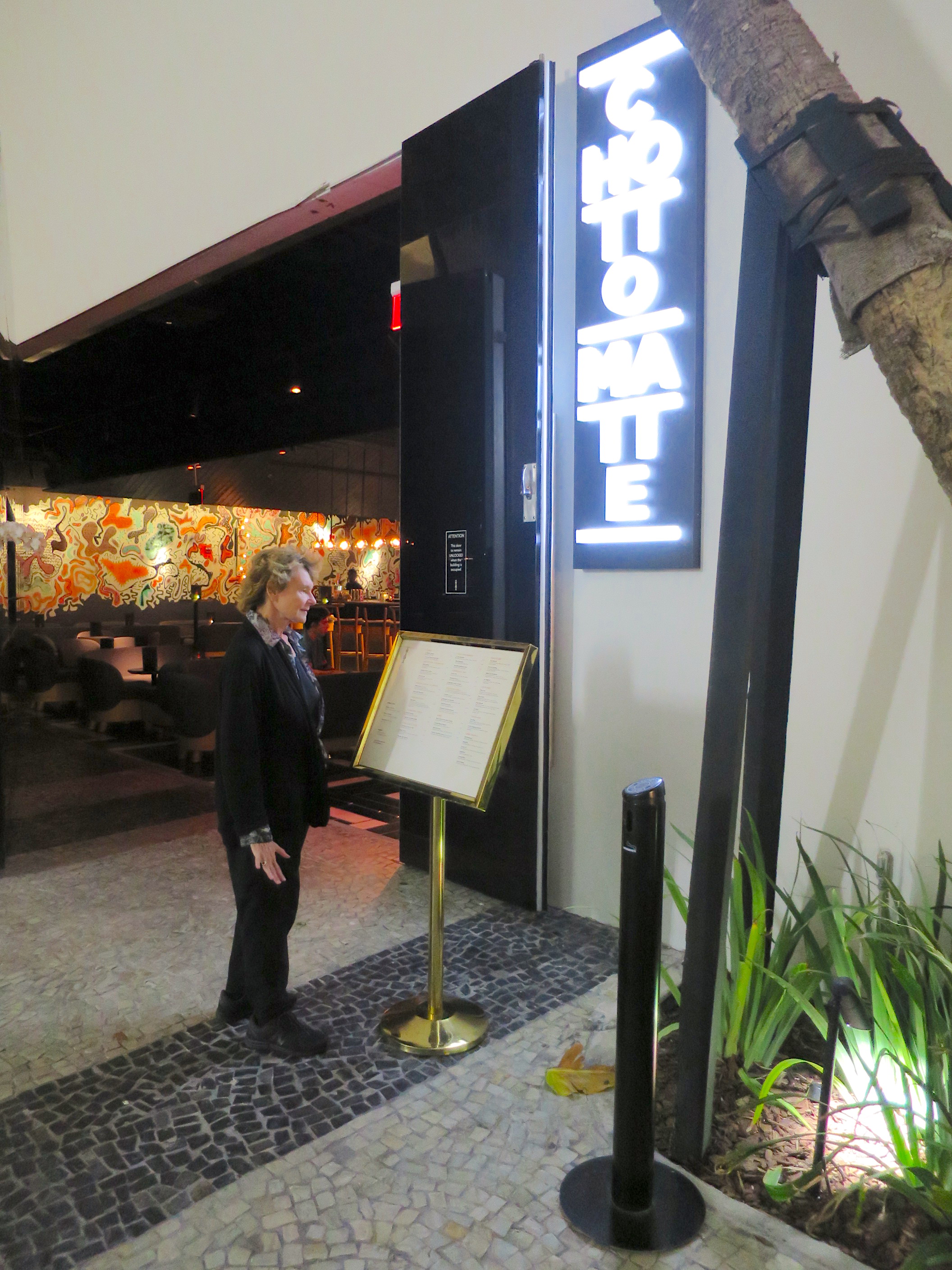 Photo by Michael Reiss
Lincoln Road attracts travelers who enjoy the open air, casual entertainment vibe that this happening walking mall exudes. But wait a minute, just around the corner on Lennox, is an intriguing, architecturally alluring new dining spot whose name literally translates from the Japanese to "wait a minute." This is quite an apt suggestion for a restaurant that deftly combines the best elements of Japanese and Peruvian cuisine.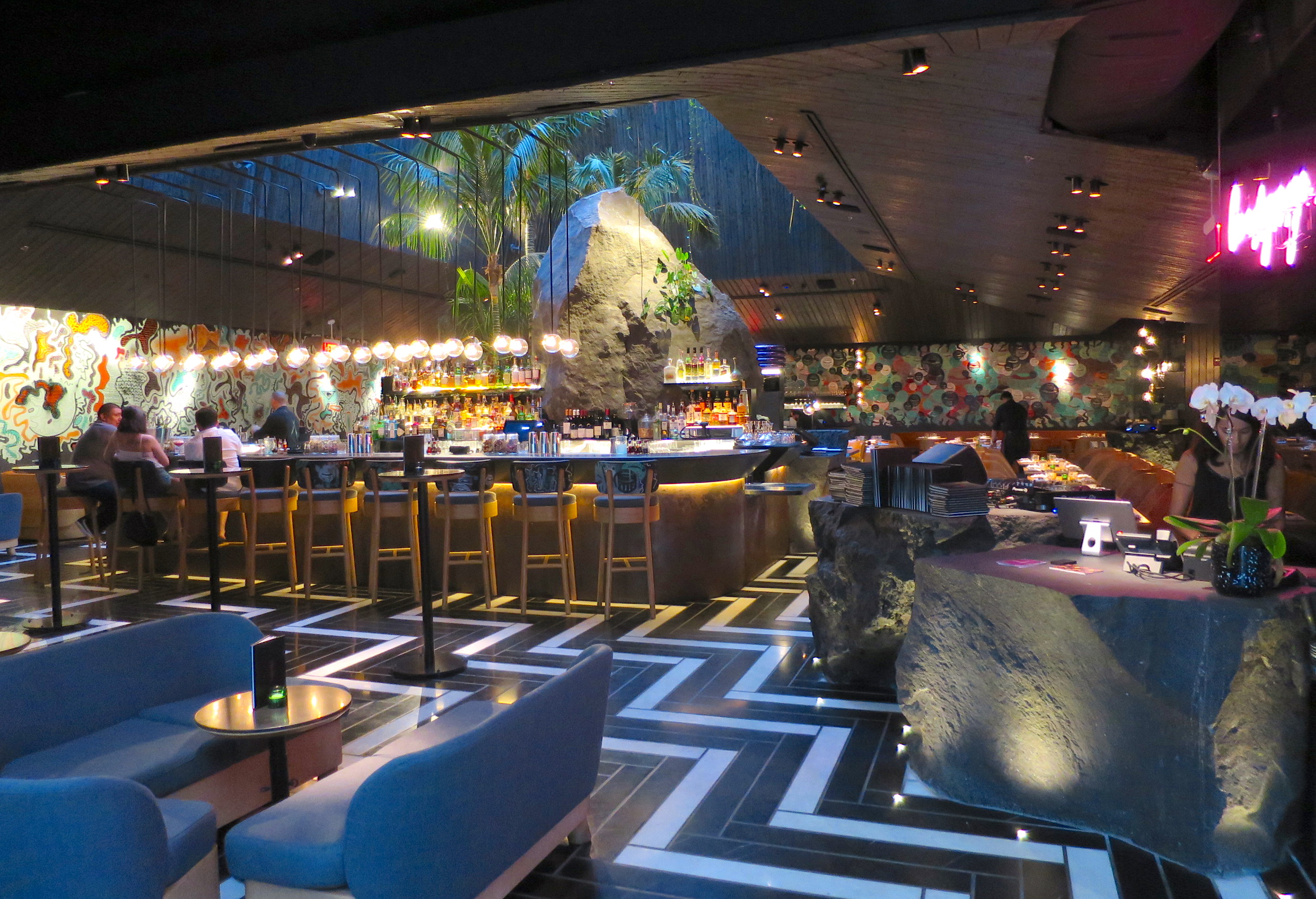 Photo by Michael Reiss
Housed in a stunning, seductive setting, Chotto Matte compels your sensations to recalibrate and reconsider what they are experiencing. The visual stimulation moves you from the v-shaped entry, to the wrap around bar, to the open-air roof, to the vibrant wall art, to the food prep stations into every nook and cranny--including a restroom area so startling that you need an attendant to guide you through.
But wait a minute, how's the food and beverage? The cocktail and wine list are extensive in scope with a knowledgeable sommelier eager to guide you through to enhance your food choices.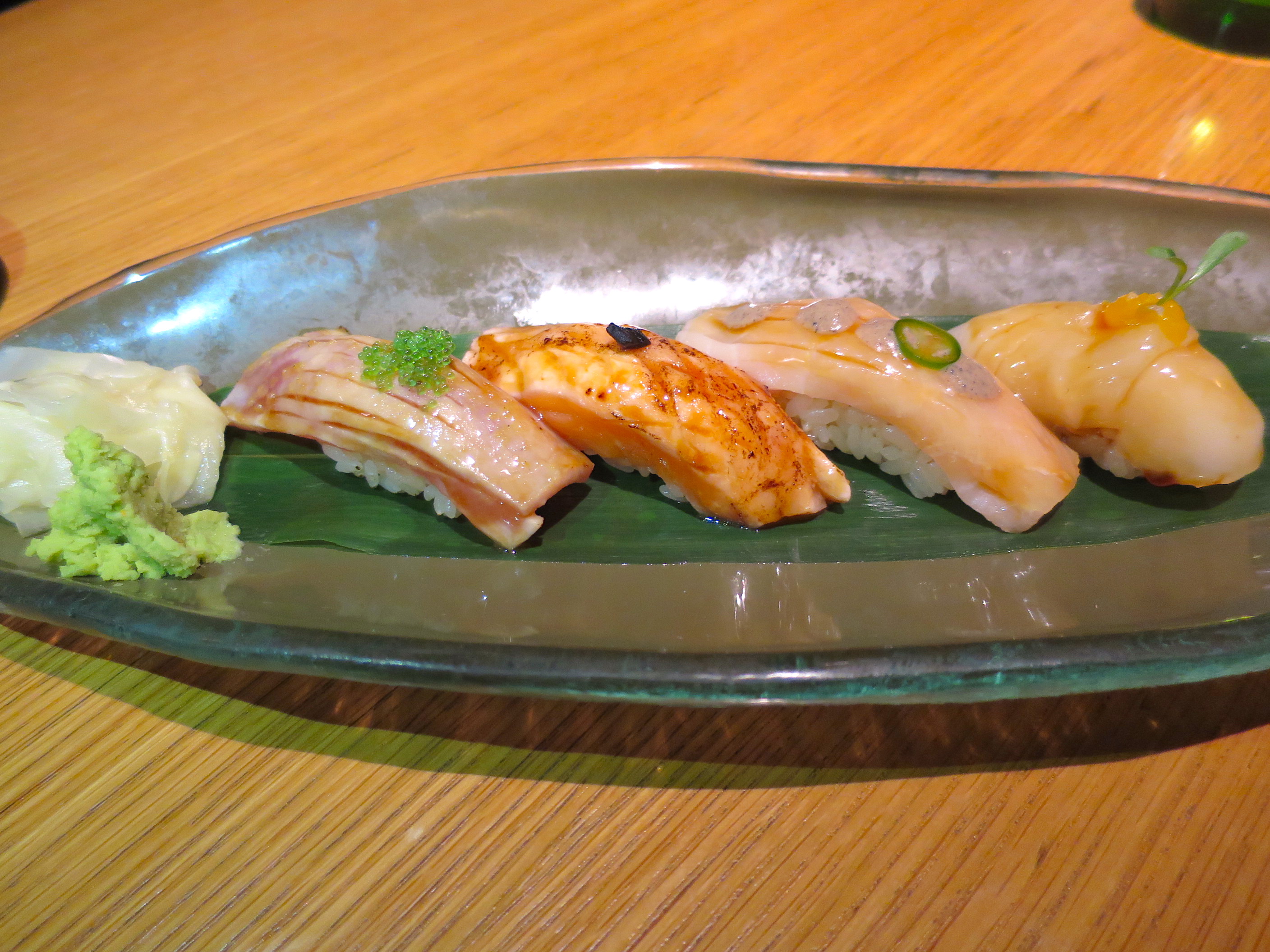 Photo by Michael Reiss
The menu is divided into categories and organized around the four cooking areas of the sushi bar, robata, tempura and sauté stations. Several tasting menus, as well as your server's suggestions, make item selection from the tapas-sized plates an engaging enterprise.
We discussed the order of delivery and our preference for sauces "on the side" for our maximum enjoyment. In fact, we were delighted with each dish presented, and some standouts were: the Nikkei Yellowtail Sashimi with Sweet Potato, Peruvian Corn, Cilantro, Chive Oil, and Citrus Sauce; the Maine Lobster Tempura with Shrimp with Mushroom Truffle Tosazu; and the Black Cod with Yellow Chili Miso. For desert their Salted Caramel Chocolate Fondant with Orange, Vanilla Ice Cream and Mandarin Sauce was the frosting on this Nikkei feast.
Photo by Michael Reiss
Just when we thought we knew what Japanese and Peruvian cuisine was all about, Chotto Matte said, "wait a minute," and they were right.
Sunday Brunch Miami Style at the Ritz Carlton Key Biscayne.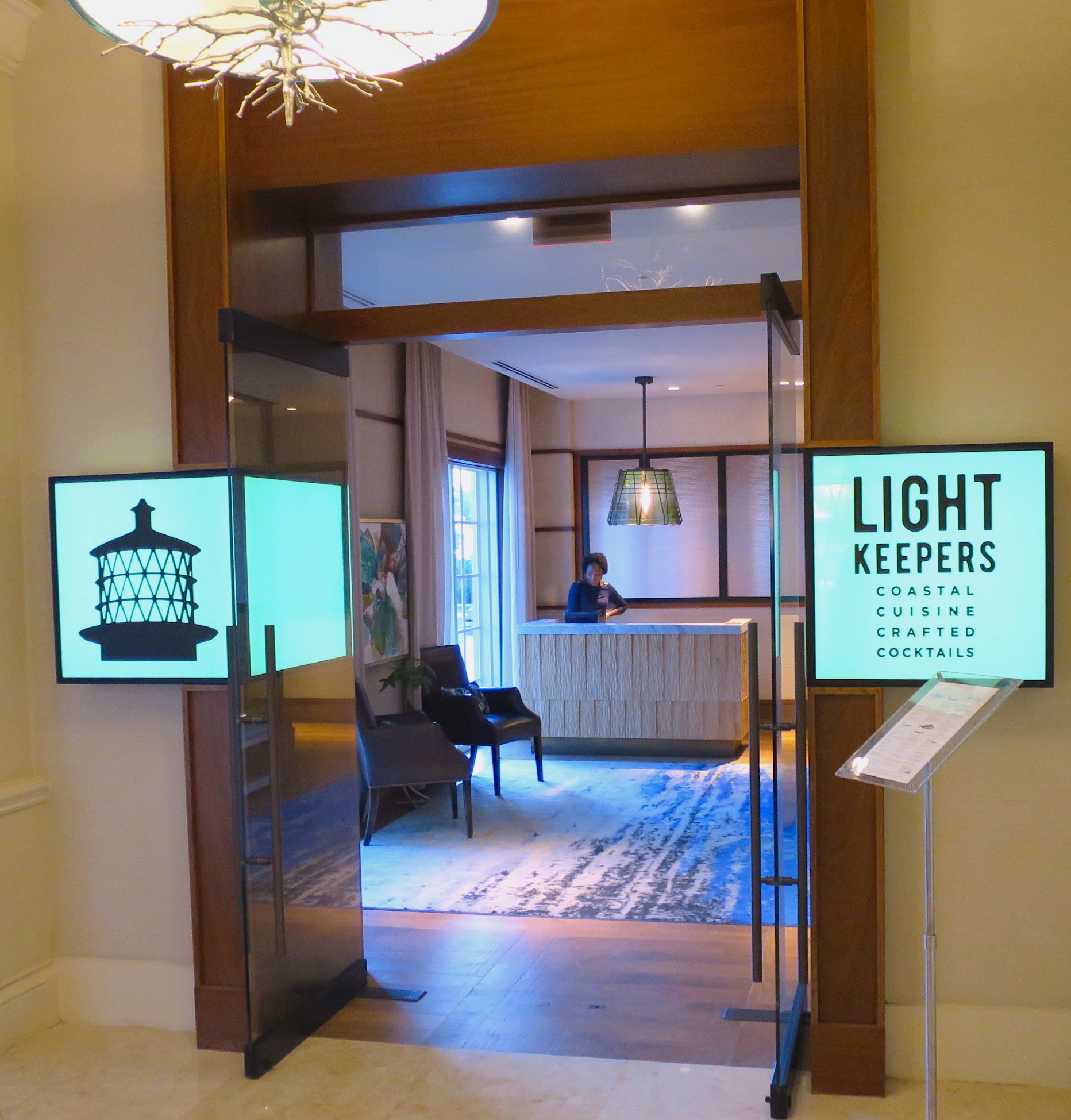 Photo by Michael Reiss
With warm balmy temps and swaying palm trees, Sunday brunch outdoors is a must in Miami. Throw in proximity to the beach for good measure, and you've got one of the best at the Ritz Carlton Key Biscayne. Their restaurant, Lightkeepers, changes the theme weekly to suit the local produce and chef's pleasure. We landed on "Latin Fusion" with nothing short of a cornucopia of selections and flavors from the Latin diaspora. Think Roast Duck Anticucho, Chicharron de Pollo, Pork Belly Lechon, Guava BBQ Short Ribs, Colombian Coffee Rib Eye, Tostones and White Corn Arepas--just to name some of the vast arrays of items on offer.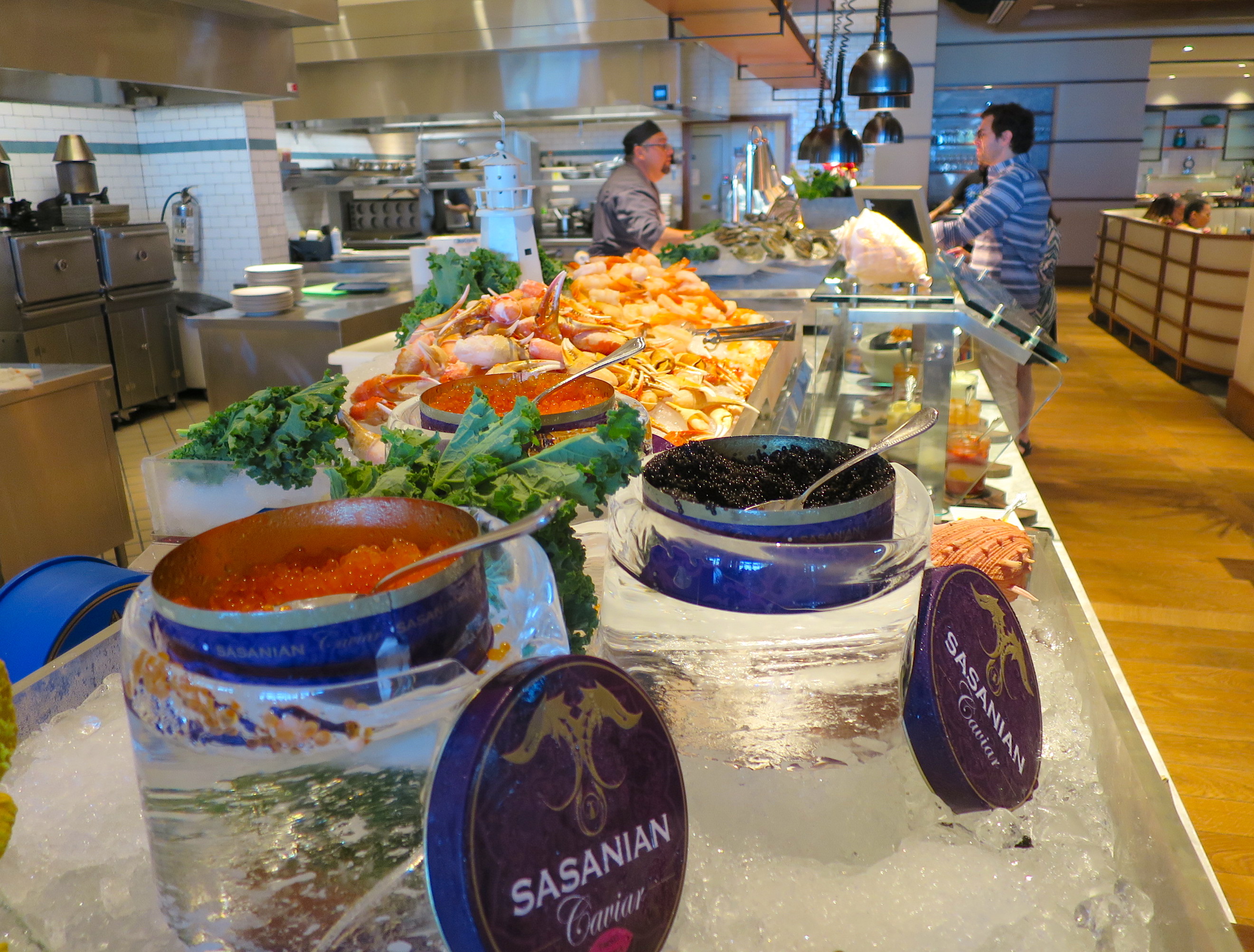 Photo by Michael Reiss
Among the always available temptations are sushi, oysters, shrimp, salmon, crab claws and caviar. Take your time as this feast lasts until 4:30 PM. The price includes all manner of beverages including Bloody Marys, Spiked Punch, Sangria, Prosecco, and more.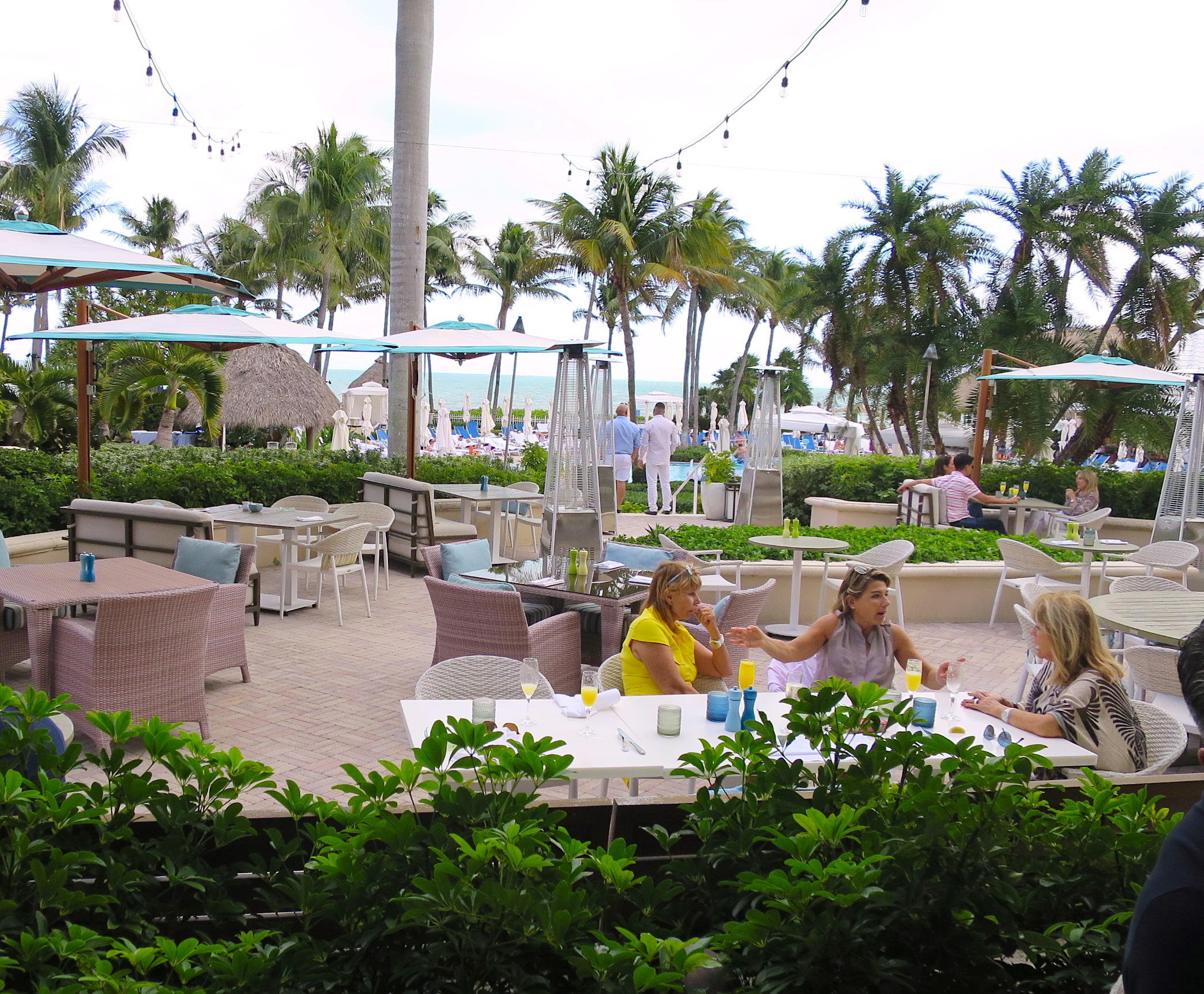 Photo by Michael Reiss
At Lightkeeper at the Ritz Carlton Key Biscayne, the ambiance couldn't be more congenial--with comfortably spaced indoor and outdoor seating and attentive waitstaff who aim to make your Sunday sing.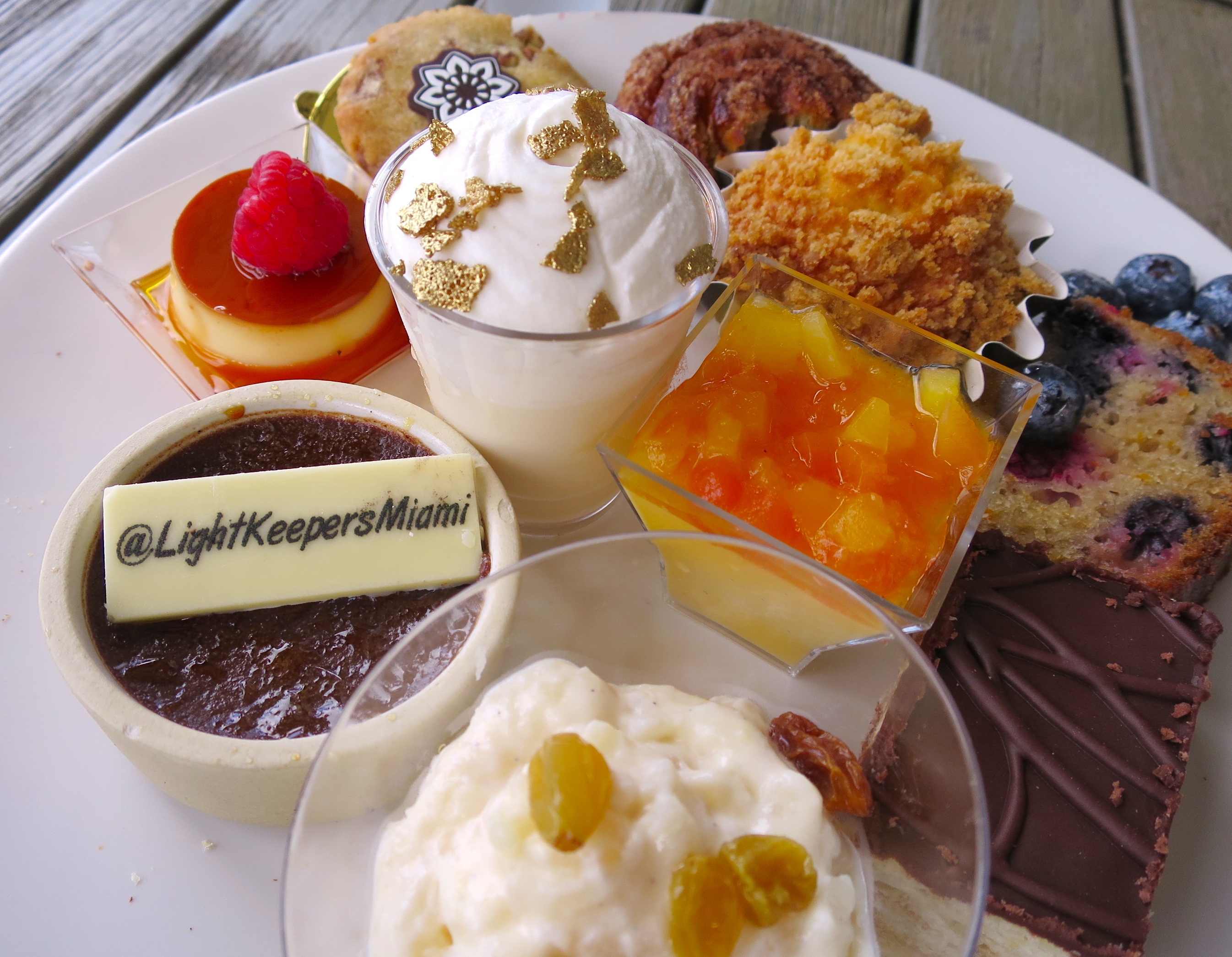 Photo by Michael Reiss
Add to the mix a wide dessert selection, live music and an ocean view to make this your go-to spot for a memorable Miami brunch on the bay.
Maska Indian Kitchen and Bar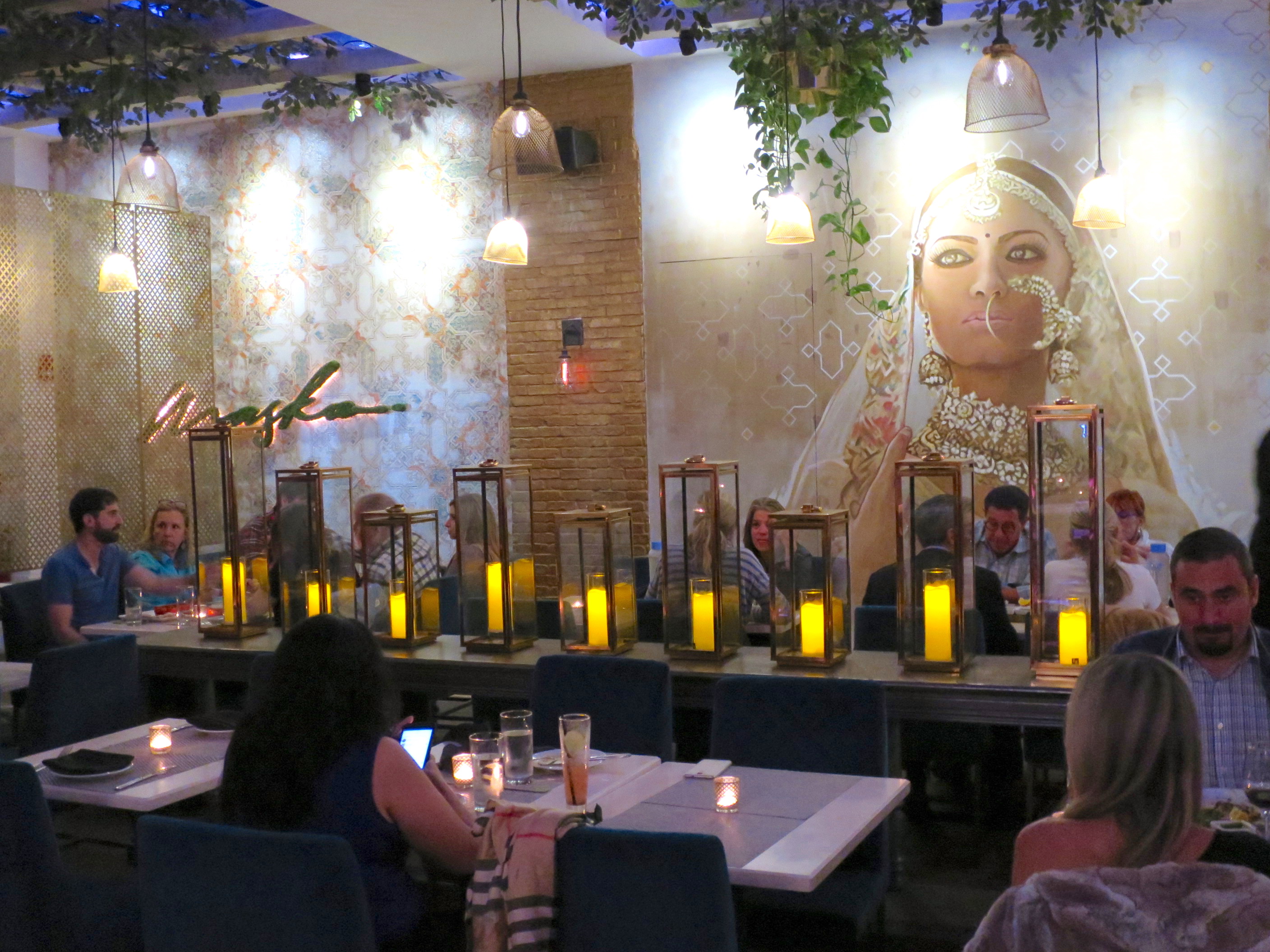 Photo by Michael Reiss
New restaurants are always "iffy," but this one, Maska Indian Kitchen and Bar, has its act together. There was no table available on a rainy Wednesday night, so book early.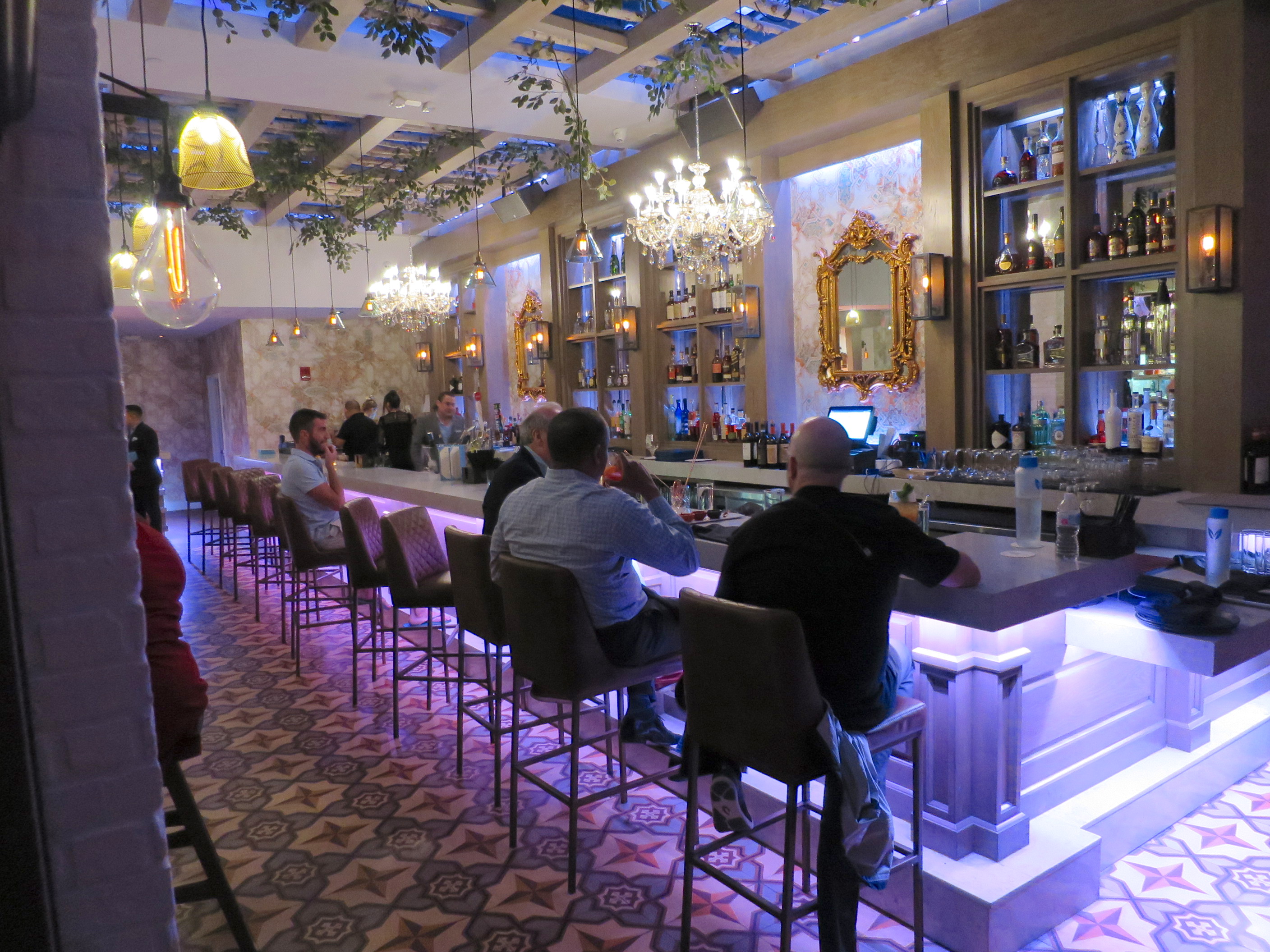 Photo by Michael Reiss
Located in upcoming Midtown Miami, the space is chic and trendy, the bar is downright sexy, and the food will surprise and delight.
The philosophy at Maska is Indian fusion. Don't expect the tried and true, as this restaurant deliberately deviates from the norm.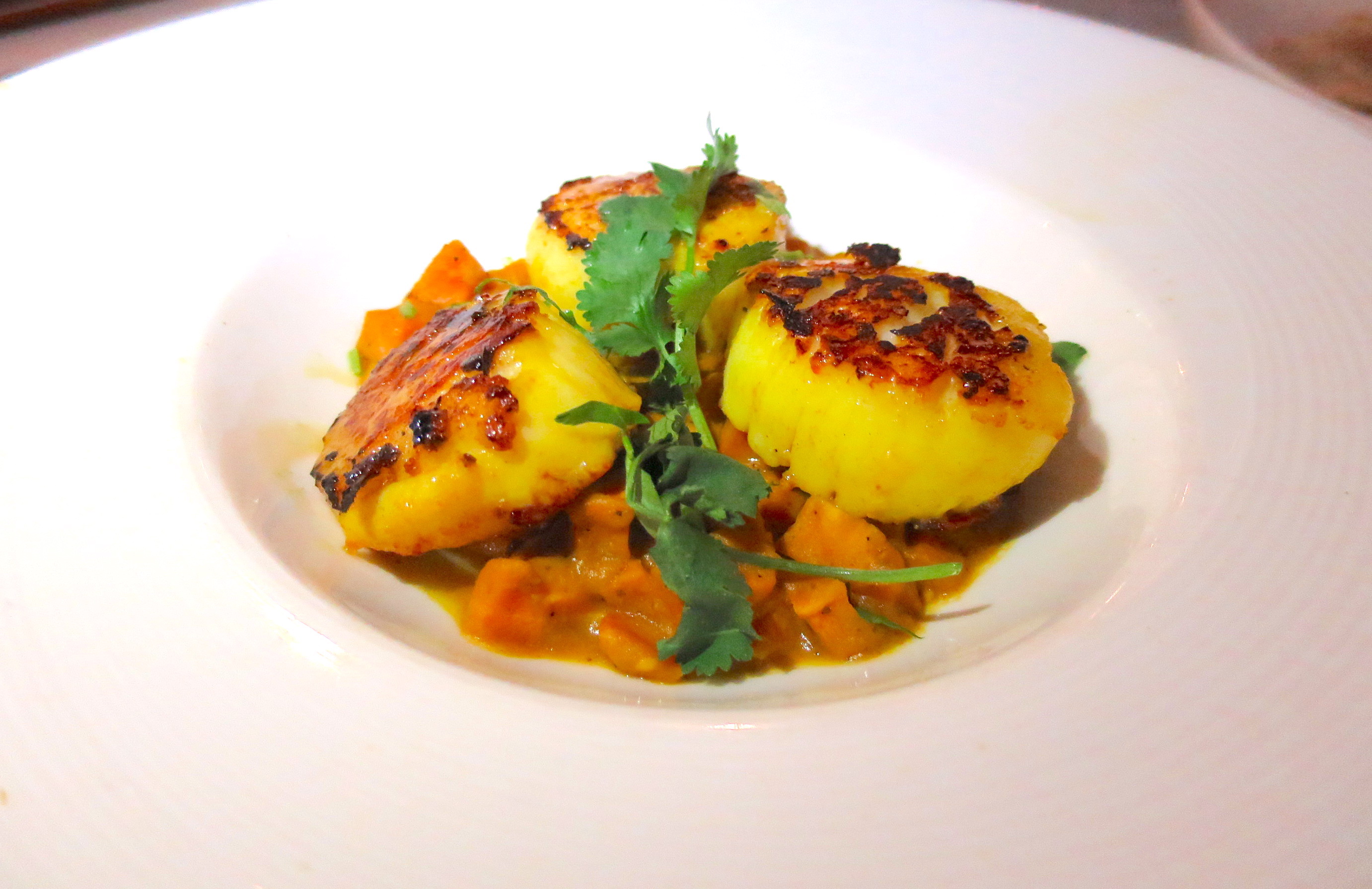 Photo by Michael Reiss
Our favorite starters were the Dosas Duck Tacos, Papadum Crusted Shrimp and Crispy Cauliflower. For mains, the Tandoori Lamb, and the Tumeric Marinated Scallops with Butternut Squash and Rassam rocked.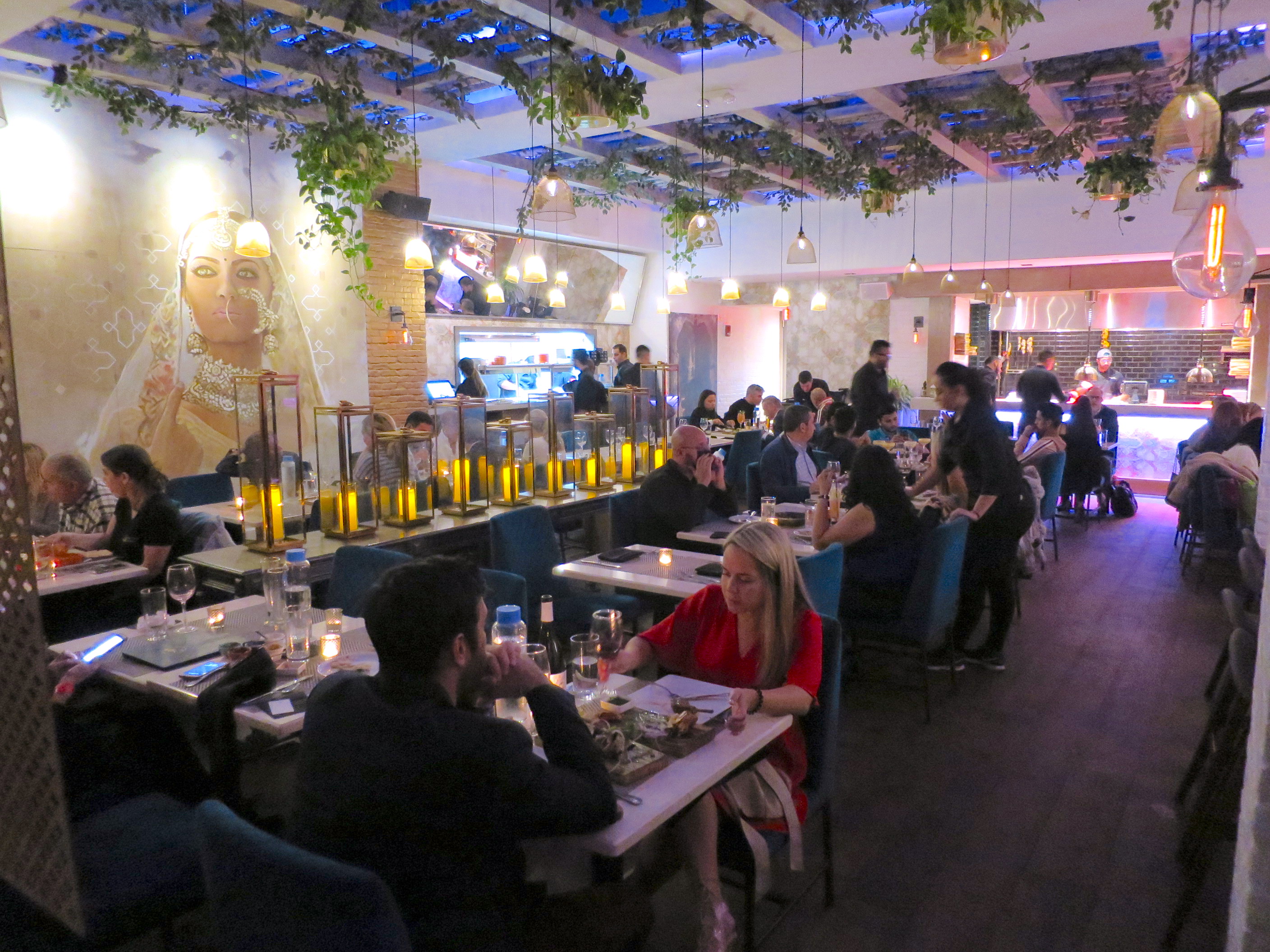 Photo by Michael Reiss
Maska's cocktail, beer and wine list is carefully curated to enhance the Indian spicing. All in all, this is a fresh approach to your grandma's Indian, and the crowd seems to love it.
Lobster Bar and Sea Grille – Miami Beach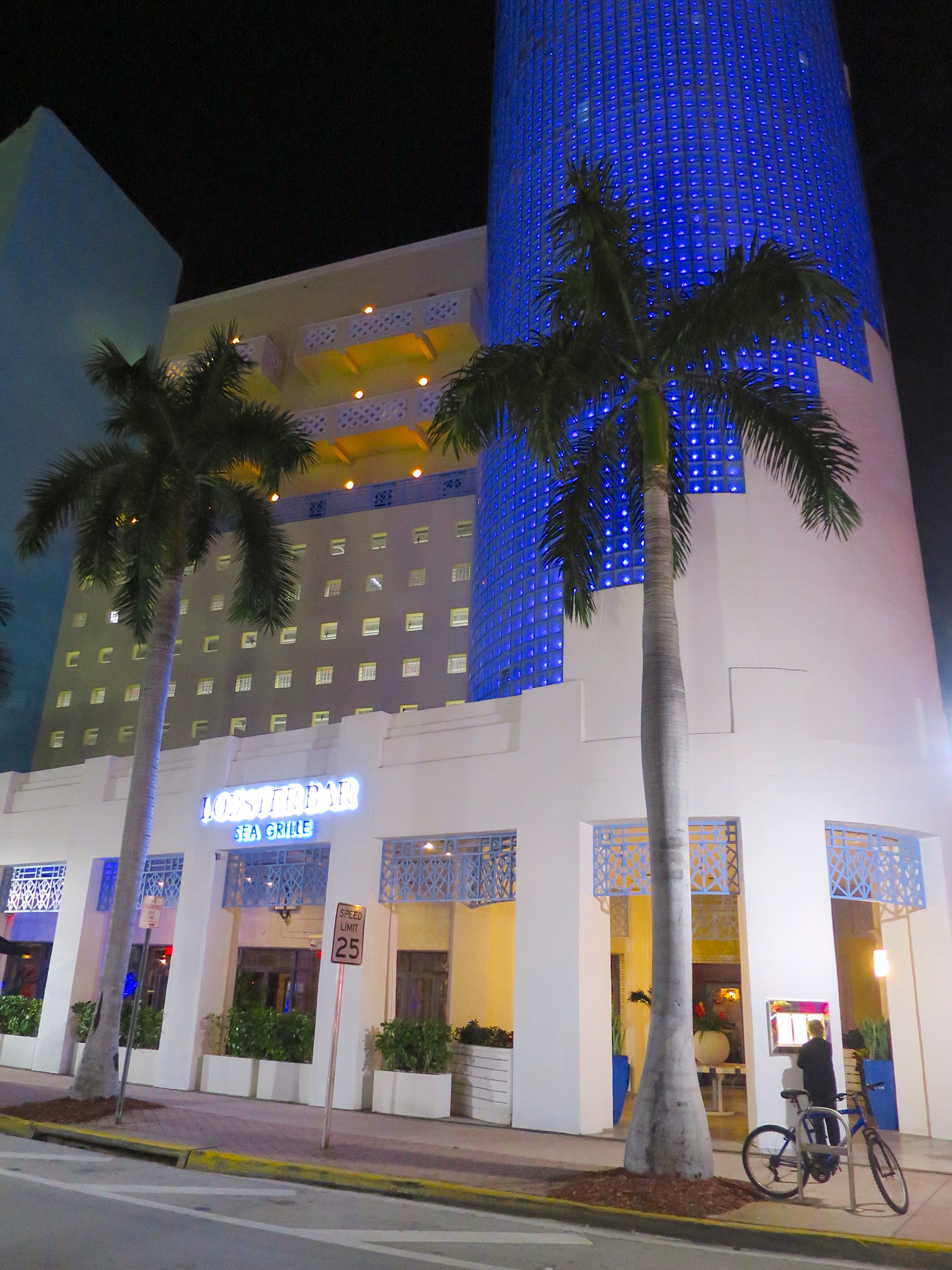 Photo by Michael Reiss
Although the name conjures up a quaint East Coast seaside shack with traditional vittles, nothing could be farther from the reality. At the corner of Washington Ave. in South Beach-- heralded by the glow of a blue neon tower--is this temple to all seafaring and land-loving fare: Lobster Bar and Sea Grille – Miami Beach.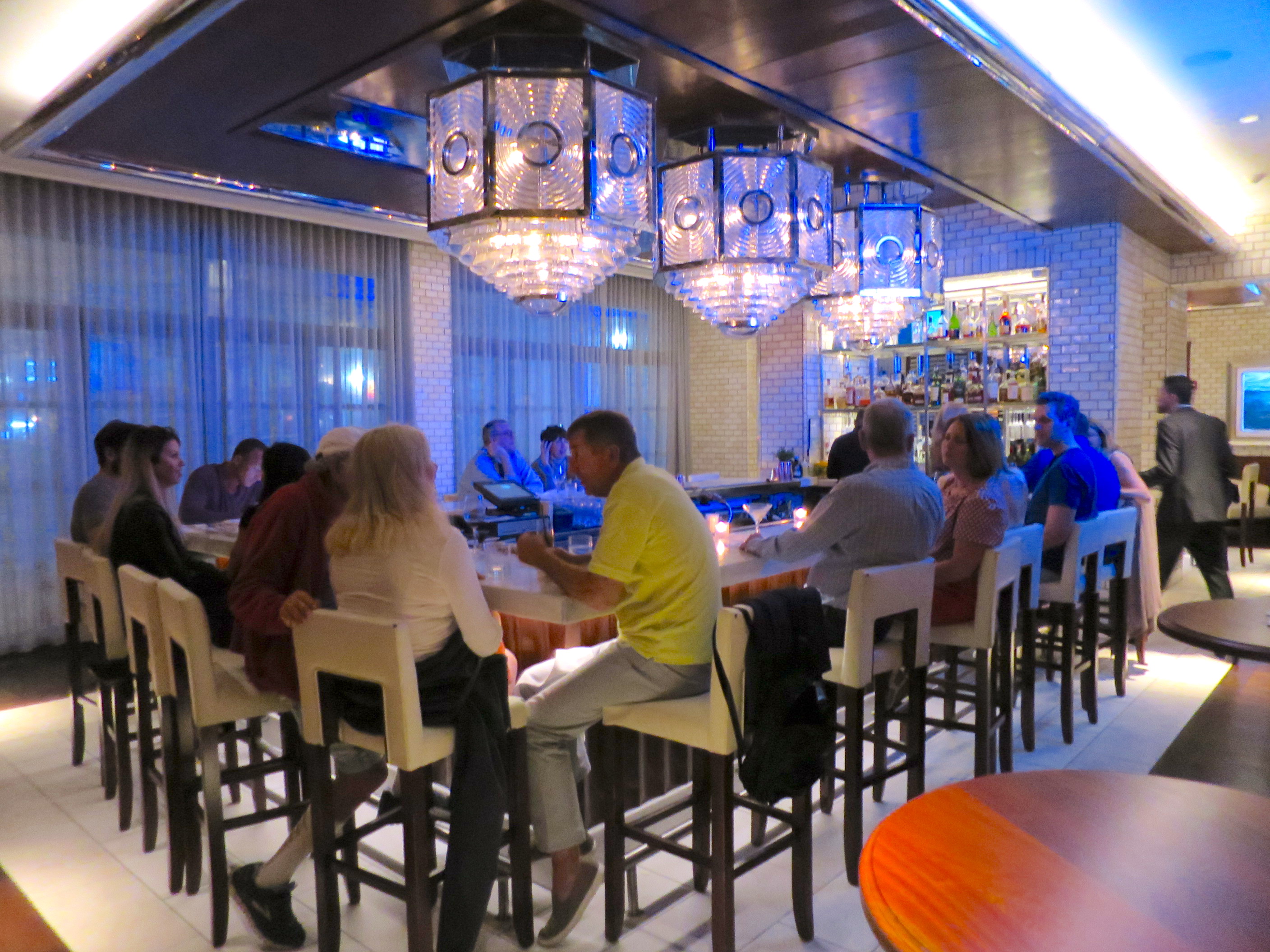 Photo by Michael Reiss
The sexy bar is just the hello to an elegant, glowing interior with white-clothed tables generously placed to provide ample space for conversation. The professional waitstaff donned in bistro whites is attentive and literally rushes to your table to ensure the proper temperature for your dining selections.
As might be expected, the menu veers to seafood, but does not leave out an ample selection for land lovers. For starters, we selected the French Tarte with Mushrooms, Black Truffle Essence and Gruyere Cheese. This was an impossibly thin, crunchy ode to flatbread that was irresistible in its delicacy and finesse. We also munched on scrumptious Nova Scotia Lobster Morsels, which were lightly fried and placed on a Greek honey-mustard aioli.
Photo by Michael Reiss
The Selected Field Ripe Tomato Salad -Barrel Aged Feta Wedge with olives dressed in EVO was an authentic nod to the Greek heritage of its owner.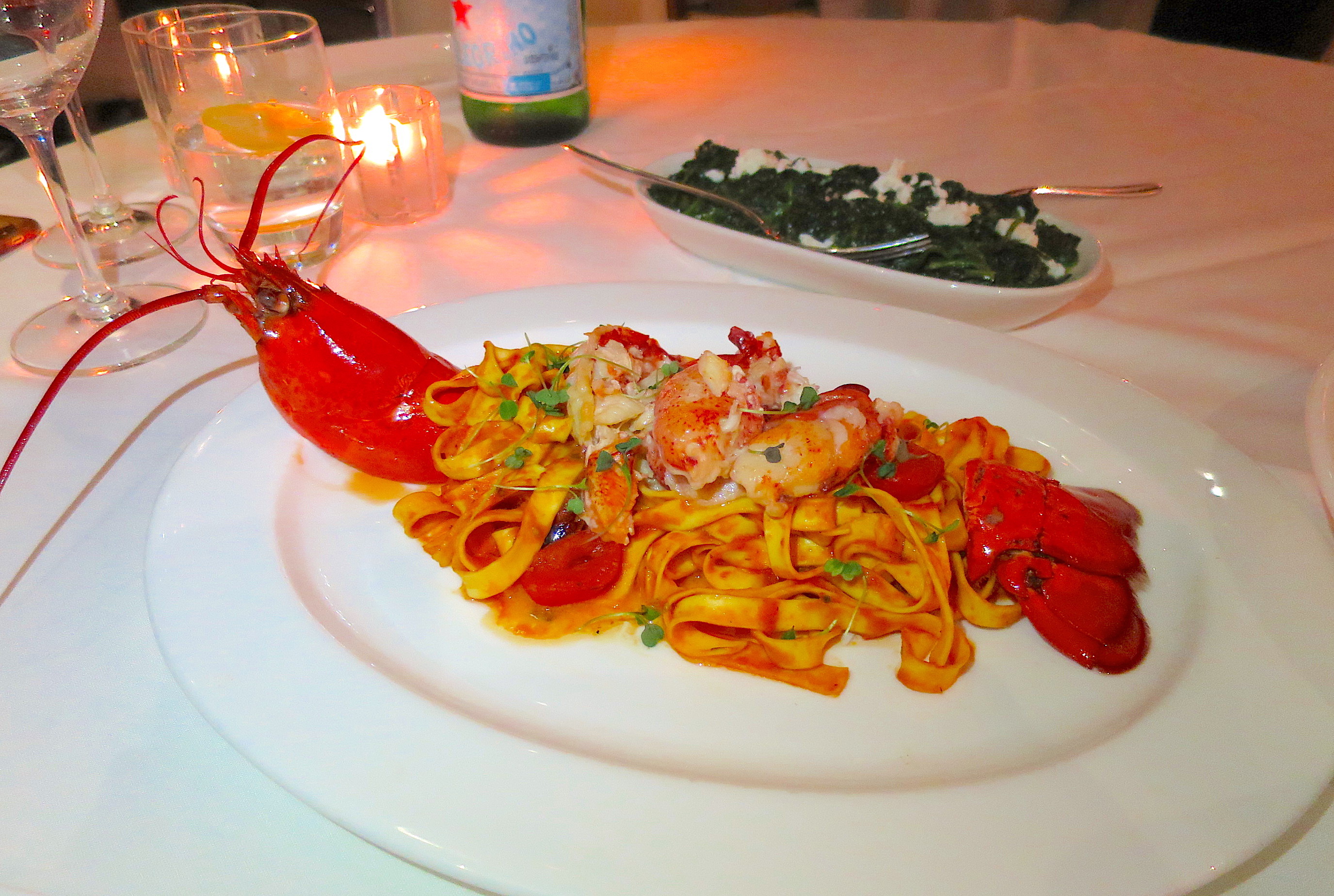 Photo by Michael Reiss
The Whole Lobster Pasta Americaine placed a pound of the crustacean, shelled, on fresh fettuccine and enrobed the dish in a rich tomato lobster sauce.
The Chilean Sea Bass Bangkok--placed atop a sushi rice cake--bathed in a soy ginger sauce and topped with jam was ethereal in presentation and flavor. Each dish was thoughtfully paired by Jonathan, the Sommelier and Wine Director, who offered a selection of international wines by the glass that ably complimented the fresh global fish selection on display. The profiteroles for dessert were among the best version ever tasted. The mini cream puffs were perfectly thin and crisp, the ice cream tasted of vanilla bean, the Valrhona chocolate sauce was just the right drizzle of decadent and the sugar roasted almonds gave the necessary crunch for a perfect ending to a quintessential Miami Beach night out at Lobster Bar and Sea Grille – Miami Beach.