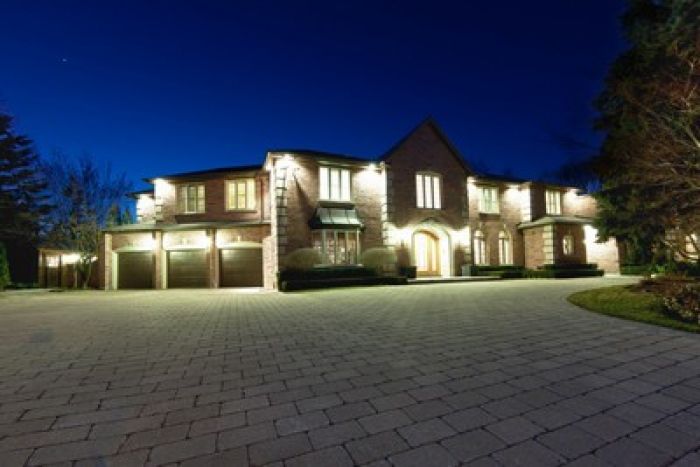 Luxury Portlio
Toronto is a well known metropolis for Canadian urban living. Currently, its the fifth largest city in the North American region. The city has tons of premier real estate from traditionally styled estates to high rise properties. Yet the state of Ontario has other noteworthy cities as well. Letís take a tour of a variety of Ontario homes to see how our neighbors to the north live in high-end style.†

Shanty Bay
Well begin with an amazing villa property in Shanty Bay. Designers applied the Baroque style of architecture to this three-story estate resulting in granite, marble and classical decor. Set on 10 acres of land, the curb appeal of this property is unmatched. The 30 rooms include 4 kitchens 22 bedrooms and 14 baths providing endless living arrangements and space for large social gatherings. The 400 ft waterfront offers the ideal view of Lake Simcoe from the tennis court and double boat house. Lastly, the spa area is an in-home retreat with an indoor pool, sauna and gym.

Bayview Glen
This next estate in Bayview Glen in Markham has a gorgeous curb appeal set apart by the massive circular drive. The in-demand open living plan is achieved by the modern crafted kitchen and grandiose living and dining areas. The five bedrooms of this exquisite estate provide ample living space. Additionally, some of the best features of this home are the theater, game and fitness rooms. Yet, the spa and in-ground pool provide the perfect oasis for this Bayview Glen Ontario home.

Collingwood
Country living at its finest is achieved at this estate along the Pretty River Vally. This home is set upon a 45-acre lot of seemingly endless countryside. This Collingwood Ontario home has ten rooms with six bedrooms and four baths. The kitchen is updated with an open and inviting design. The great room has a stone fireplace and the dining room and library provide ample living and social areas. The lower level has an additional kitchen with fireplace and game area.

Edge Hill Park
Lastly, we explore a Toronto home in Edge Hill Park. This 9,300 square foot property was built in the colonial style. As you make your way inside, the neutral tones provide a soothing decor mimicked by the four fireplaces which add a bit of extra warmth into this chilly region. Natural light is readily abundant with the floor to ceiling framed windows in the open living plan of the common areas. In total, the home offers six bedrooms, eight full baths and a den full of rich wooden built-in furnishings.
Luxury Portfio
Ontario Home