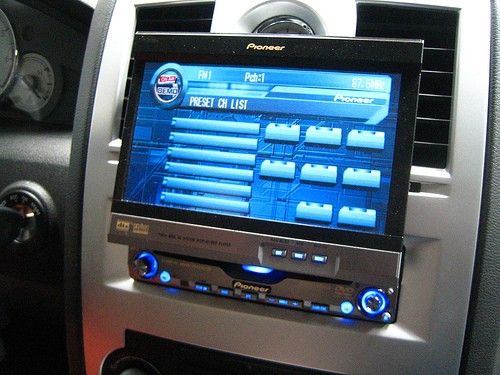 Rick Flickr Creative Commons
From in car coffeemakers to coolers, wireless to built-in tables and chairs, cars are becoming more and more like rolling homes – or at least hotel rooms.
Who Needs the Drive Through?
So everyone knows Italians take their coffee seriously – and they have taken it to a whole new level with the FIAT 500L, the high-end model of the subcompact to be released in 2013. The 500L comes with an optional in-car espresso maker. For the bargain price of around $300, the car will come with its own mini espresso maker powered by a special outlet, as well as cups, a spoon rest and sugar holder. If you think you won't to be able to make your coffee while you zip down the highway each morning, talk to your local dealer, like Holt FIAT of Ft. Worth, to learn more about the option.
If you would rather have a cold drink, you're in luck. If you have about half a million to spend, you can pick up a Rolls Royce Phantom that comes with built in, individual refrigerators in the backseat, complete with crystal decanters for pouring your favorite beverages with style. Other, lower end vehicles can also come equipped with coolers installed in the backseat arm rest, making that run through the drive through for an ice-cold drink a thing of the past.
Finally, You Can Control the Remote
While in-car entertainment systems have been common in vehicles for some time now, they have become increasingly advanced. Vehicles like the Buick LaCrosse, for example, offer individual seat back televisions, allowing each passenger to watch his or her favorite program in peace. Many cars come with sync capabilities, allowing you to listen to your favorite music and access social media in the car. Newer models are coming with everything from in-car wi-fi and satellite television to docking stations for tablets.
And while most devices these days come with car-adapted chargers, many cars are now coming equipped with 115-volt, household style outlets, allowing you to plug in and charge all of your devices.
Comfort is King
Of course, all of the coffee makers and televisions in the world are meaningless if you aren't comfortable. Comfort is no longer limited to high-end luxury cars. Even economy cars have optional heated seats, and some even offer multi-zone climate control, giving backseat passengers the ability to control the heating and cooling in the back. Speaking of the backseat, some cars even offer rear reclining seats, making the backseat experience even more comfortable.
Americans spend a lot of time in their cars – more than any other country in the world, in fact – and carmakers are responding by making cars more comfortable. Who knows what the future holds, but in the meantime, make yourself a cup of coffee, lean back and enjoy the ride.
This guest post was written by Jerry Lasley. Jerry is an automotive specialist and enjoys sharing his knowledge of the automotive industry.