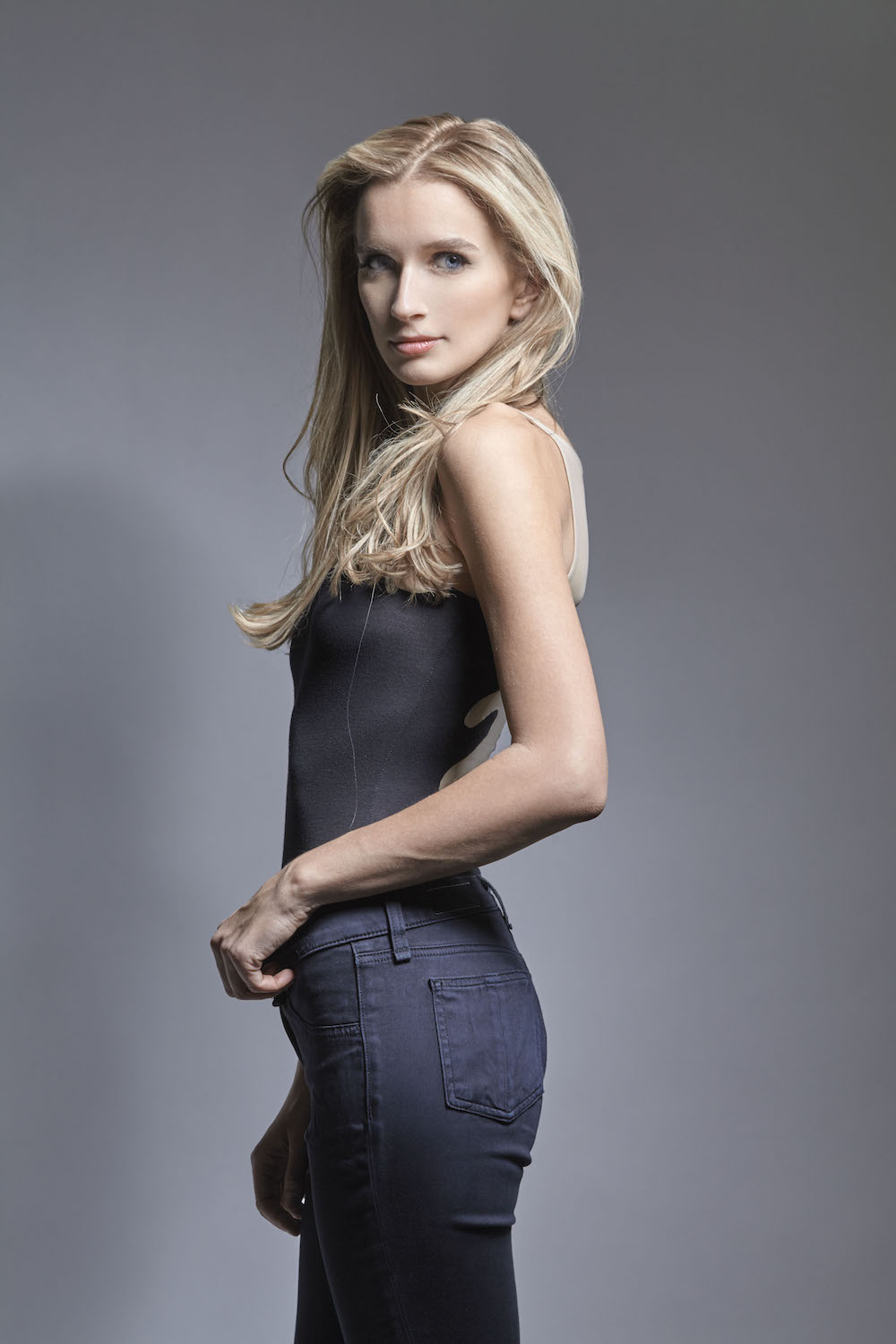 Photo Credit: Paul Tiradao
We've all felt it at some point—the strange and distinct shift from childhood to adulthood. Sinlessness to sinful. Purity to corruption. Whether it comes while re-watching old shows and noticing the dirty jokes or finally succumbing to the fact that the world is not merely black and white, we all know the sinking feeling that comes with the realization that things will never be as simple as they once were.
Kristin Simmons has portrayed the juxtaposition of childhood and adulthood throughout her career as a painter, printmaker and silkscreen artist. By taking popular artifacts that remind her of childhood (board games, toys, and advertising ephemera from the late 80s and 90s), she explores the relationship between "childhood innocence and adult cynicism." This isn't just an artistic pursuit driven by personal association with this memorabilia. Simmons is tackling some of our culture's most hot-button issues with her work. In today's political, social and economic landscape, art not only continues as a strong form of release, but it's become an absolutely vital way of communication. Simmons' fresh, but ultimately relatable, perspective is easily welcomed and acknowledged, especially by those of her generation. Not only do the subjects of her works really resonate with this group, both in familiarity and nostalgia, but she is allowing an often muted voice to be heard.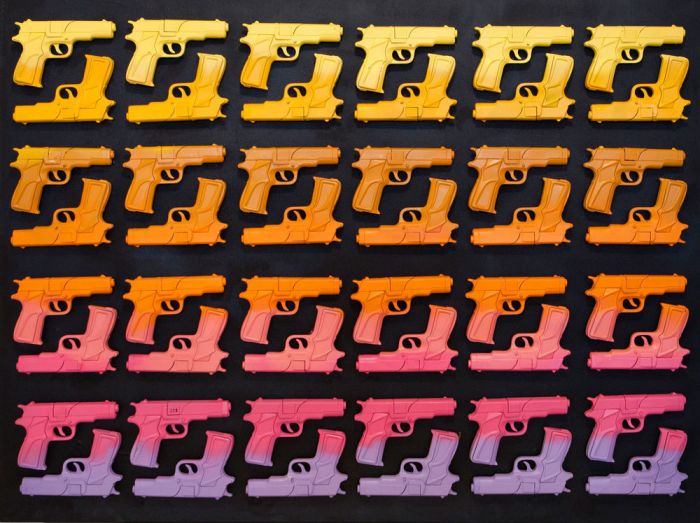 Photo Credit: Kristin Simmons
As a child, Simmons was always creative. "I remember arranging my toys in certain compositions and doing photoshoots with them when I got my first Polaroid camera," she says, "I don't recall ever having a conscious moment where I decided to make art, it always felt like a natural extension of who I was." Simmons firmly believes many of her peer's issues can be attributed to the time of their upbringing. "I think a lot of the issues my generation faces today (e.g. the opioid epidemic, soul-sucking jobs, porn addiction) are in part because we grew up in the boom years of the 80s, bombarded by messages that 'more is more and more is everything.'"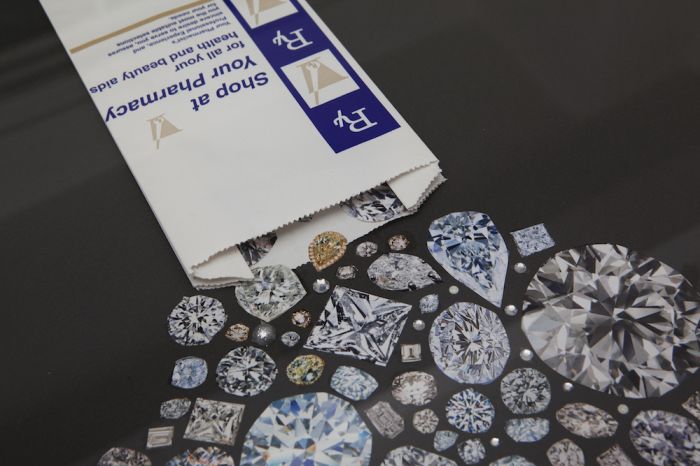 Photo Credit: Kristin Simmons
After a youth spent in NYC, where the lines between childhood and adulthood were substantially blurred, Simmons went on to attend Columbia University. Staying true to her mission, she created a warped version of the popular children's game, Candy Land for her senior thesis. The game's beloved characters, Mr. Mint, Queen Frostine and Lord Licorice are still present in Simmons' version. However, they are renamed Mr. Menthol, Blow Queen, and Lord Liquor, to fit a more provocative viewpoint. During the making of Candy Land, Simmons set out to "explore...whether it is even possible to reconcile childhood innocence and capitalist corruption."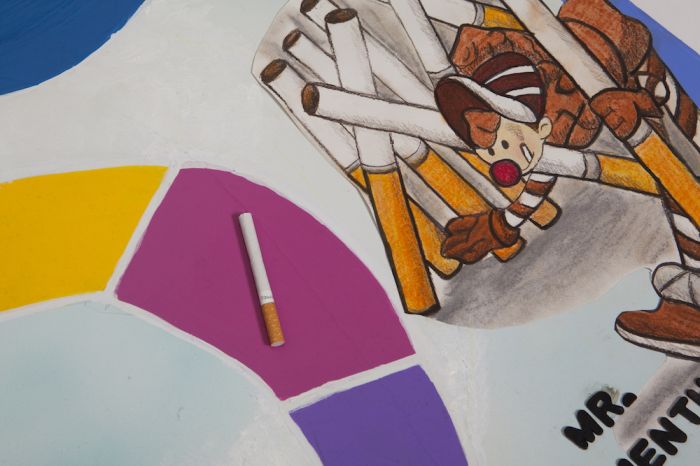 Photo Credit: Kristin Simmons
Since her thesis, Simmons has gone on to tackle some of the world's most loaded topics—Wall Street, society's idealized beauty and gun violence. Second Amendment is a series created from plastic guns—toys that are aimed at children—which are spray painted and mounted on canvas. This series comments on America's issue with gun control, and the all-too-overlooked reality of what is being marketed to children.
Her current favorite work explores both Big Pharma and materialistic consumption in Safe and Effective Medication. Three-dimensional prescription bags are arranged to pour out two-dimensional paper jewels. In this piece, Simmons prompts the question, "Are the diamonds meant to be drugs, or are the drugs the diamonds themselves? Do we see consumer products as a cure, a treatment, or even the symptom of a greater illness?"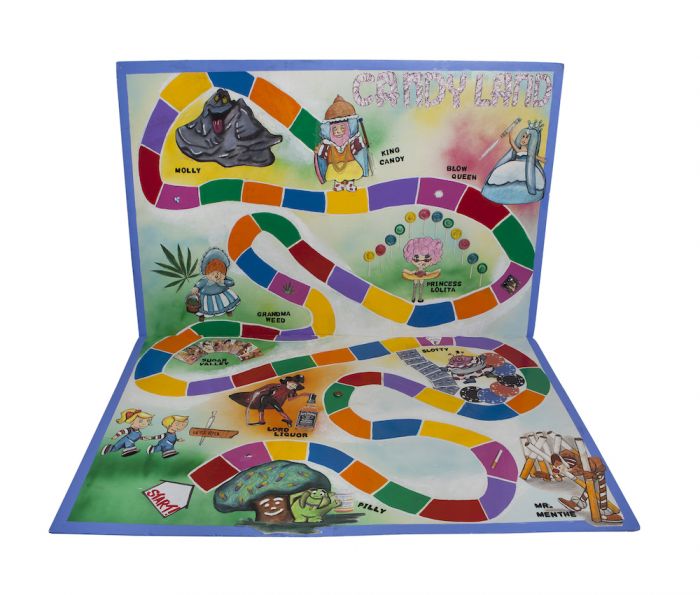 Photo Credit: Kristin Simmons
Simmons is currently in a group exhibition called "Debtfair" at the Whitney Museum in New York, where you can see pieces of her .01% series. The exhibit aims to shed light on the struggle of artists—both everyday and as a big picture. "The average American artist today is in debt. "Debtfair" illustrates how artists are interconnected through various debts and how this affects (for better or for worse) our art practice, both in subject matter and day-to-day logistics."
Simmons has also begun work on a new project. "I am currently collaborating with jewelry designer Emily Satloff new silkscreen series titled Taliswoman—a play on the word Talisman. The images follow four different real-life women with real-life, high-powered careers. The images posit the idea that women can (and should) be tenacious and driven, but can also be exquisite and unapologetic."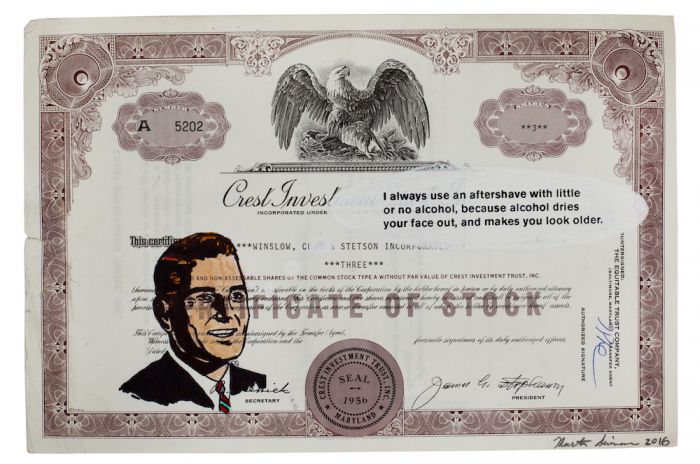 Photo Credit: Kristin Simmons
It's safe to say we will see much more from Simmons. As an artist who uses society and mass media as motivation, her inspiration is never ending. "I take inspiration from anything, anyone, and anywhere: magazines, social media, advertising billboards, a stranger's conversation on the subway...I am constantly surprised by where I find it."
For the future, Simmons hopes to continue to evolve her artistic mission. "I once read somewhere that 'one hallmark of great art is its ability to simultaneously command attention and confound interpretation.' I hope my work evolves within this ethos as my practice grows."