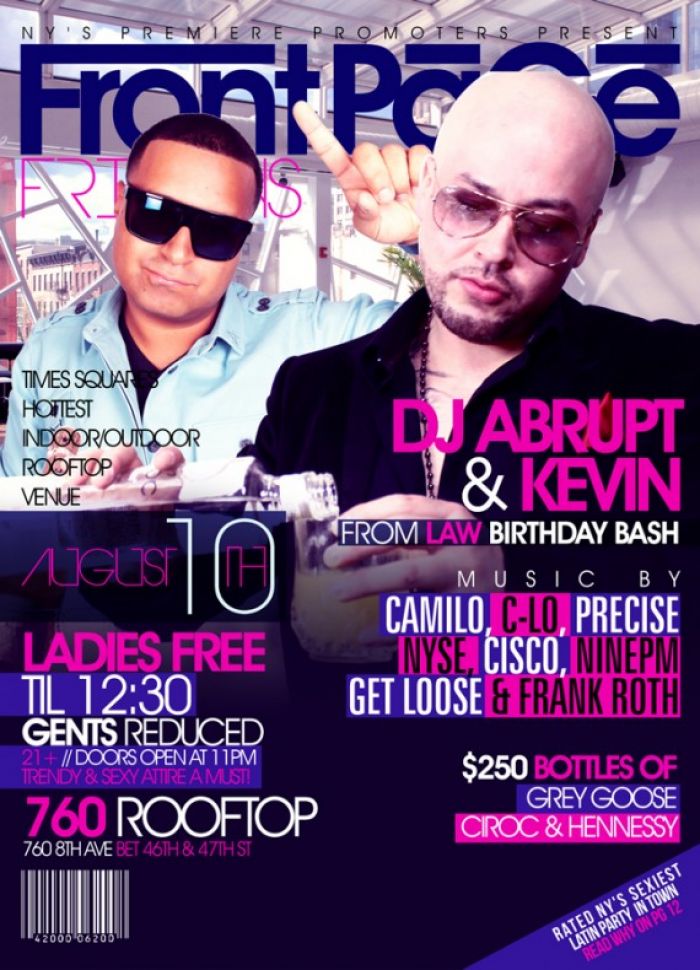 Eric Virgil presents
Front Page Fridays at Rooftop 760
Times Square's Indoor/Outdoor Rooftop Venue
Located at 760 8th Avenue between 46th and 47th Street

Guestlist Pricing:
Ladies free til 12:30am, reduced after on Eric Virgil's guestlist
Guys $10 til 12am, reduced after on Eric Virgil's guestlist



Drink Specials: $8 Bacardi & Well Drinks from 11pm-12am

Bottle Packages:
$250 Bottles of Greygoose, Ciroc and Hennessy

Music by: Dj Spin One and Heavy Styles
Spinning: Top 40, Open Format, House, Hip Hop, Reggae, Latin

760 Rooftop NYC Birthday Packages
Special Birthday packages apply. Pleas text 917.664.2686 or email info@ericvirgil.com for more information.
What's included:
* Your own Special Birthday List at the door
* The Birthday Person + 1 guest will be FREE All Night
* All your Guests will receive the special birthday rate:
Ladies FREE til 1am; $10 After
Gents $10 til 12am; $15 After
* FREE Personal Host to ensure your evening goes smooth

Additional Benefits Available but birthday must be booked 2 week in advance:
FREE Customized Web Flyer (To help you promote your birthday)
FREE Birthday E-Ticket (For your guests to bring with them to show the door man)

760 Rooftop NYC Dress Code: Gents must wear a collar shirt. No Boots and No Hats, Dress Code will be enforce to Doorman Discretion.

To rsvp, bottle packages or email for information, text 917.664.2686 or email info@ericvirgil.com
Go to www.ericvirgil.com for other parties

Venue Details:
NYC's newest rooftop club located at the top of the world famous Copacabana. Party at the top of Times Square at NYC's new most sought after destination on Friday evening.