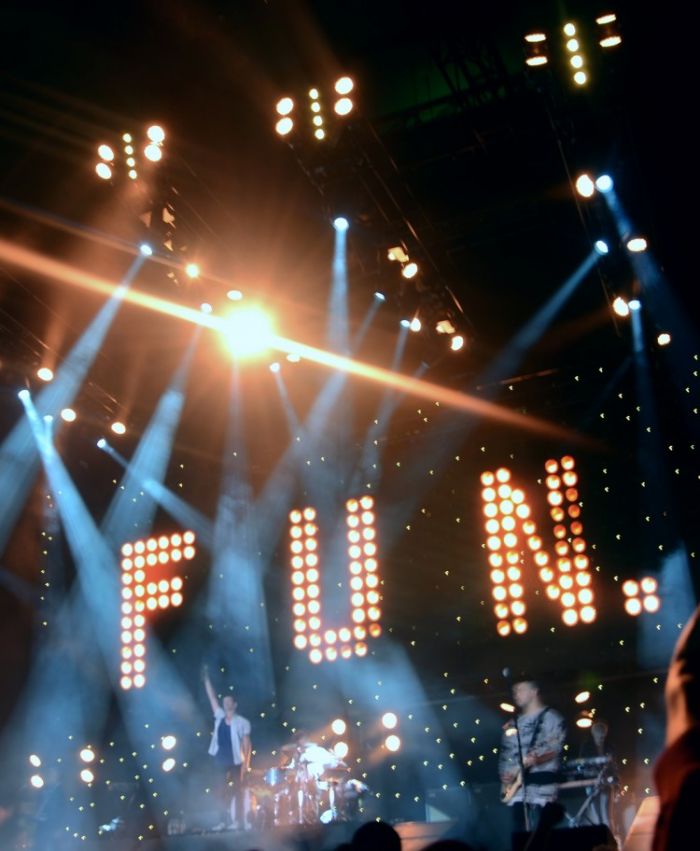 fun Photo © Sharon Gay
Fun Photo Credit 2013 © Sharon Gay

Fun Concert Review - Most Nights Tour with Tegan & Sara
By Sharon Gay, Reno & Lake Tahoe Travel, Sports & Entertainment

Grammy Song of the Year and Best New Artist Awards winning band, fun, performed We Are Young, Most Nights, and other hits live in concert at the Lake Tahoe Outdoor Arena last night.

Nate Ruess, Andrew Dost, and Jack Antonoff opened the show "black tie" and continued the fun set off by an amazing light show.

Fun is traveling this summer with a 26-date concert tour featuring support from Canadian indie pop talented twins Tegan and Sara. The Most Nights Tour will be the group's last concert tour of this album cycle.

The six-time Grammy nominees began their tour on July 6 in Toronto and continue through Sept. 26, with upcoming dates at L.A.'s Greek Theatre and New York City's Hudson River Park.

Band member Jack Antonoff said of their opening act, "Tegan and Sara greatly impacted the way I think about writing and recording music at the moment that fun. was forming and for me, that makes it extra special that we get to tour together this summer. Beyond my personal experience, their new album 'Heartthrob' is absolutely incredible and the three of us are so thrilled to hear it live every night this summer!"

Fun is already planning their return concert at Lake Tahoe Outdoor Arena in Stateline, Nevada – after the mutual love fest tonight at Harvey's Summer Concert Series.

"We are going back to New York and cutting another album – then we are coming back to Lake Tahoe," announced lead singer Nate Ruess.

"We are grateful for this opportunity," continued Ruess.

In spite of the smoky air from the raging Yosemite National Park and American wildfires, Ruess and the band love Lake Tahoe.

Ruess got to Stateline a few days early, and had managed to play a round of gold at Edgewood Country Club and to go out on the lake on a jetski. He said his voice was great in spite of the smoke.

And the fun fans agreed! Concert goers of all ages were on their feet dancing and singing the lyrics from memory.

Fun's set list included favorites from their new album, Some Nights, including We Are Young, Some Nights, Carry On, and Why Am I the One.

After a standing ovation, fun returned to the stage for an encore.

Fun is an energetic, talented American indie pop band based in New York City that was formed by Nate Ruess, formerly of The Format. After the breakup of The Format, Ruess formed fun with Andrew Dost and Jack Antonoff.

Tonight's concert at the Lake Tahoe Outdoor Arena at Harveys wtook place despite the Rim fire smoke which has filled the Lake Tahoe basin.

Harrahs - Harveys Director of Entertainment John Packer said, "The bands are here and they are ready to go."

No one really noitced the smoke - the music was amazing!

Fun. has been around since 2008, and released their first album, Aim and Ignite, in 2009.

Nate Ruess, who says he is not so young, is 30 years old and has been trying to make it big in the music business for nearly 15 years. Then a hot record producer, Jeff Bhasker, helped fun to be a commercial success.

Fun's first major hit, "We Are Young," was released in February 2012. By March 2012, "We Are Young" reached No. 1 on the Billboard music charts. The band fun.'s rapid climb to success culminated at the 55th Annual Grammy Awards, one year after their Some Nights album release.

Band members include Nate, lead vocals; Andrew, keyboard and vocals; and Jack, keyboard and vocals.

Fun's next stop is Idaho Botanical Garden in Boise. Next at Harveys Lake Tahoe Summer Concert Series - Brad Paisley!
fun Photo © Sharon Gay
Fun Concert at Lake Tahoe