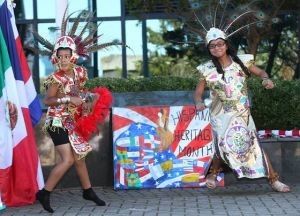 Sean M Fitzgerald
Atlantic City is not only about casinos and nightclubs, there are tons of things going on all throughout the New Jersey city. And, a lot of these things are clean, family-friendly events that kids and adults alike can get a kick out of. Here are some of our recent favorites:
On Indiana Avenue, near Bally's Casino in Atlantic City, a giant centipede crawled out of a yawning black hole in the pavement where a sewer cover had been dislodged. But instead of running away, a crowd of families were getting out their cameras.
That's because the leggy giant was a magical mix of tempura paint and sidewalk chalk from Ukrainian artist Alex Voiskam, one of fourteen artists who came from around the world last week for the DO AC 3D Chalk Art Festival. With subjects ranging from a giant Monopoly board and seascapes to bugs, dinosaurs and astronauts, the free festival drew 3D thrill-seekers to Indiana Avenue from September 17-22nd.
Blowing up Monopoly
The festival was organized by globe-trotting chalk artist Tracy Lee Stum, a former Temple University student who is now based in Ventura, CA, and the Atlantic City Alliance. Chatting with NewsWorks at the festival last Saturday, she remained on high alert as onlookers couldn't resist walking across her giant Monopoly board, where flat chalk dice and Monopoly game pieces loomed up fantastically from the pavement. Read More
The brightly colored flags of Chile, Costa Rica, El Salvador, Guatemala, Honduras, Mexico and Nicaragua - the seven Latin American countries celebrating their Independence Day this month - decorated the Police and Firefighters Memorial Plaza in front of City Hall in Atlantic City on Sept. 18 as the resort kicked off Hispanic Heritage Month with a celebration of music, dance and tributes.
The annual event was presented by La Casa Dominicana, the city of Atlantic City, Azteca Organization and Atlantic City Free Public Library.
Hispanic Heritage Month is celebrated nationally from mid-September to mid-October and pays tribute to Hispanic Americans and their contributions to this country, said Esmeralda Vizcaino, the out-going president of La Casa Dominicana. Read More
KingBee Media and FashionSTYLE Magazine will bring four days of high-end fashion to the shore with Atlantic City Fashion Week, beginning Thursday, Sept. 26, and running through Sunday, Sept. 29, at The Pier Shops at Caesars.
An international group of designers from Australia, Scotland, India, the Caribbean and the United States will feature menswear, ladies couture and ladies formal.
A welcome event and the first Atlantic City Fashion Week Awards will kick off the events on Thursday, Sept. 26. at The Continental restaurant inside The Pier Shops. On Friday, Sept. 27, designers will showcase ready-to-wear and plus-size collections. Couture designs will be featured Saturday, Sept. 28. Designers and collections from South Asia will be featured Sunday, Sept. 29. Read More