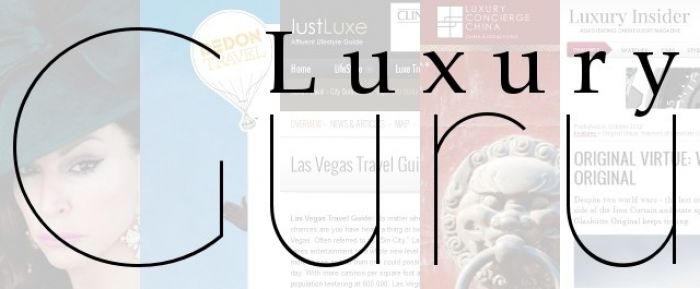 This article appeared first on GERMAN LUXURY CONCIERGE. Custom Health Services, Luxury Experiences & Event Consulting made in Germany.
------------------------------------------------------

The luxury industry is growing rapidly – day by day. But even for insiders, it is getting harder and harder to find the exclusive and special things. You don't need to waste your precious time to browse countless offers, services and magazines.
On behalf of all millionaires, billionaires and luxury lovers, German Luxury Concierge has been on the scout – and found them: the special things that make your life worth living.
We present five extraordinary resources, no millionaire should miss:
Luxury Concierge China
The founders Jonathan Hasson and Spencer Dodington guide us into the distant China. Both live there for many years. By their particular passion, they allow us to experience the secret destinations and the fascinating corners of the country. The attention to detail, strong local knowledge and an excellently personalized service allow Luxury Concierge China presenting China at its most breathtaking point of view. Luxury lovers can even decide how much they want to experience. So you can, for example, participate in urban safaris through major cities such as Shanghai, Beijing and Hong Kong - the diversity is unlimited.
Jonathan and Spencer are your insider guides...
DEDON Travel
"It's a journey back to Nature. Belongings and possessions are not the only things that matter. Real luxury is measured by what you can get rid of. Your shoes, for instance. Your mobile phone. The new currency of travel is time. Time to be with nature. Time for yourself. Time for true experience. Experiencing means Living." – www.dedontravel.com
This offer especially aims at independent travelers who want to experience something exceptional. Unique routes, stunning locations and special personalities. DEDON Travel is your travel agency and tour organizer at once. Experience luxurious outdoor lifestyle in a new way.
Your trip to paradise including all round service...
Luxury Insider
We present: Asia's leading online luxury magazine. Under the umbrella of WhiteWave media group, Luxury Insider presents products and services of highest quality.
"In online luxury content, no other website does it better than Luxury-Insider.com."
The team around publisher and CEO Julian Peh is confident, but it perfectly meets the requirements of true luxury lovers. German Luxury Concierge admired the variety and quality of numerous articles. Even German companies have conquered prominent places in the Asian magazine. The current article about Glashütte Original gives us a wonderful insight into Germany's most traditional, exclusive and famous watch manufacture.
Who still doesn't know this magazine, is advised to learn more now...
Las Vegas Travel Guide
Las Vegas - since an eternity the famous desert city attracts players, visitors and millionaires from around the world. But "Sin City" brings entertainment to a new level and offers more to see and to do than possible in one day. The JustLuxe magazine presents the exclusive places of the city in his Las Vegas Travel Guide.
"Luxury lovers from near and far heard to the city to partake in its rich culture and refined offerings."
Learn more about things to do, exclusive places to eat, extravagant nightlife locations, the best of art & culture, sophisticated designer shops and luxury services for enthusiasts.
Cantonnet Cantonnet
The success story of Cantonnet once began with a career in real estate development. But the business sense and creative spirit of this exceptional personality seems to be unlimited. Cantonnet now follows her heart and her great talent for artistic expression – Cantonnet Cantonnet becomes an important part of the luxury jewelry sector.
"After obtaining a jewelry professional degree from the prestigious Gemological Institute of America, Cantonnet launched her fine jewelry business from the world's tallest tower, the Burj Khalifa, in the heart of Dubai" – www.cantonnet.net
German Luxury Concierge says: Jewelry lovers should definitely visit Cantonnet Cantonnet. Learn more about how wearing jewelry is an opportunity to share a message and communicate your identity.
www.luxurconciergechina.com
Luxury Concierge China
www.dedontravel.com
DEDON Travel
www.luxury-insider.com
Luxury Insider
www.justluxe.com
Just Luxe
www.cantonnet.net
Cantonnet Cantonnet