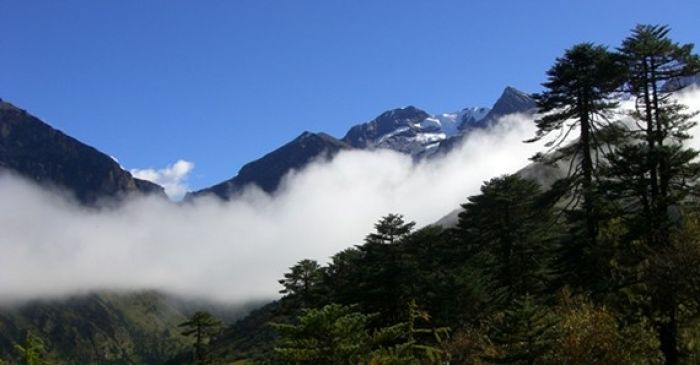 Holidaying in the mountains brings dramatic vistas but it sometimes means a whole lot less air – particularly if you are about 7,000 feet or so on a walking, skiing or trekking holiday. I should know, I have had altitude sickness on almost every major mountain range in the world!
As a fit young doctor I thought I was indestructible – until I arrived in the Andes – at the highest international airport in the world in La Paz Bolivia in 1990.  I had been working as a ship's doctor for 4 months on a cruise ship doing the rounds of the Mediterranean, the Amazon River and down to Tierra del Fuego. So I went from 4 months, literally at sea level, to 13325 feet (4061 m). Step out of the plane – dude who took my air?  But being indestructible I ignored the warnings about altitude sickness in the highest city in the world. I walked from the bottom to the top of the valley that La Paz sits in – too much exercise on my first day. Then I had a large chicken dinner – too much fat and protein. Then I had two beers – alcohol and altitude just don't mix.  
At around midnight I woke up with a sense of impending doom. I couldn't breathe and my head was aching like someone was hammering hundreds of nails into my head.  My lungs were working like I was running and the headache just got worse and worse. I sat up all night because laying down made my fluid filled lungs, and swelling brain even worse. Luckily I had brought some acetazolamide – otherwise known as Diamox – with me I took one tablet as soon as I recognised I had altitude sickness and by the morning I was much improved. That is to say my head only ached when I walked or ate more than a peanut.  If I had seen a patient in this condition I probably would have given them more aggressive medical treatment so I would suggest you see urgent medical help if you get symptoms like this.
 Diamox was my new best friend. It makes the blood more acid and helps to you breathe faster while you are asleep to prevent altitude sickness. It also has a direct effect on blood vessels in the lung to improve altitude tolerance. Over the next few days I improved rapidly from that day on Diamox became my mountaineering buddy whenever I go above about 7,000 feet. But that's just me – I have the curse of being in love with mountains but having the altitude tolerance of deep sea slug .  
When I lived in Denver, Colorado (5,000 feet) at the foothills of the Colorado Rocky Mountains, I would have trouble getting to sleep the first few nights when I would return from the lowlands.   I recalled I could never sleep on planes – the first symptom of altitude intolerance.    So in Colorado I had to have small lunches when I skied at the high ski fields at Loveland or Arapahoe Basin or my head would ache all afternoon.   Aspen and Vail are not so high and much easier on the lungs and brain. One evening I drove on the highest paved mountain road in the US to the top of Mount Evans (14,240), just 2 hours to gain 9,000 feet, then ran to the top of the lookout to catch a photo of the setting sun. Unfortunately I wasn't ready for the altitude. Sparks of light seemed to jump out of the rocks indicating my retina wasn't happy with the oxygen level and my fingers seemed to fumble with my camera as if all the buttons had been swapped around. I got back down to the car park and drove carefully home with the mild swelling of my brain causing an almost overwhelming sleepiness – but you can't just pull over to the side of the road to take a snooze at 13,000 feet.
Then there was Yosemite National Park in the Sierra Nevada in California.   I forgot to take the Diamox and found myself trailing my family as soon as we hiked over 8,000 feet and even had the humiliation of handing my back pack to my 11 year old son to carry.    While seconded to the World Health Organisation  in Geneva I managed to get mild altitude sickness in the Alps which only leaves Kilimanjaro in Africa on my list of continents to tick off for mountain sickness - but I think that Kilimanjaro is way beyond my abilities. Even I can't get altitude sickness on Australia's highest peak , Mt. Kosciuszko, at 7,300 feet.
Now I spend a lot of time teaching public health in the Himalayan kingdom of Bhutan which is mostly over 7,000 feet with many passes of 12,000  feet.  Bhutan is so beautiful and relatively unexplored by tourists that I am often drawn to walk higher than I plan to. The night before I depart for Bhutan I pop half a Diamox and take half a tablet twice per day for 3 days – and that's it. If I trek high to a secluded monastery and have to sleep above 9,000 feet I take half a Diamox that morning and evening and I'm fine. But everyone has a different reaction to altitude.
So I love mountains, but I have the curse of being stuck in a body that was designed for sea level operations. Maybe I was meant to remain a ship's doctor after all.  For your mountain adventures, don't make the same mistakes I made. Rest the first couple of days above 7,000 feet. Try to ascend slowly. Hike high but sleep low. Enjoy small meals that are low on fat and protein and avoid alcohol. Talk to your doctor about Diamox if you plan to spend much time above 9,000 feet or plan rapid ascents or sleeping higher. Enjoy the mountains!
Jomolhari Trek Bhutan