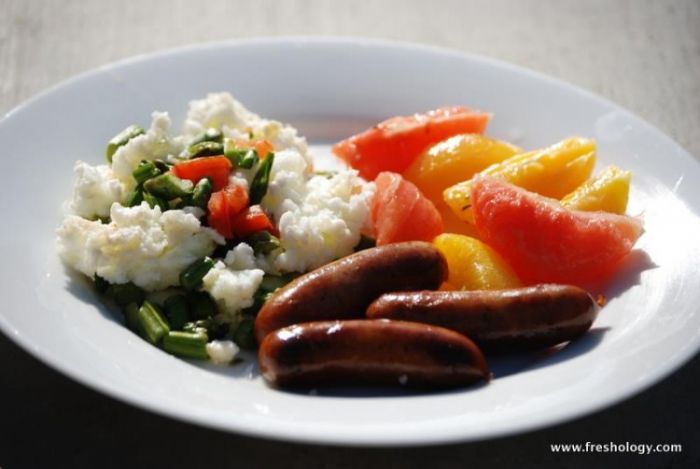 Freshology
Do you ever wish for a personal chef? Someone who would create all sorts of fabulous dishes for you and have them ready for you each day? We certainly have.
Introducing the next best thing to your own personal chef – Freshology Gold. Whether you choose to go for a five or seven day plan, they will deliver by Fed Ex a lineup of fresh portion controlled meals free of preservatives, additives and sweeteners.
Breakfast, for example, will get you started with some muesli granola, nonfat vanilla yogurt, strawberries and fresh fruit. For lunch, you will move on to the likes of a spinach and baby mozzarella salad with marinated cherry tomatoes. Round out your dining experience with a sampling of a veggie patty with roasted celery root puree and wild mushrooms for dinner. Then top it all off with a 140-calorie sweet treat like the flourless chocolate cake.
Our favorite breakfast meal was the scrambled eggs with cheddar and chicken apple sausage, which can be heated up in the microwave in just two minutes. If you like seafood as much as we do, you will love the flavorful pan roasted tilapia with saffron quinoa.
The process is super easy. Just choose the plan you want – a five or seven-day at home delivery – and then select the type of proteins you like, i.e. beef, pork, lamb, shellfish, chicken, etc. Be sure to note if you have a specific food allergy. The boxes will arrive at your doorstep on Wednesdays and Fridays and will contain enough food for a few days before your next shipment arrives.
This might be the easiest and fastest way to get yourself on a healthier track as you start the new year.
For more information, visit www.freshology.com.
Freshology