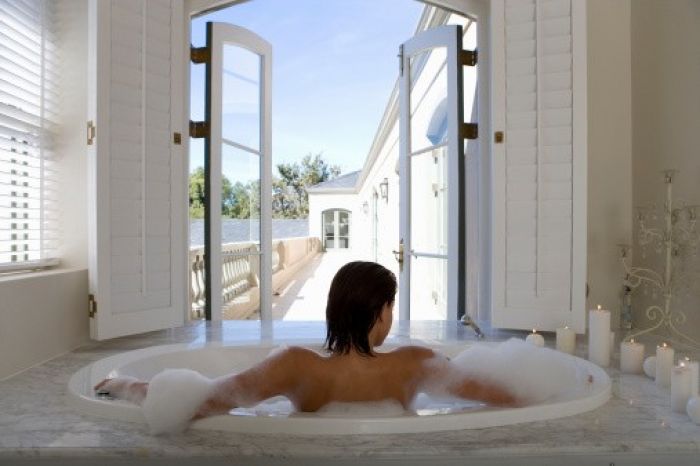 www.gettyimages.co.uk
A day spa offers a variety of beauty regimens in a relaxing environment with a luxurious feel. Build a day spa in your home and grab hold of the chance to pamper yourself as well as your guests in an exclusive style. You will be rejuvenated with its treatment and get relief from your stress, tension and muscle aches. The cozy atmosphere will make you feel revitalized. While designing the spa, remember that itís important to give off a good impression to your guests coming first time to your house for a refreshing spa treatment. It is not very difficult to design a day spa.
Letís have a look at the tips for designing a day spa in lavish style:
Paint with Appealing Colors
Start your designing work by painting your day spa with appealing colors. Ideal colors for a day spa include taupe, sage green, lavender, brown or any Earth shade. Try to paint the waiting area with an appealing color which can be in light or dark shade as per the desired ambiance of the room.†Paint the other rooms of your day spa with dark colors for providing them a tranquil setting.
Add Window Treatments
Donít forget to add window treatments to the windows. Wispy curtains in the waiting area offer plenty of natural light to the area making it more inviting for your guests. If your spa windows look out on an undesirable location such as a parking lot or any other business, make use of a wood blind or a heavy curtain. This will block the view but will allow light to come inside.†If you have windows in the spa treatment room, you need to place a heavy curtain for blocking out sunlight.
Pick out Cozy Chairs
Try to pick out small sofas or cozy chairs for your guests so that they can sit comfortably while waiting for the spa treatment. Wicker chairs with seat pillow are also great for your day spa as they are relaxing and boost up the ambiance of the spa room. Play soft music in the background and provide magazines to your guests in order that they can relax the moment they have entered your spa room.†Use weather wood as furniture to enhance the charm of your spa room and make it look relaxing.
Set up Massage Tables
Purchase a massage table for massage, scrubs or body wraps. Set up a massage bed for the facial room. Cover the beds with a sheet and a light down comforter for your guests while getting the massage treatment. Furnish your facial room with a sheet as well as a light blanket in order that your guests can stay warm while getting the treatment.
Decorate with Lighted Candles
Lighted candles help to create a tranquil atmosphere. The candles or scones on the wall offer a pleasure ambiance during the treatment. Moreover they are used for aromatherapy. Try to build wooden shelving for accommodating the candles. Do not forget to light the waiting room with a soft glow in order that your guests can relax while reading the magazines.
Arrange Additional Shelves
Build additional shelves with the doors or the curtained coverings to keep massage oils and clean linens. In addition make the arrangement for placing a small table and a chair for your guest and a rack for hanging clothes. A wooden peg rack is very easy to build and attach to the wall.
Use Spa Accessories
Make use of spa accessories like sage, dried lavender and aromatherapy candles. Provide your guest with a robe and slippers to change while waiting for the spa therapy. You should have the appropriate tools for treatments like body scrubs, massage oils, sprays and foot baths for your massage room and toner, masks, gels and lotions for your facial room.
Build a Manicure Table
Manicures and pedicures are common in most spas these days and you wonít face any difficulty in building a manicure table. A sanded and painted table top covered with tempered glass looks great for a manicure table. Purchase a room divider or folding screen for allowing more than one manicure to take place simultaneously.
Get Foot Tub for Pedicure
Get a foot tub for pedicure or bring basins of water to pedicure station. A comfy chair and sofa also serve the need for a pedicure. Ensure the fact that you have a shelf or a table nearby for keeping the magazines as your guests may like to read the magazines while soaking their feet in the water.
Check out these tips and design a day spa at your home to get utmost relaxation and treated in luxury.
Emily Smith is a chemical analyst and a part-time freelance writer. Currently she is experimenting on hot tub chemicals and spa chemicals for her thesis work. She also loves writing on a wide variety of topics related to hot tubs and spa supplies. She is a contributing writer at Polar Spas Store.