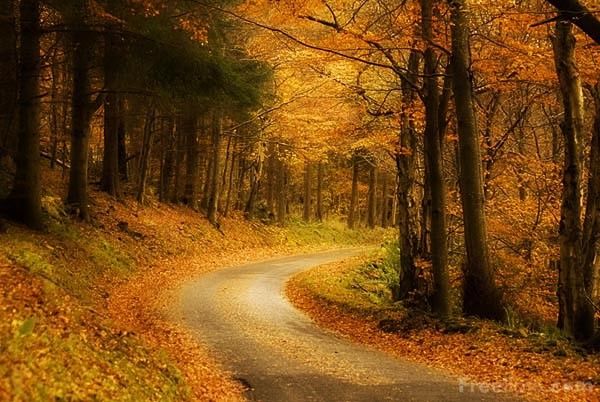 http://www.freefoto.com/previe
Don't wish to spread any doom & gloom but as the evenings begin to get darker earlier, it's a clue that the summer holidays will soon be over and with a flash we'll be welcoming Autumn with open arms. With this in mind, we thought we'd take a look at some of the best places to enjoy the beautiful Fall colours.
The Lake District, UK
There's nothing like spending Autumn in The Lake District where the russet browns, golds and oranges of the leaves combine forming a beautiful oriental rug. To really enjoy the Autumnal atmosphere, throw on some warm clothing and strap a pair of wellies to your feet and go for a walk around The Lake District. Tarn Hows offers the best viewpoint, set over 600ft in the hills above Coniston. This walk shows off the best that the Lake District has to offer with minimum effort required. Take a walk along the riverside in Kirkby Lonsdale, discover the magical Dam in Finsthwaite (a small village in Windermere) or perhaps follow in the footsteps of Wordsworth as you explore Grasmere by foot. Whichever route you choose, you are sure to be dazzled by the beauty of the Autumnal scenery so don't forget your camera!
Westonbirt Arboretum,UK
If you visit the Westonbirt Arboretum during Autumn you'll be amazed at the colours on display here and if you're a regular visitor here, you'll see that each year is different as you never know which trees are going to change colour first! The Arboretum is home to 2,000 maples and 300 Japanese maple cultivars – both are well known for their vibrant autumn colours. There's also a mix of colour from a variety of other trees including beech, oak, field maple, dogwood and hickories – plenty of photo opportunities here!
New England, USA
Obviously it all depends on your personal budget but the Fall in New England is legendary and a must for anyone who loves the brilliance of Autumn. With over a thousand miles of designated scenic and cultural byways to follow, you can't fail to spot opportunities to admire the beautiful Autumn foliage on a New England holiday. Orchards are overflowing with ripe fruit, the local farmers markets are bustling and you won't know where to look as you hop on a scenic drive to enjoy the reds, oranges and yellows of the trees that surround you. Whilst in New England, you'll also get to discover white sandy beaches, picturesque lighthouses, amazing mountain views, relaxing lakeside areas and not forgetting the awesome dockside restaurants offering an abundance of vibrant cuisines to tickle the tastebuds of anyone!
Autumn Flower Shows
Before Autumn makes its presence felt, if you're a keen gardener it might be wise to visit a Flower Show or two where you can listen to advice from the experts and purchase the latest gadgets that will keep your garden looking amazing as the weather begins to change – after all you don't want Jack Frost destroying all your hard work. Booking a Harrogate Flower Show trip or Malvern Show appear to be the favourites for those looking for the latest tips and gadgets to keep their gardens looking pristine during the Autumn & Winter months.