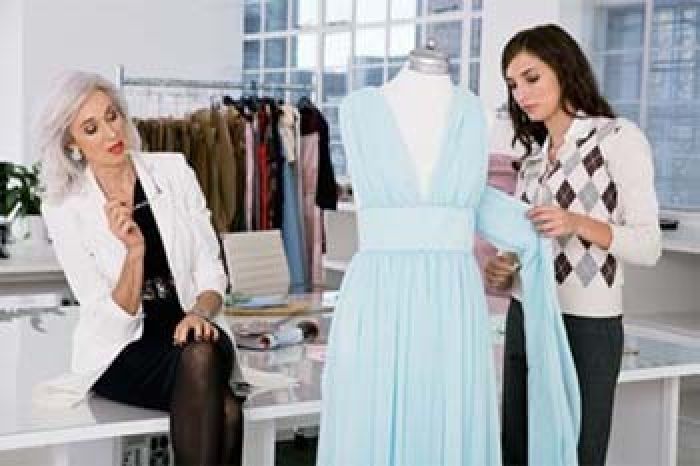 100
A fashion designer's job is to create attractive clothing, jewelry, shoes or other accessories for his clients. Some fashion designers may specialize in one of the given formats while the others may work on all. There are also those who create expensive one-off pieces. Working in the fashion industry may entail working as a team or as an individual designer. Read on to know more about fashion designing jobs.
The Role of a Fashion Designer
A fashion design job includes planning, thinking of new concepts, creating sketches manually or on the computer, forming patterns, supervising the production, apart from studying the trends in fabrics, colors and shapes. One can enter the industry after a formal educational course in fashion designing.
A job in fashion designing may require regular working hours. The normal eight-hour shift may stretch to more when the client is more demanding or during the time of fashion shows when you have to prepare samples for buyers. Fashion designers mostly work in workshops or studios. Being in the fashion industry, it is a prerequisite to have a sense of fashion and one may be required to travel. Fashion jobs come with their set of advantages. You get to attend fashion shows, exhibitions, prediction fairs and may meet celebrities because of the glamour quotient attached with the field.
In order to build a career in fashion designing, one needs to have creativity and special knowledge about texture, pattern and colors. While ideating, one must have the capability of visualizing the end results in three dimensions. Technical know-how such as pattern cutting, garment construction and grading is essential.
Apart from creating designs, fashion designers also have to source suppliers, choose and purchase trims and fabric, acquaint themselves for the prevailing designs set for mass production, and ensure quality through regular coordination.
The Formal Training
All fashion designers need to enroll for formal education at graduate level or post-graduate level. The main aim of an educational program in this domain is to gainin-depth understanding of the fashion industrythrough a cohesive approach that brings together elements of culture, creativity, productive marketing and effective communication.
The formal training contributing to the making of a successful fashion designer entailsexperience, detailedresearchandcreative endeavors in order to come up with something innovative and concrete. Once the career of a designer takes off, he can collaborate with other professionals to craft something unique and exclusive. 
A fashion job offers hand-on experience and allows you to learn each day. Since the fashion industry is highly competitive, working under the guidance of renowned designers helps you learn industry traits.Most employers assume that the new joiners – be it interns or new appointments – have the basic knowledge and experience of designing. That is why all fashion designing institutes not only impart theoretical knowledge but also promote practical training.
The Scope
Newly graduated fashion designers must be willing to start their promising careers with junior positions so they can learn as much as possible. Jobs in fashion designing can be rewarding eventually if one is open to constructive criticism. One has to make a humble beginning by creating designs for other people. There are also opportunities for beginners to start as colorists or work for pattern-cutting.
After some experience, fashion designers can consider assuming senior design roles or setting up their own ventures. A few years' experience in the fashion industry provides enhanced skill and ample opportunities for networking with the right people. You can then move on to work with eminent fashion labels. Very few designers actually get the opportunity to launch their own labels. The designer jobs also include style consultancy, fashion journalism, color prediction, costume designing and assistance to celebrities.
The Remuneration
The beginning salary for a new graduate starts from nearly Rs.10, 000 per month. A few years down the line, experienced professionals can draw remuneration from Rs.30, 000 to Rs.40, 000 each month. And in case you make it in the industry and become a reputed designer there you can price your merchandise at your will.
Author bio:
 A writer by profession, Devika Arora is currently focusing her writing on the extensive domain of job search in India. She has written various articles, news stories and blog posts for the employment sector. The above article is a compilation of latest facts and discusses about Fashion Designer Jobs.