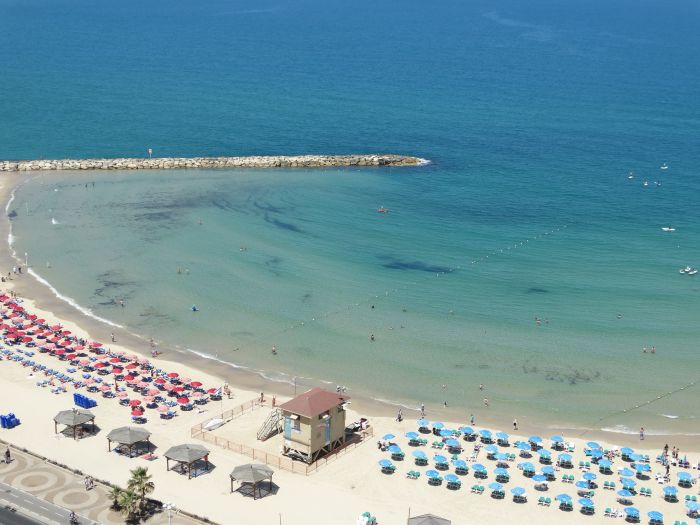 Photo Credit: Whitney Spielfogel
While some people might believe that it isn't safe to visit Israel, statistically you are much safer there than in most western countries (including the USA), and day-to-day life is very Westernized. Israel is a country of immense natural beauty, unbeatable history, world-class culture, fantastic food and amazing people.
Israel is very compact in size (about the size of New Jersey!), so travel between its cities is manageable and easily done by car. Ben Gurion International Airport (TLV) is located in Tel Aviv and Jerusalem is an easy one-hour drive southeast from there (about 40 miles). In fact, many Israelis make the commute daily. When travelling to Israel, visiting both cities is a must.

Photo Credit: Isorel
Tel Aviv is Israel's second-largest city (Jerusalem is the biggest). The beachside city, often called the Miami of the Middle East, is at its best during the spring and early summer, or in the early fall, when the water is welcoming and the heat is not too oppressive. Founded in 1909, the land is ancient, but the city is getting newer and newer. Tel Aviv is a booming seaside metropolis where the Mediterranean meets the Middle East. Cranes are a very common as you look across the skyline with more skyscrapers going up along the waterfront. Tel Aviv won't stop growing thanks to an intoxicating mix of sun and sand. This fun-loving city is the perfect antidote to Jerusalem's heavy historical significance.
For a stay at one of the newest beachside properties, check into the 5-star Royal Beach Tel Aviv by Isrotel Exclusive Collection. The hotel has 232 very modern rooms and suites, all with stunning sea or city views. Upon entering the hotel, you'll be instantly impressed by the lobby's chic aesthetic. The daily breakfast is not to be missed, with an extensive buffet and delicious made to order omelet selections, enjoyed as you overlook the beach and main promenade. The pool on the 4th floor is a showstopper and a great alternative to the very busy beach for catching some rays and relaxation.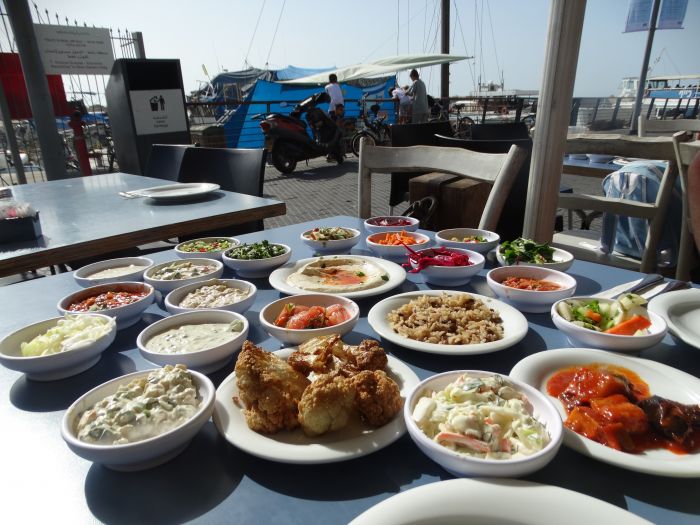 Photo Credit: Whitney Spielfogel
The city is comprised of several different neighborhoods, all easily explored in a day or two. Within Tel Aviv, it is best to travel by private car or taxi and avoid public transportation. Spending time at the beach is a must-do, with bike paths, outdoor gyms and lively cafés lining the waterfront parkway. Be sure to take a walk to the old port city of Jaffa, which is around a ten-minute car ride from the main beach area or beautiful thirty-minute coastal walk and a great place to explore local shops. Lunch at The Old Man and the Sea is a must-try, with their 23 appetizer salads (yes, 23, count them all!) and baskets of hot pita served upon ordering. Another wonderful lunch spot is the adorable Orna and Ella, where the cult favorite sweet potato pancakes are not to be missed.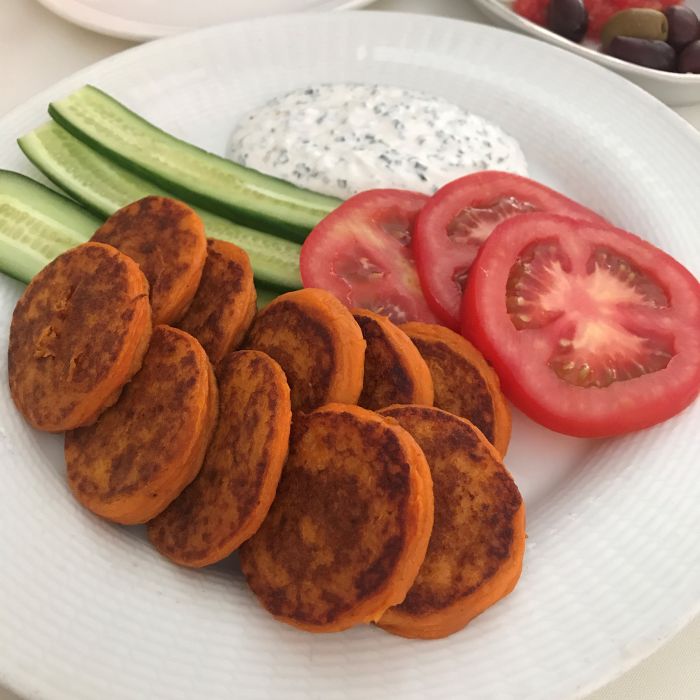 Photo Credit: Whitney Spielfogel
Other notable meals include dinner at Claro, North Abraxas (where simple roasted vegetables instantly become spectacular, and even more intriguing when served on the table with no silverware or plates) and Kitchen Market (save room for the olive cheesecake!). Reservations in advance are a must for all of these fine dining establishments.
After exploring the city's Tel-O-Fun's bike rental system and the chic boutiques in Neve Tzedek, a day trip to the beautiful beaches in Herzliya (about 30 minutes outside of Tel Aviv) is worth considering. Gazebbo is a gorgeous beach club with luxurious day beds for rent and enjoyable water sports to participate in.
From Tel Aviv, it's on to Jerusalem—a city unlike any other—where deeply rooted religious and cultural history is combined. Set on a plateau in the Judean Mountains, Jerusalem is a holy city for three religions: Judaism, Islam and Christianity. One of the most fought-over cities in the world, Jerusalem is still caught in a tug-of-war between unrelenting sides. Because of the historical and spiritual significance Jerusalem holds for many, the issue of who has rightful claim to and control of the sacred land is difficult to resolve.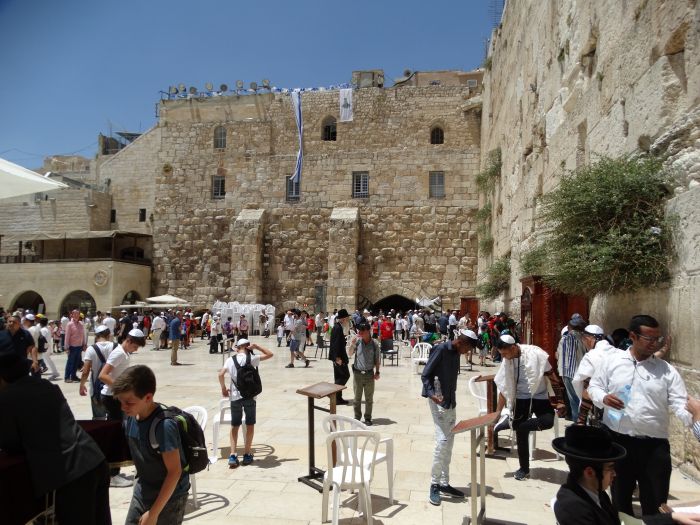 Photo Credit: Whitney Spielfogel
That said, navigating the city is pretty straightforward. The walled-off Old City is the epicenter of Jerusalem, and is divided into four quarters: Muslim, Jewish, Armenian and Christian. A UNESCO World Heritage site, the Old City is breathtaking both visually and spiritually. The New City, divided into East and West, lies outside the walls, with most of the high-end hotels within walking distance of the Old City.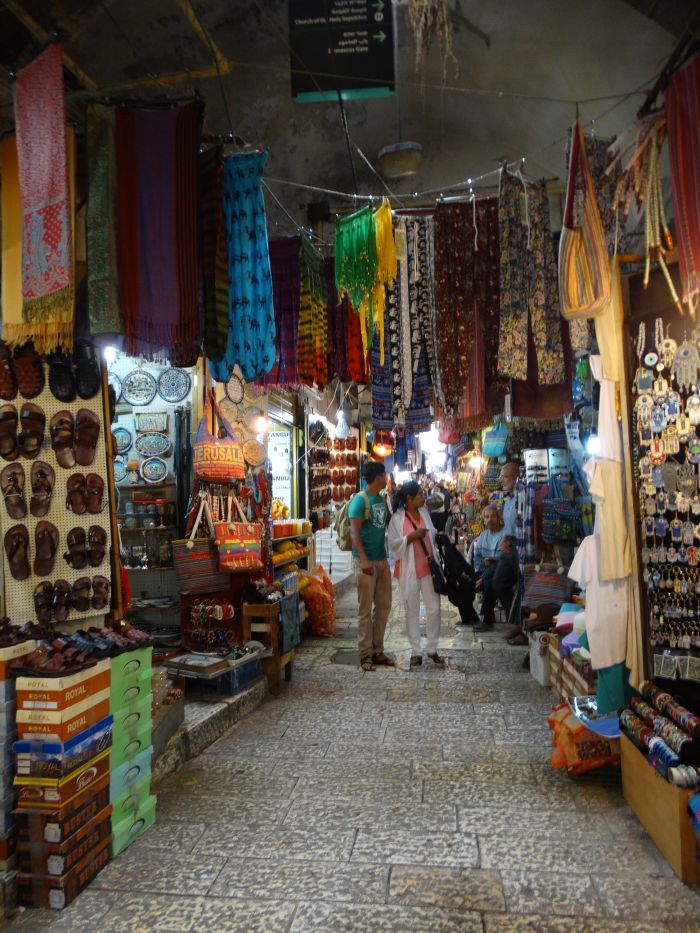 Photo Credit: Whitney Spielfogel
For a truly well-appointed and central stay, check into The David Citadel Hotel. The newly redone 384 rooms have remarkable views overlooking the Old City and the Tower of David. The U-shaped hotel structure is centered around the pool and the world-class spa is not to be missed. For a premier stay, be sure to book one of the Premium Deluxe rooms with a balcony to watch the sun set over the Old City.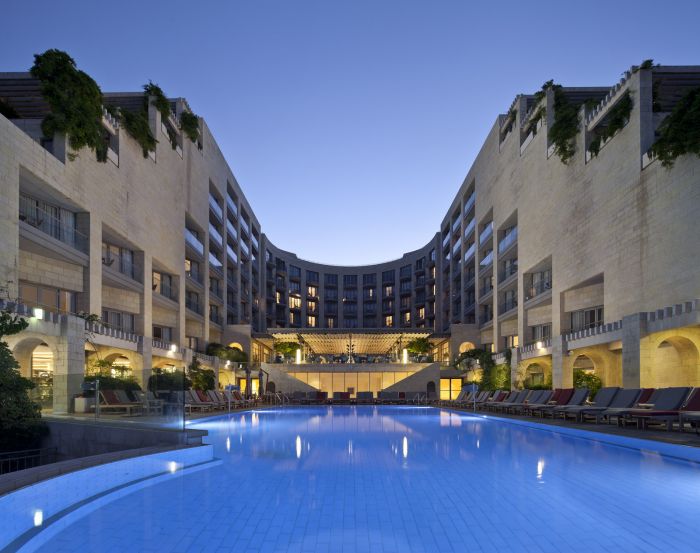 Photo Credit: David Citadel Hotel
There's so much to experience while in Jerusalem, including spending time at the famed Holocaust museum Yad Vashem, visiting the Western Wall (seeing it during Shabat or a high holy holiday is unlike anything else), the Western Wall Tunnels, City of David Tour, the Machneuda Market (go with an empty stomach!) and experiencing a Seam Line Tour. Travel within the city can be done on foot or by taxi. Make sure the taxi meter is running so drivers don't charge an inflated price. Taxis running on Shabbat abide by a fixed rate.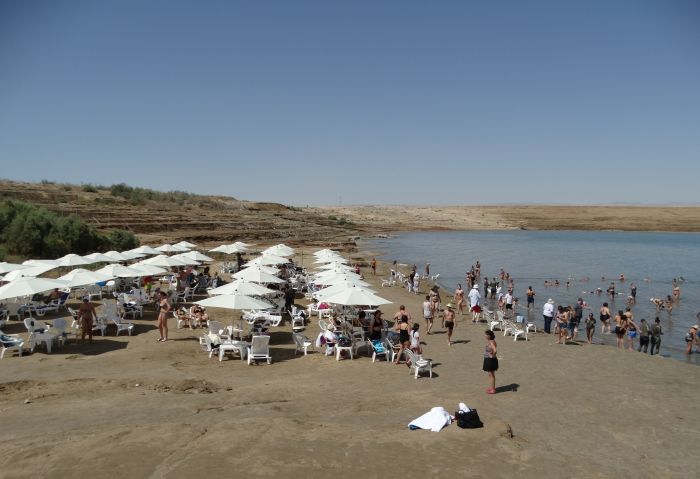 Photo Credit: Whitney Spielfogel
Other major sites outside of the city to check out include the Dead Sea, Masada (at sunrise!) and Bethlehem, which are all a short drive from Jerusalem, and should definitely be included in your Israel itinerary. After all of the sightseeing, you'll be in need of a great meal, and there's no shortage of those! Maheneyuda is an authentic Mediterranean market restaurant owned by Chefs Asaf Granit, Yossi Elad and Uri Navon. The vibe is super chic and trendy, featuring lively music and dancing every night of the week. The truffle polenta, served in a mason jar, is a must-order from the menu. Another standout spot is Mona (sister restaurant to Maheneyuda but a completely different vibe), hidden within the Jerusalem Artists' House. Mona is a homey setting where brilliant dishes feature a Mediterranean-Italian mix.
The Negev Desert is just over two hours away by car. The Beresheet Hotel is a remote, indulgent and unique property and is one of Israel's highest quality hotels. Should you have an extra day or two to spare, a visit to this breathtaking desert landscape resort is a must.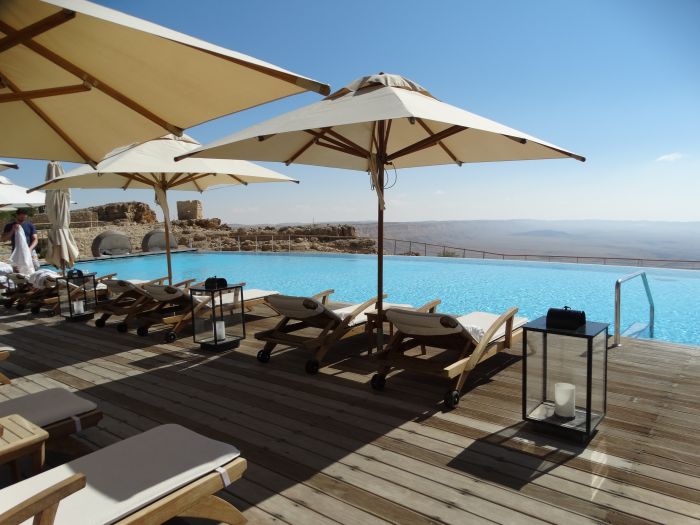 Photo Credit: Whitney Spielfogel
Perched on the side of the Ramon Crater, the Beresheet Hotel wows with dramatic views, minimalist-chic exteriors and a luxury experience that is not a given at even the nicest hotels in Israel. The out-of-this-world landscape (really, you feel like you're on Mars) is included with contemporary accommodations, many of which have private plunge pools in front of each structure.
During the day, you can choose to experience one of the many family and/or couple friendly activities (such as a Jeep tours in the crater) or you can lay back and take in the stunning panorama at either the indoor or outdoor pool. When night falls, consider the desert stargazing tour, where you get to view the night's sky with a wonderful narration of the constellations and then a telescope tutorial where you get to see the moon and visible planets. Safe travels and enjoy these remarkable resorts and sightseeing must-dos!