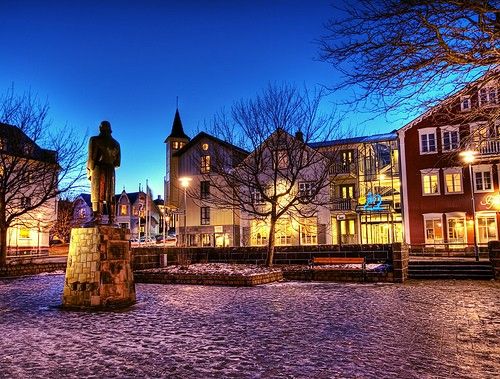 Thereís really nothing like it. Reykjavik is a stunning city, resting comfortably on the coastline with a small, fiercely-proud population and a sinister, mountainous background. Hiking along the glaciers of this quintessentially Icelandic city feels something of a privilege, and canít be recommended enough.
†
Setting off on one of the incredible white platters youíll feel thoroughly secure- head strapped tightly into a helmet, walking boots double knotted and crampons added. If youíre doing a proper hike then youíll be slightly laden down with suspender belts/ropes and an ice axe, but discomfort never has time to appear as youíre encased in the silent beauty of the landscape. Sůlheimajökull glacier is the most popular on the South Coast and it offers a plethora of naturally sculptured snow, chilled silver pools and a neighbouring active volcano. While you make your way through the labyrinth of natural ice sculptures you can look down to the black sandy beaches of the Icelandic coastline and breathe in the clean, cool air.
†
Itís right up there in the range of fantastic experiences, alongside sandboarding in Sydney and listening to the Amazonian monkeys howl. Thereís a certain eerie quiet that you have to experience by going- a hushed atmosphere painted only with distant waves and caressing winds.
†
Equally Reykjavik offers an abundance of other activities, but to truly appreciate the city itís the outdoor opportunities you should grasp. Snowmobiling sees you taken to the deepest parts of the snow where youíll glide along ice-filled volcanic craters and through endless snowy landscapes. White water rafting down the Hvita River is another way to explore natural glaciers while your knuckles are white and your heartís pounding.
†
If adrenaline-seeking isnít the order of the day then Reykjavik does offer the odd relaxing activity. While sea kayaking on the breathtaking Hvalfjorour fjord youíll cut effortlessly through the serene waters, surrounded on each side by towering, snow-topped mountains. The Blue Lagoon is equally stunning and another way to escape the turmoil. Itís rich in minerals, the waters are a beautiful chalky blue and the geothermal energy below ground means naturally hot waters above.
†
Away from the breathtaking glaciers and thermal waters Reykjavik folk enjoy some award winning restaurants, great shops along Laugavegur and a 5.30am bar closing time. The only way to get around (unless you rent a car) is by bus or taxi and for the technology-lovers there is free Wi-Fi in most coffeehouses and public places.
†
All in all then you canít go wrong with a trip to Reykjavik. Hiking along the glaciers and icy volcanoes is exciting in itself- mix it with some stunning scenery, friendly townsfolk and an electric atmosphere and you have a splendid, northerly capital.