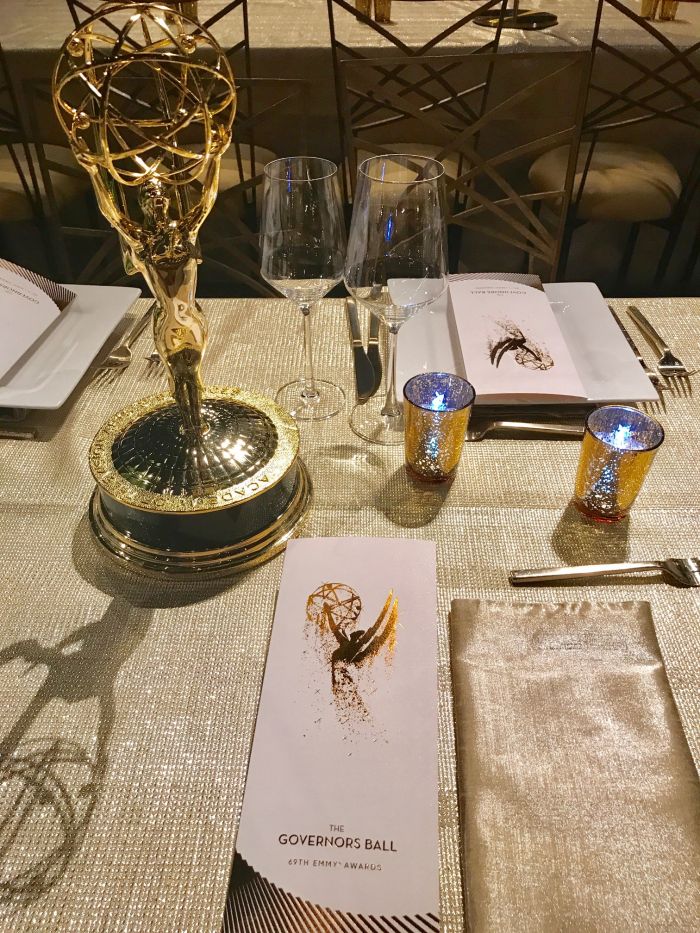 Photos Credit: Jill Weinlein
Walking into the Los Angeles Convention Center, Cheryl Cecchetto, owner and event producer of Sequoia Productions, informed her audience that this year's theme is "Golden Grandeur." The decor, food, beverages and flowers offer the most dazzling design of elegance for the guests attending the largest sit-down, formal dinner party in Los Angeles. For 20 years, Cecchetto has produced the Governor's Ball. This year there are three balls back-to-back. The Creative Arts Governors Ball is on Saturday, September 9 and Sunday, September 10. One week later Cecchetto will welcome the Emmy winners, nominees and entertainment luminaries after the televised Emmy Awards. Focusing on elegance and environmental sustainability, the grand room is transformed with 5,000 paper cyclinders painted in a biodegradable gold coloring as the parties' signature overhead art installation. The piece will be recyled and reused after the event.
Rectangular tables are dressed with rich, gold-thread linens and set with 25,000 pieces of china with wine glasses in a space that is the length of one football field and double the width. The exquisite floral centerpieces, by La Premier, adorning the tables will be repurposed as mulch following the event. This is the 22nd year that Executive Chef Joachim Splichal and his Patina Catering team including Executive Chef Gregg Wiele, Executive Chef of Patina Catering Alec Lestr and Executive Pastry Chef Frania Mendivil prepare an elegant "golden" three-course dinner incorporating seasonal ingredients. Over 250 cooks will be in the kitchen each night. Most of the main course (filet mignon) will be cooked on-site and given immediately to the 600 servers to deliver warm to the guests.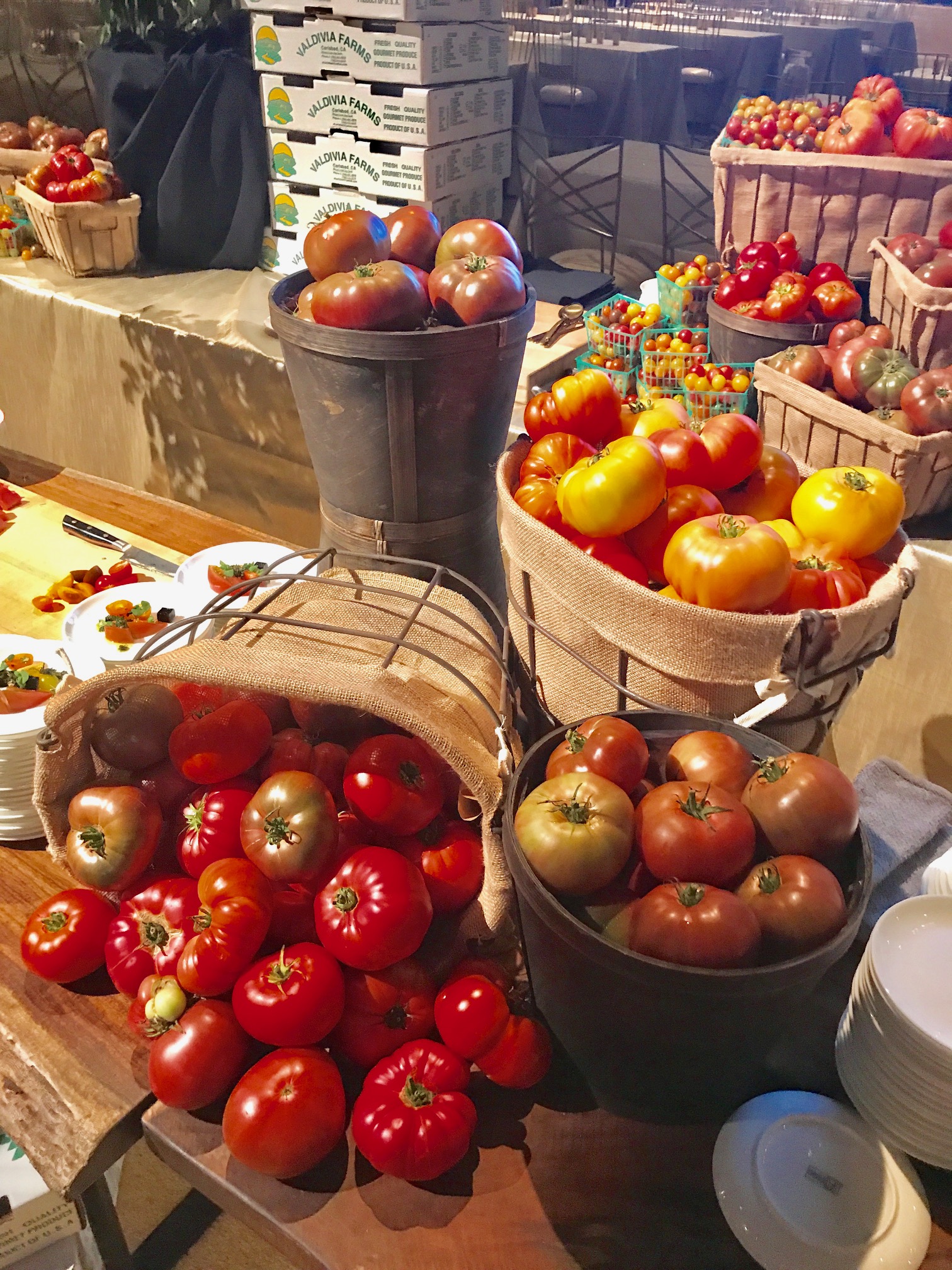 This year's menu features a heirloom tomato salad with dinosaur plums, red quinoa and a charred leek vinaigrette with a balsamic jelly. The pan-roasted filet mignon is served with Mission figs, asparagus, purple marble potatoes and roasted, red flame grapes. It's served with a creamy horseradish puree and whole grain mustard sauce. Guests will finish with an Alunga Brownie Bar with dulce de leche and roasted cherries. Another sweet treat throughout the evening are designer chocolates by Phillip Ashley. Chef Joachim incorporates L.A. Kitchen, a local nonprofit that believes "no food or person should ever go to waste," this year. When the plates are cleared, the waste will be donated to local farms for compost to enhance the next season's crops.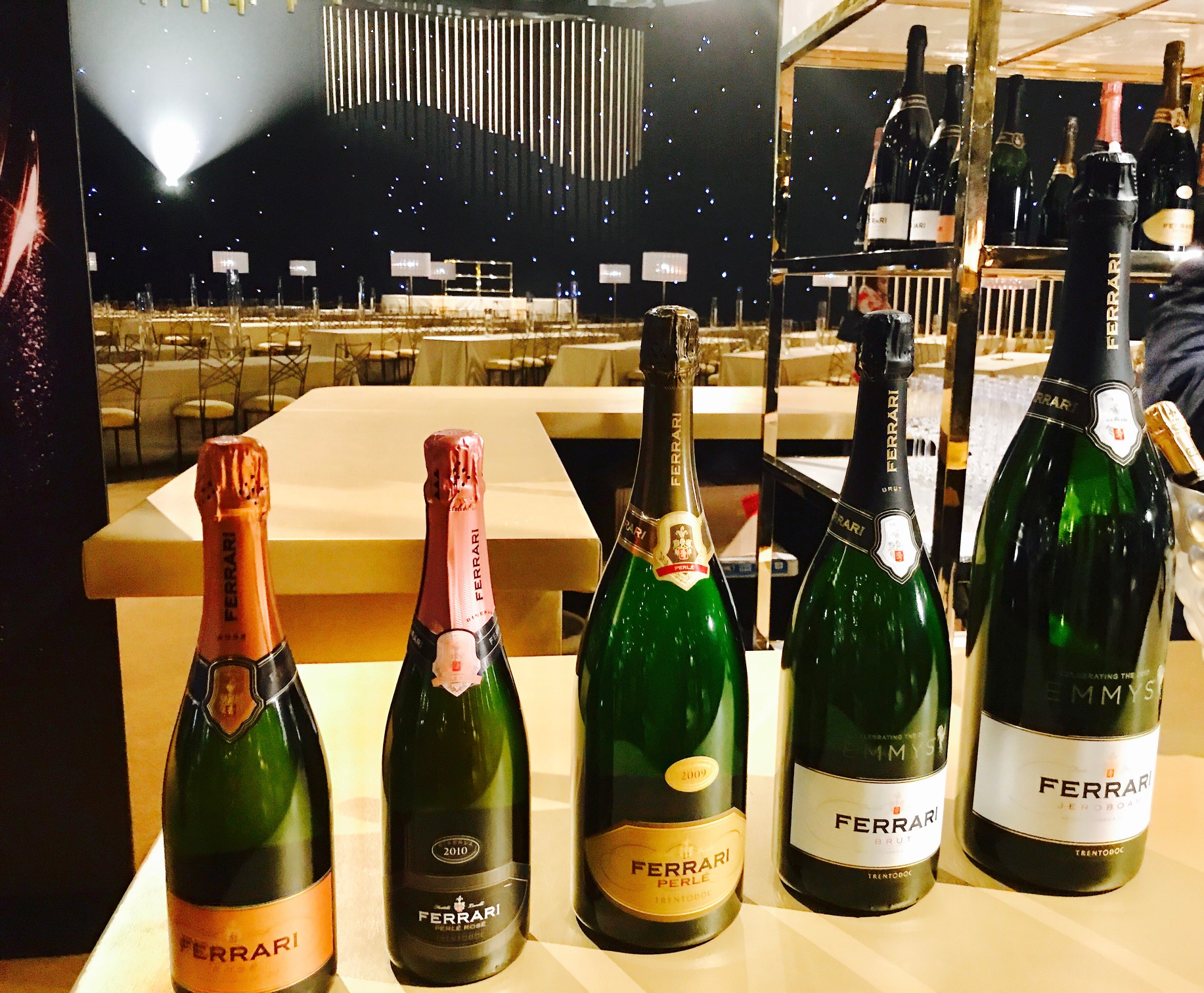 Beverages during the evening include FIJI water served with a signature FIJI water straw. Award-winning bartender Charles Joley designed a signature Emmy cocktail—The Hilhaven Lodge Fireside made with The Hilhaven Lodge Blended Straight American Whiskey. It's a blend of three whiskeys from three decades with a splash of absinthe, spiced pear liqeur and fresh lemon juice. Over 8,500 champagne flutes will be filled with Ferrari Trento sparkling wine. Party guests will sip Ferrari Perle, Perle Rose and Giulio Ferrari Riserva del Fondatore. Bottles of Sterling Vineyards Napa Valley Cabernet Sauvignon, Sauvignon Blanc and Chardonnay will be poured into 25,500 wine glasses. Adding additional glamour to the evening, the winners walking into the Emmy Winner's Circle receive a glass of Sterling Vineyards exclusive Cabernet Sauvignon, IRIDIUM. Steling Vineyards will gift each winner with a bottle to take home with their Emmy statuette.
Entertainers for the events include The Scott Mayo Collective with special guest Philip Bailey. Featured performances include Bella Strings and DJ Casey Connor. The 69th Emmy Awards is telecast live at the Microsoft Theater in Los Angeles on Sunday, September 17. It will be shown on CBS at 5 to 8 p.m. PT and 8 to 11 p.m. ET.