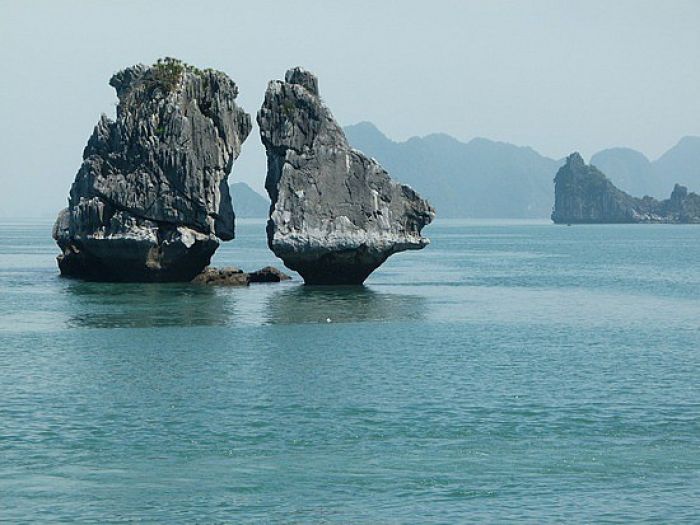 Rising a Legend
Ha Long literally means descending dragon(s). According to local myth, long ago when the Vietnamese were fightiing Chinese invaders, the gods sent a family of dragons to help to defend the land. The family of dragons began spitting out jewels and jade. These jewels turned into the islands and islets dotting the bay, linking together to form a great wall against the invaders. The people kept their land safe and formed what later became the country of Vietnam. After that, dragons were interested in peaceful sightseeing of the Earth and decided to live here then. 
The place where the Mother Dragon flew down was names Ha Long, the place where the dragon children attended upon their mother was called Bai Tu Long Island, and the place where the dragon children wriggled their tails violently was called Bach Long Vy Island.

A World Natural Heritage
Ha Long Bay is located in Northeastern, Vietnam, around 165 kilometers far from Hanoi. The bay stretches from Yen Hung district, pass Ha Long City, Cam Pha Town to Van Don District, bodered on the south and southeast by Gulf of Tonkin, on the north by China and on the west and southwest by Cat Ba Island. The bay has a 120 kilometers long coastline and is approximately 1,553 square kilometers in size.

The bay consists of a dense cluster of 1969 limestone monolithic islands, each topped with thick jungle vegetation, which rise spectacularly from the ocean. Sereral of the islands are hollow, with enormous caves. Hang Dau Go (Wooden stakes cave) is the largest grotto in the Halong area. French tourists visited the cave in the late 19th century and named it Grotte des Merveilles. Its three large chambers contain large numerous stalactites and stalamites. There are two bigger islands with permanent inhabitants, Tuan Chau and Cat Ba. Both of them have tourist facilities, including hotels and beaches. 

There are a number of wonderful beaches on the smaller islands. Some of the islands support floating villages of fishermen, who ply the shallow waters for 200 species of fish and 450 different kinds of mollusks.

Many island in Ha Long bay have acquired their names as a result of interpretation of their unusual shapes: such names include Voi islet (elephant), Ga Choi islet (fighting cock). And 989 of the islands have been given names. Birds and animals including bantams, antelopes, monkeys, and iguanas also live on some of the islands. 

The bay is a sea island in tropical wet with two seasons: hot and moist summer, dry and cold winter. Average temperature is from 15°C- 25°C. Annual rainfall is between 2000mm and 2200mm. Halong Bay has the typical diurna tide system (tide amplitude ranges from 3.5-4m). The salinity is from 31 to 34.5MT in dry season and lower in rainy season.

In 1994, the bay was the first time listed as World's Natural Heritage by UNESCO for its outstanding universal aesthetic value. Ha Long Bay was introduced to nominate by New Open World Foundation as World's 7 Natural Wonders having result on 08/08/2008
More information:
Add: 3rd, 85 Le Duan, Hoan Kiem, Hanoi, Vietnam
Phone: ++84+4 6674 0662
Email: info@littlevietnamtours.com.vn or sales@holidaysinindochina.com
Website: www.littlevietnamtours.com.vn or www.holidaysinindochina.com  or www.triptovietnam.asia or www.littlevietnamtours.com
.