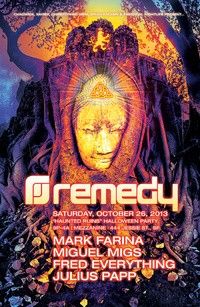 Remedy Haunted Ruins
It is hard to deny just how exciting the party events held in San Francisco really are. When you add the idea of costumes and creepy haunts to the mix, the parties in this city are some of the more memorable events that you could attend all year long.
One of San Francisco's biggest and best Halloween parties going 10 years strong now is back, and once again Opel is bringing the perfect combination of music, vibe and Halloween production to make it a proper and wicked night for the city's finest. Read More
Chadwick, Xavier, Chris Vera, Brian Kadmiri & Essential Nightlife presents..
Remedy Haunted Ruins Halloween Party
Mark Farina, Miguel Migs, Fred Everything, Julius Papp, Vocalist Lisa Shaw
Saturday October 26 Read More
You are cordially invited to enjoy two amazing nights of Freaky Fun, Fantastic Music, and Funky Masquerade-- featuring our annual costume contest with prizes! Read More