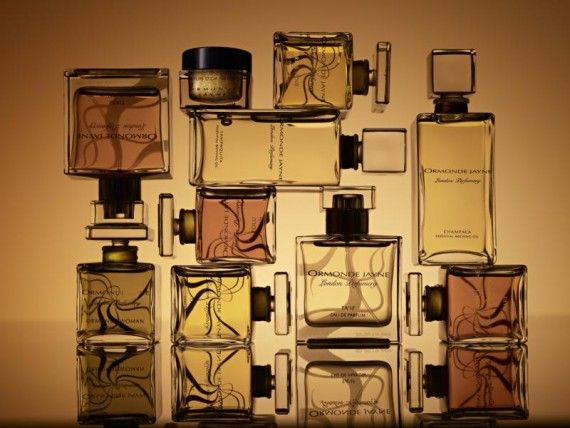 Ormonde Jayne
Ormonde Jayne's philosophy is one of quality and luxury, the pursuit of beauty and elegance. The brand rests on an exquisitely simple principle - extraordinarily beautiful scents using specialty oils not widely used in the perfume industry today.
Created by self-taught nose Linda Pilkington, the Ormonde Jayne range is composed of original fragrances spanning the perfume groups, each scent has its own rare and precious lineage. 
Pilkington explains: "My goal is to combine elements which I consider define true elegance: the quality of English craftsmanship, the art of French Perfumery and the natural harmony of the Orient."
Large scented candles and essential bathing oils in the women's fragrances are hand blended and poured in Ormonde Jayne's London studio where the creator's keen eye and exacting standards result in impeccable quality.
The body lotions and shower creams rich in natural extracts of orchid, camellia seed, water lily combined with Vitamin E and shea butter, are the epitome of luxurious whilst effective.
Sumptuous packaging adds the final note of opulence to the Ormonde Jayne collection.
Scents
Champaca
A delightful, creamy floral scent; the Champaca flower, related to the Magnolia, is blended with neroli and bamboo and underscored with fragrant rice and green tea notes.
Ta'if
A dynamic and opulent rose scent; Ta'if is a sophisticated composition, a blend of saffron, pink pepper, rose, dark sappy tree resins and broom.
Frangipani
Captivating and elegant, Frangipani is an exotic floral scent. The heart of the fragrance is a fusion of frangipani, jasmine and tuberose absolutes, elevated with plum, water lilies and green orchid oil.
Isfarkand
Intoxicating and dynamic, Isfarkand opens with an effervescent spark of citrus notes and a complex heart of pink pepper is slowly revealed. Cedar, vetiver and moss also appear.
Osmanthus
Intense and fresh; this beautifully composed bouquet opens with effervescent golden citrus notes of pomelo and pimento, uncovering a heart of Osmanthus absolute, water lily and sambac.
Orris Noir
A dark, spicy Oriental scent; Orris Noir is a rich aria of unmistakable individuality, elevated with pink pepper, pimento berries and Chinese cedar.
Ormonde Woman
Ormonde Jayne's Signature Scent Ormonde Woman centres on the inimitable note of Black Hemlock combined with floral notes of jasmine and violet creating a unique and mysterious fragrance. 
Tolu
A velvety formulation with pure Tolu resin is laced with golden frankincense and amber. The scent's core is enveloped with a mix of orange blossom and clary sage, while intense citrus notes consolidate the harmony
Ormonde Man
Ormonde Jayne's Signature male scent Ormonde Man centres on the powerful combination of Black Hemlock and Oudh Oil. Ormonde Man exudes soft woody notes, but it is the infusion of Oudh oil that sets it apart.
Zizan
A powerhouse perfume for men; Zizan is a deluge of boisterous Sicilian lime, lemon and bergamot is smoothed by a brilliantly refined concentration of vetiver.
The Ormonde Jayne fragrance collection is available at the Beauty Department, Level 1, Harvey Nichols – Dubai.