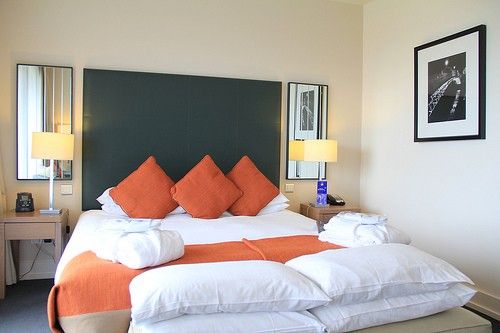 http://www.flickr.com/photos/u
The boudoir is a refuge, a place exhausted bodies go to heal, ease pain, detoxify and get refreshed. It's kind of hard to do that when the bed is a pool of toxins made of cheaply constructed materials that aggravate pain and illness. There's something to be said for the value of luxurious sheets, comforters, blankets and duvet covers.  The Egyptian cotton with the high thread count. The silk fabric made of long, sensuous fibers. The soft down pillows. The velvet throws. These items do more than give you a pampered haven that makes you feel like royalty. They also preserve your health.
The price tag can be prohibitive. Luxury sheets alone can cost $700 to $1,000. Then, add the cost of a bedspread, pillows and bed skirt. Many cheap and less expensive bedding materials are made with unnatural textiles and chemicals. Are the savings really worth it?
Here are four reasons to consider spending the extra money to invest in luxury bedding:
Natural Fabrics
Rayon, polyester and other man-made fabrics comprise inexpensive sheets, bedcovers and pillows that one can buy from most department stores. By contrast, luxury fabrics are made of two primary materials: cotton and silk. Hey, they were good enough for screen beauty Marilyn Monroe who refused to sleep on anything except silk. She might have been on to something: Nature may have given these organic materials a little magic. In March 2011, the Telegraph newspaper in London, where bed sheets are highly coveted, reported on a clinical study from Italian researchers that revealed silk sheets and bedding can mitigate itching, rash and could even clear up yeast infections. Synthetic fabrics can't claim to do that! Also, the researchers found that silk apparently has mild anti-aging power and can alleviate joint pain.
To cotton, researchers credited the ability to soothe people who suffer from hot flashes in a way synthetic fabrics cannot -- not even those man-made fabrics passed off as cotton blend.
Occasionally, one might also find eclectic luxury bedding crafted with yarn made from the wood of beech trees. Of course, luxury pillows are made of natural down and are typically hypoallergenic. The tell-tale sign of a cheap, unnatural pillow is headaches and sinus problems, which are rare with the luxury options.
 No Dangerous Chemicals
Most luxury bed items come in two colors: white and ivory. There's a reason for that. Luxury sheets and bedding are all-natural and chemical-free. For the rare luxury bedding that comes in color, they are in soft hues made possible by organic vegetable dyes that are harmless. Compare that to non-luxury bedding in various colors and prints, courtesy of chemical dyes and even formaldehyde that can cause allergies and  breathing problems for very sensitive individuals.
In addition to providing color and design, chemicals are added to low-cost bedding to stop them from wrinkling (think those "no-iron" sheets) and to make them resistant to flames. Sometimes pesticides are sprayed on regular bedding during the manufacturing process to deter mold, mites and bed bugs. Some users of chemical-laden synthetic fabrics complain that the materials aggravate a range of health conditions, including asthma, Parkinson's and fibromyalgia.
Natural, luxury bedding doesn't include such chemical manipulation. A large amount of luxury bedding comes from Europe where standards are high for bed materials and the use of chemical ingredients is much more restricted.
Plus, luxury fabrics like silk and cotton are anti-microbial, do not encourage mold and are not prone to dust mites.  They create a much healthier nighttime environment.
Better Sleep
By virtue of their thick, lush and stable construction, luxury bedding, sheets and pillows are often seen as a remedy for sleep problems. Many people who endure insomnia and other sleep issues may not realize the role poorly-constructed bedding plays. Luxury mattresses and pillows are supposed to provide support for the neck and the back during sleep, conforming to the body and relieving pressure points. Many cheap mattresses and pillows don't do that. Instead they aggravate neck and spinal pain leading to restlessness. Unfortunately, sleep deprivation caused by bad bedding can lead to several chronic health issues, such as hypertension and sleep apnea.
Luxury sheets and bedding also induce deep slumber because they are less abrasive to the touch and softer due to better weaving, ample threads and the rawness of the materials. Often, the sensation is like sleeping on a cloud, which can create a stress-free sleeping experience.
Temperature Control
One obvious benefit of natural fabrics is that they are breathable. They allow air to circulate around the body so that even in hot, humid or cold weather, the sleeper can be comfortable. Synthetic blends often trap air and heat close to the body, causing sweats. This can cause sleepers to be damp for hours, making them susceptible to colds and sniffles. Cotton and silk also have wicking ability, enabling these fabrics to pull moisture from the body. This is healthy for the skin because trapped sweat can encourage bacterial growth. Despite the wicking, natural materials do not deprive the skin of necessary moisture. In fact, they are known to prevent dryness. Silk in particular can keep the skin hydrated.  
The breathability of luxury bedding offers one final benefit: they smell good. Unnatural materials are often prone to smells since they tend to hold on to bacteria and moisture.