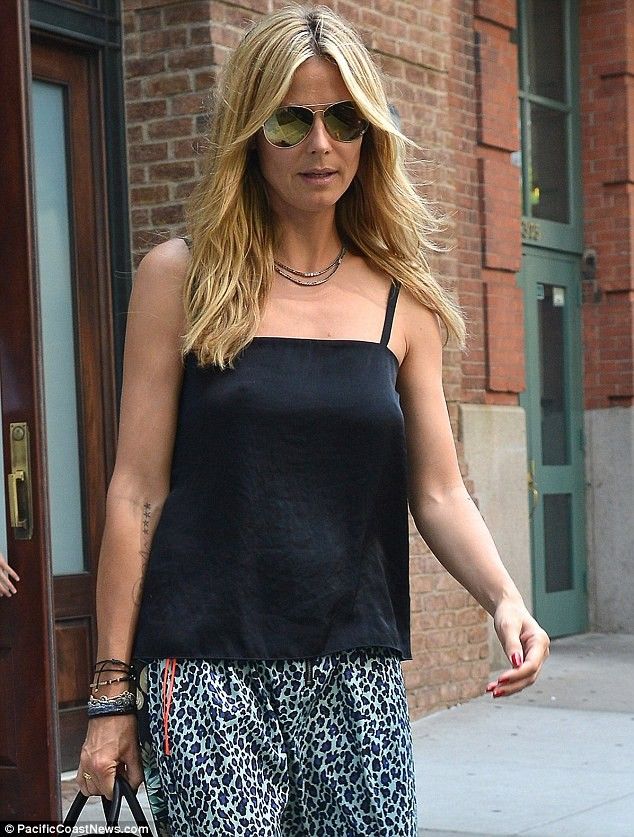 Pacificcoastnews.com
She may not have a reputation for the most savory outfits, but it's hard to find fault with Heidi Klum's most recent offering. Following this year's summer fashion trend of black and white with an accessorized splash of color, Klum opted for a simple black camisole and leopard print trousers with a brilliant orange accent in the form of a bright orange handbag. There's a reason it's trending: it's a chic look.
She's been known to veer to the trashy side of euro couture at times.
But Heidi Klum is having a bit of a purple patch when it comes to chic and sexy ensembles.
The Teutonic 40-year-old is currently in New York and on Saturday she dealt with the sweltering temperatures by wearing a loose but sultry little outfit.
The blonde mother of four slipped into a loose camisole and seemed to be unfettered by a bra.
She kept the cooling effect by popping on a pair of flowing leopard print culottes, that looked effortlessly chic with the plain top. (Read More)