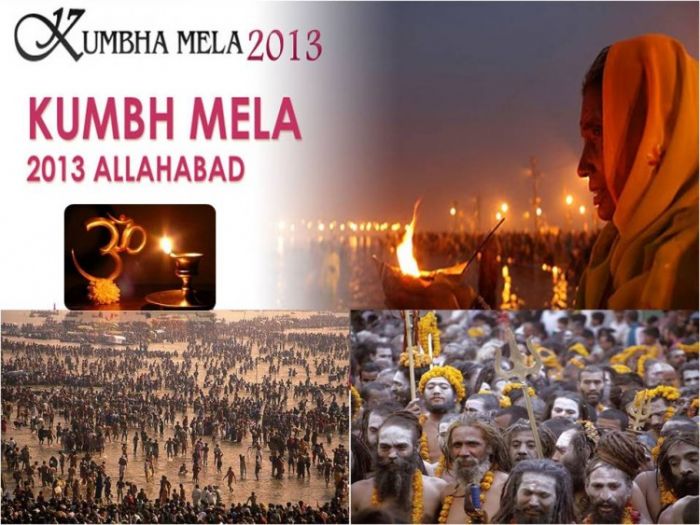 Kumbh Mela is holy air celebrated in India. This fair is celebrated only in holy cities ofIndia, according to its duration. This Mela goes for two months. Government remains high alert and provides tight security in the city hosting Kumbh Mela, to avoid anti social activities. Peoples in flock of more than million and millions come to this fair. People take holy bath and wash away the past sins. Starting date and venue of mela is decided by great astrologers and pandits of India, after assuming the position of Sun, Jupiter and moon.
Kumbh Mela 2013 is going to be held in Allahabad. Kumbh Mela is celebrated since ancient period ofIndia. Many pandits, purohits and people gather up to take profound holy bath in river Ganga and meeting point known as sangam. Sangam is called to the place where many holy rivers meet with each other. It is the biggest fair in India. According to survey it has been recorded that more than 500 millions of people throng to this place to have holy bath. Generally Kumbh Mela is organized in winters, mostly in January.
Movements and position of major stars propose the beginning date and venue of Kumbh Mela. 2013 Kumbh Mela is going to be Purana Kumbha Mela, which is celebrated after every 12 years. There are many Kumbh Melas named and celebrated according to duration and position of stars. Kumbh Mela's are as:-
Ardh Kumbh Mela after every 3 years.
Puarana Kumbh Mela after every 6 years
Maha Kumbh Mela after every 12 years
Holy cities of India which hosts Kumbh Mela are:-
Allahabad
Haridwar
Nashik
Ujjain
Kumbh Mela is organized with great pomp and show. It is celebrated with great deity and overwhelming dedication to Lord. People come around with families and enjoy bathing in river Ganga and Godaveri. All hotels, lodges, and rest house of city remain full during this time. For 45 days, city welcomes a huge flock of people everyday.