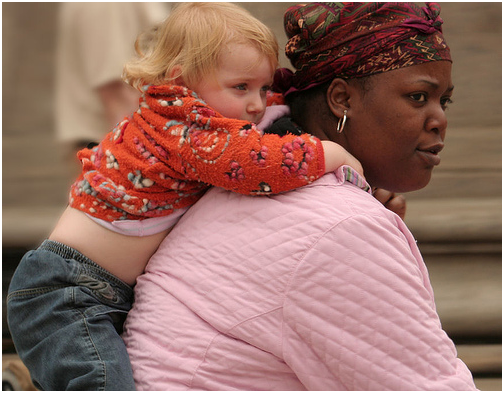 http://www.flickr.com/photos/c
All parents are familiar with the following scenario; you've arrived at the hotel after hours of 'are we there yet', and fancy nothing more than an ice cold cocktail and sunbathing by the pool. However, your kids probably don't feel the same – they probably want to head to the theme park, aquarium or ice cream store.
Holidays are all about spending quality time as a family. That being said we all lead busy lives these days, and there's nothing wrong with taking some adult time to relax. In fact, you will value the time you spend together more if you're feeling refreshed. To achieve this balance why not consider taking a babysitter on holiday? We consider why it's a good idea as well as the options available.
Why Would You Need a Babysitter?
Remember the time before you had kids, and could spend relaxing breaks swimming in the pool, heading to the spa and going out for romantic meals? No one would ever want to take back having their children, they are after all a wonderful addition to our lives, but you can have the best of both worlds.
Taking a babysitter away with you means that you can spend quality time with the kids as well as with each other. Think how much more enjoyable that trip to zoo will be if you've spent the morning relaxing with your other half, and have the promise of a romantic evening meal when you get back?
Furthermore, some activities that you may want to do on holiday might not be suitable for kids. Always wanted to do a bungee jump, go jet ski-ingor snorkelling? If you haven't got anyone around to look after young children, these adventure sports are simply off the table.
Having an extra pair of hands when you're all together, can also make things run more smoothly. There's one more person to put on sunscreen, take the kids to the bathroom or to look at the rock pools.
Flying Out Your Own
One of the options you may wish to consider, particularly if you have a babysitter at home that you're happy with, is to fly them out with you. This will give the kids consistency, not to mention making you your nanny's new favourite person.
However, unsurprisingly taking out an extra person will mean dramatically adding to the cost of your holiday .You will need to pay for an extra pair of flight tickets and hotel room, as well as for food and other expenses.
Other considerations include making a 'travelling contract'. You will need to compensate the babysitter for the extra work hours, agree when they can have time off and what you will cover regarding their expenses. Care.com has some useful guidelines for 'nanny contracts' that you could apply to travel.
It's also worth considering that this set up means that your nanny is working while you are vacationing. You will still need to give them their annual holiday, which could leave you stretched for child care during these periods.
Arranging a Babysitter at the Hotel
A much cheaper, convenient and potentially far more realistic option is to arrange a babysitter when you reach the hotel. The factor most likely to put parents off doing this is pretty clear – will you be comfortable leaving your children with someone you don't know in a different country? It could also seem like a major hassle arranging childcare in another country before you leave, which would make it difficult for you to check you are happy with the person you hire.
However, there are secure options that should allow you to enjoy the sun without the worry. Companies such as Tots Too offer the service of trusted, experienced nanny carers who live close to the resorts. This child care will always take place in the hotel grounds, and all of the babysitters have been security checked.
Having a babysitter on holiday is the perfect way to ensure that you can have both quality time as a family and adult relaxation time. Not only will the extra pair of hands be useful, but it means that you can still do activities that aren't child-friendly.
What do you think about taking a babysitter on holiday? Let us know in the comments.