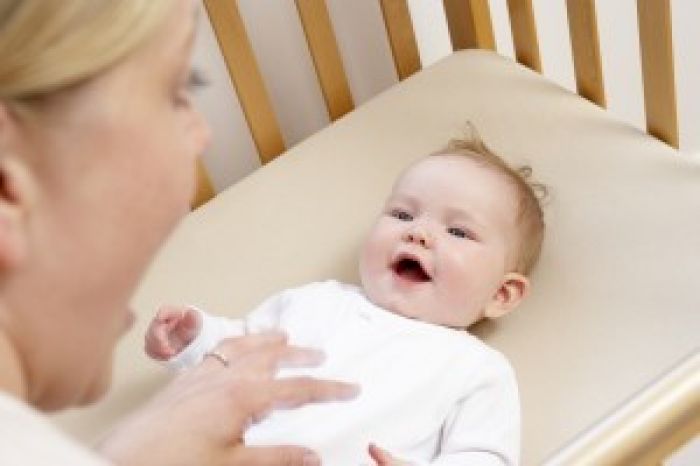 One of the most exciting parts of preparing for a new baby's arrival is decorating the nursery. Choosing eco-friendly products when it comes to furniture, clothing, toys, and other items for your baby is one of the most important ways you can protect them. Not only does going green lead to bringing less toxins into the home, it's ultimately better for the planet we're leaving our children.
Finding eco-friendly furniture that is well made, affordable, and designed well can be a challenge. Many companies are starting to "greenwash" their products. Greenwashing is when companies slap "eco-friendly" or "green product" or other green lingo onto their product labels regardless of the actual environmental impact it has. Since there is no regulation of many of these terms (for now), it's important to be able to tell the difference between a greenwashed product and one that is truly better for the environment.
What to Look for in a Green Product
There are a few traits to look for when determining if furniture is truly "green" or not. Consider these factors when shopping for your baby's nursery furniture.
Is the item made from non-toxic materials? There are a few things to look for - bleach and lead, for example. Many paints and wood finishes emit toxic chemicals for years.
Is the item made from sustainable materials? Choose products made from renewable resources - wood is a better choice than petroleum-made plastics. Bamboo is also very sustainable, since it grows so quickly.
Is the item made locally? It's not always possible to find what you need manufactured locally, but when it is, take advantage of the opportunity. The smaller the distance an item has to travel to get to you, the better.
Does the company that manufactured this item use green practices in general? Do they strive to help the environment as much as possible? Look for companies that use recycled packaging and sponsor environmental projects, for example.
Can this item be recycled or repurposed in some way? Some dressers can double as a changing table, for example, and can be used beyond the baby years. Similarly, many cribs can convert into a toddler bed and then ultimately a twin bed frame.
Is the item well made so that it won't need to be replaced in a few years? Strive to buy heirloom quality pieces - doing so conserves resources.
Buying used furniture is another option. By giving second hand items a new home, you're keeping those pieces out of landfills - plus, conserving the resources it would take to manufacture a new item is a big environmental plus, too! Buying used furniture does not mean that you can't have the nursery of your dreams. Try to look outside the box and see how you would be able to renovate pieces that have lost their luster. Maybe there is even something you already own that can be spruced up for use in the nursery.
Be wary of buying a used mattress for your baby, though. Because they can be very difficult to clean, you won't be able to avoid bringing dust and other toxins into your home. Low VOC mattresses made from organic materials are best. Read baby crib mattress reviews to find one you'll love.
Cleaning Your Green Nursery
Once your nursery is all set up, eco-friendly furniture and all, it's important to keep the space clean. Keep in mind that not all cleaners are made equally. In fact, many standard cleaning products are literally toxic, yet we bring them into our homes and spray them on every surface - yuck! Rather than cleaning your baby's room with harmful substances, choose natural, toxin free cleaners. You can either buy a trusted brand at the store (check the ingredient labels!) or simply make your own. Not everyone knows this, but you can clean pretty much anything with vinegar, baking soda, plain soap, or a combination of those. Really!
Using natural cleaners and choosing eco-friendly furniture reduces your baby's chances of developing asthma or allergies. Natural living is also associated with lower rates of behavioral disorders and autoimmune diseases. Diminish your little one's toxin exposure from the very beginning and get them off to a very healthy start in life.

About the Author:
Melissa Cameron loves the outdoors and is committed to living a green lifestyle so that her children (and their children) will also be able to enjoy all that nature has to offer. The Cameron family shops for many of their eco-friendly household goods online and finds http://www.ecohomeinspired.com is a great place to learn about new products. As a freelance writer, she is able to fit in plenty of camping and fishing with her family near their home.