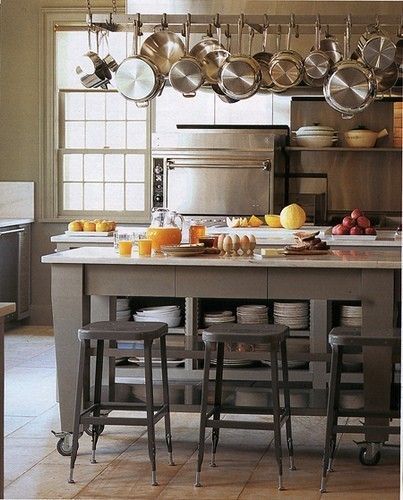 If you are someone that is looking for ways to spruce up your kitchen without breaking the bank, you may already have the solution right in front of you. If you have a variety of pots and pans that are taking up space in the cupboard, there are some amazing do it yourself options that will allow you to free up kitchen space while creating an aesthetically pleasing kitchen area where the end result will be both stylish and cost-effective.
Pot and Pan Racks
Pot and pan racks are extremely popular for today's kitchen, and they create a lovely ambience. Most often these racks hang right over the central island, but there are alternative styles that work for all types of kitchens. These racks come in a variety of colors and sizes, the most popular being natural wood. They are attached to the kitchen ceiling with a sturdy chain, and the pots and pans are placed on the middle grate area. This particular style makes for easy access when cooking, as well as creates a great country kitchen feel. If you do not have a center island in your kitchen, there are alternative versions that can easily be hung on the wall above the stove, again creating a comfortable look and feel and convenient access to cookware.
Glass Front Cabinet Doors
Glass front cabinet doors are another way to brighten up the kitchen while staying within a specific budget. They are easy to install, which makes them the perfect do-it-yourself project. Many home improvement stores sell glass front cabinet doors in a variety of colors and sizes, and they can even be painted to match your kitchen colors perfectly. Once you have installed the glass front doors, you can place dishes and cookware on the shelves, giving your kitchen a great new look.
Wall Shelves
Wall shelves are a simple way to complement your kitchen area. Wood shelving can be hand painted, and many people prefer the look of natural wood. You can also purchase wrought iron shelves that are simple to hang. Wall shelves create a spacious look and feel, and once you add a few pieces of your best cookware, you will be truly amazed at the transformation. Wall shelves also help to free up cabinet space that can be utilized for extra storage.
Do It Yourself Kitchen Makeovers
In today's economy, people are taking extra steps to save money in various ways. The kitchen is one of the most lived-in rooms of any home, and there are some great ways to brighten it up without spending a lot of money. Your kitchen cabinets can be a goldmine when it comes to kitchen makeovers, as you may find some great-looking cookware that is perfect for displaying. Not only will you give your kitchen an entirely new look at a low cost, you will be able to free up a nice amount of space in your kitchen by hanging up your pots and pans.
Barbara Jordan enjoys making the most out of usable space in the home. She enjoys writing about her home improvement experiences on various blogs. Visit Mortens Hardware Store, an online store where they do so much more than hardware.