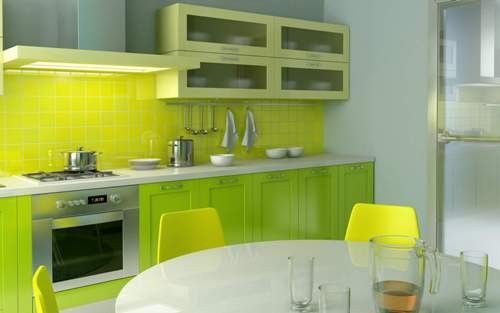 Eco-friendly appliances are not only good for Mother Nature but it can also do wonders for your budget. With the technology that we have today, more and more devices are designed to be energy efficient and it has proven to be effective and reliable without harming the environment; then again, not all the appliances that fall under the "Green" category do not come cheap. Still, this is not the only thing you can do to have an eco-friendly home.
Environment-friendly kitchen tips
·         Long lasting items- by simply choosing items that are long lasting, you'll keep yourself from having to throw them away soon. Buying kitchen appliances should not be too difficult. All you have to do is choose items that will have a longer life instead of cheap, low-quality items that are unlikely to last.
·         Energy efficient stoves- Induction stoves are now making a huge hit in the market because of its efficacy. If you are really looking for ways to cut down on your gas expenses, this may be the one for you. But considering that you are looking for energy efficient products, the prices may be subject to its efficiency and more efficient they are, the pricier the tag gets. Consider this as an investment and choose something that is the most energy efficient and one that will most likely stay with you for a decade or more.
·         DIY- by simply making food by yourself, you can cut down the process of thawing or reheating frozen, ready-to-eat products. What's better is that you'll exactly what is in your food and you'll be able to enjoy them fresh.
·         Get rid of toxic items- going green is all the rage right now and you can simply do your part by getting rid of items that may be harmful to you, your kitchen and the environment. Home improvement is just minutes away if you can clear items like old appliances, harmful chemicals etc.
·         Cook in bulk- think about cooking food in bulk, or something that it surely sufficient; this is to keep you from cooking repeatedly, wasting precious energy and exerting more effort. If in case there are leftovers, you can easily store them and eat them some other time.
·         Repair things that need repairing- some appliances are more likely to consumer energy if they are in bad shape. Get them repaired as soon as possible to be able to use it and to cut down on your electricity bill.
Tip: Should you purchase your appliance with a loan through your credit, make sure to check your credit score to see if your score is good enough to get you the best interest rates. If your credit is low, it may be best to improve it first by paying bills on time and finishing off debts. You'll be able to see how your credits score changes after a few on-time payments.
Joy Mali is an active blogger who is fond of sharing interesting finance management tips to encourage couples to manage their finances and check credit scores regularly. Follow Joy and know more on saving money on home appliances & improving financial health.