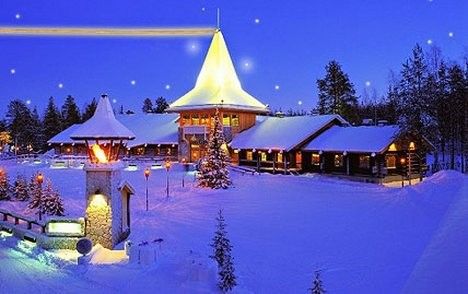 Christmas is a special time for all, and it's certainly a great opportunity to lavish yourself and your loved ones with wonderful gifts, decorations and delicious food and drink. If you've got the cash to splash this year, then why not go all out and treat yourself to the luxury Christmas you deserve? We'll look at some of the ways you can celebrate everyone's favourite time of year in style.
Location
Christmas is best when spent with family and loved ones, but there's no reason you have to stay at home to celebrate the most wonderful time of the year. If you've got the money and the time then why not combine your Christmas with your dream holiday? There are plenty of places across the world proving to be popular with festive travellers, and it's a great excuse to get away from the miserable weather and the stress of organising.
The possibilities are numerous; you could bask under the sun and on the sand in Australia or experience a true white Christmas in a winter wonderland in snow-bound Finland. Alternatively, you could take a more cosmopolitan break in New York City or Japan. No matter what you choose, it's a fine way to enjoy the holiday season with none of the hassle.
Gifts
Buying presents for Christmas can be a chore, but it doesn't have to be. After all, not every present has to practical or useful; there are some great places that specialise in luxury gifts for everyone you could possibly need to provide for, whether it comes from a website or from the finest department store, the possibilities are endless. For example, why not buy a loved one a specialist gift, like a spa day or the chance to ride in a sports car? You can find great gift packages like this online, and they're a fantastically unique and fresh way to make your Christmas extra special.
Christmas hampers are also a great gift, with a wide array of various luxury foods and wines to be enjoyed. You can even find ones that come with extra goodies, such as jewellery, accessories and ornate glasses.
Food
A Turkey dinner with all the trimmings is considered to be one of the staples of a truly successful Christmas. However, there are simple ways to make this tradition dinner one of the finest meals you'll have all year. Goose, for example, is an excellent richer-flavoured, darker meat that can be enjoyed as an upscale Turkey substitute. Pheasant is also an excellent alternative. Roast potatoes cooked in goose fat, a Christmas pudding doused in fine brandy, all of these things will give the dinner a little something extra. Farmers' markets and shops, or places such as John Lewis, provide excellent meats that would be perfect for an occasion such as this one.
Drink, too, is an intrinsic part of the festivities, and naturally only the finest will do. Stocking up with the best brandy, drinking chocolates and eggnog there is to offer will keep that festive feeling alive and well in the house. Finish it all off with some top-shelf champagne, such as Moet or Krug, to celebrate the end of an extravagant, luxurious holiday season.
If the idea of slaving over a hot stove doesn't fit in with your luxury Christmas, there's always the option of having the dinner brought to you. Why not take yourself and your loved ones out to a top-tier restaurant or hotel instead?
For more on how to make your Christmas the best it can be go to www.christmastreesandlights.co.uk !
Christmas Hamper
Christmas Dinner