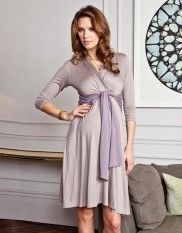 It goes without saying that pregnancy is not always glamorous, and although what you get out of it at the end is well worth it, it is fair to say that many women end up feeling round, awkward, unattractive and fed up during those nine months. But there is no need to feel like this any longer, as you should feel every bit the beautiful mum-to-be that you are, and thatís why we have put together this essential guide on how to look and feel glamorous whilst pregnant.

Wear Maternity Clothing
Many people still see maternity clothing as frumpy and oversized smocks and such like, and some often opt to purchase plus size clothing instead. But the reality is plus size clothing is not meant for women with a growing baby bump, itís made for women who have extra weight all over, and so buying plus size clothing will simply make you look larger than you already feel and hide your beautiful pregnant figure under baggy layers.
You should be able to wear your own clothing for the first few months, but once you start to show, invest in some maternity wear from a fashionable range, such as Seraphine. They have all the latest fashionable styles of clothing adapted to fit and flatter your expanding stomach, but without sacrificing the rest of your shape. Donít forget your stomach isnít the only thing that gets larger, so show off your newly plumped assets with a low cut top to show some cleavage!
Eating for two is a myth!

Yes it is true that your appetite may feel slightly larger during pregnancy, and you will find you have irregular cravings, but eating for two is not necessary and growing a little one inside you should not be an excuse to let go and eat twice as much. You should eat a regular healthy balanced diet as usual, and your baby will take all the nutrition they need from this. For extra nutrients and strength check out some of the vitamins and supplements available for all stages of pregnancy at your local pharmacy, and also ask your doctor what they suggest for keeping healthy during pregnancy.
Pamper yourself, you deserve it!
Being pregnant is hard work, and every girl deserves a treat once in a while. Treat yourself to a manicure during month four of your pregnancy, as this is when your nails will grow faster due to the hormones, and hair loss is slowed down throughout so get your hair done and take advantage of how long it stays looking fabulous and full of volume. Get your hubby or partner to give you a massage once in a while, and keep that pregnant glow with daily moisturising using cocoa butter to minimise stretch marks.
†