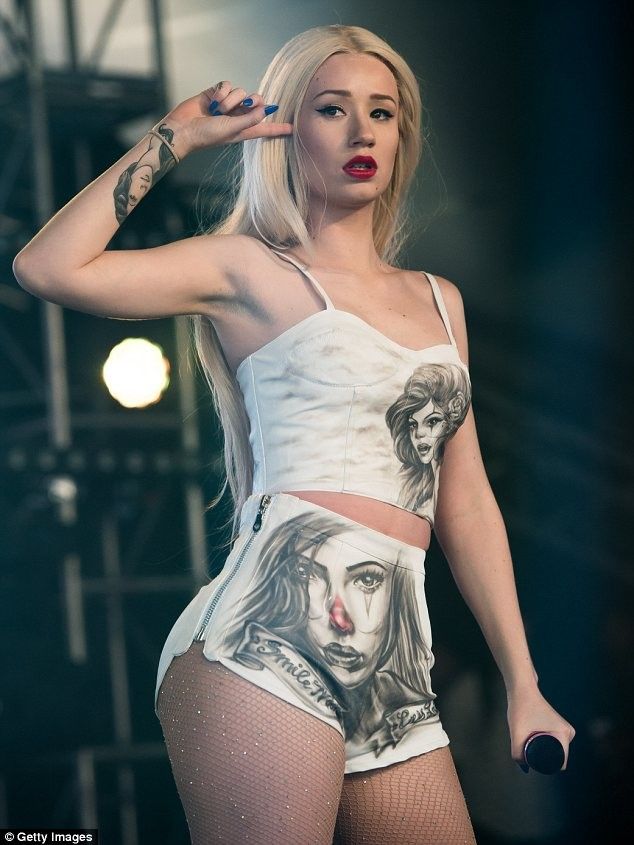 Getty Images
I'm going to be honest here, so don't judge: I like it. I can see it's trashy, and the print is almost enough to destroy the look, but somehow Iggy Azelea turned the trampy outfit into something sinfully sexual and it worked. Perhaps it's just her style, or the attitude she brings with it, but Azelea wore it well and got exactly the effect she was going for.

Iggy Azelea certainly made sure all eyes were on her at Glastonbury on Saturday.
The 23-year-old Australian rapper wore a white outfit with peepers printed across it and the risque outfit left plenty of her shape on show.
Iggy wore a tiny white basque along with a pair of high-waisted hotpants, leaving her famous derriere on show which proved enough to command attention from the crowd.

The Work singer even had a set of eyes printed on the back of her shorts, which drew attention further to her posterior.
Iggy added a flash of colour with bright red lips and an electric blue manicure, she also carried a bubblegum pink microphone with her too. (Read More)