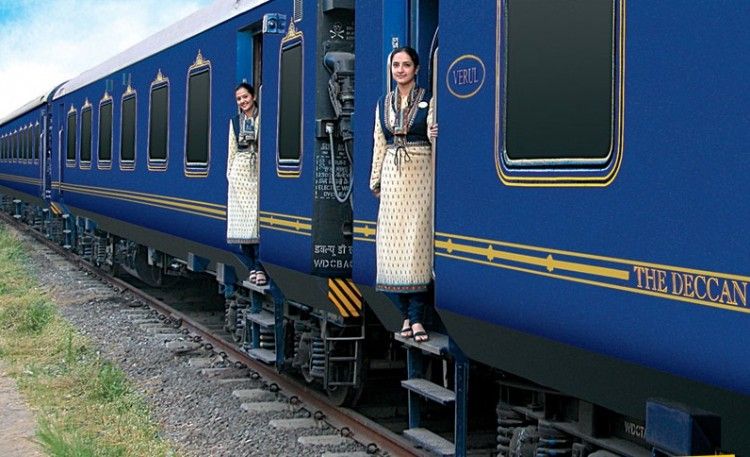 3nd January, 2013. Mumbai: The Deccan Odyssey, a famous Indian luxury train has made an announcement about fresh discounts for all its journeys in 2013.
The luxury train is going to offer a minimum 10% off on the all remaining tour packages of this year.The two journeys remaining are on 30th January and 20th February 2013.
This offer was announced so that higher tourist footfall can be attracted in the train, which has had successful journeys, of late. The departures around Christmas and New Year's Eve witnessed high occupancy rates, it is expected that after this discount the rate will go even higher.
The Indian luxury train, Deccan Odyssey offers a journey of 7 night- 8 day where the traveler can can explore cultural archives of Western India, Mumbai, Nasik, Kolhapur, the Ajanta and Ellora caves to name a few.
There is a choice between 3 accommodation options. The train is managed by Maharashtra Tourism Development Corporation (MTDC) and is promoted as well as marketed by Indian Holiday Pvt. Ltd., one of the leading tour facilitators in India.
About the Company:
Indian Holiday Private Limited®, a National Tourism Award winning company recognized by Ministry of Tourism, Government of India, offers booking for Deccan Odyssey Train. You can rely on us as a trusted resource with 22 years of domain experience. We are also associated with travel bodies IATO, PATA, ASTA and IMTA.
Contact Details :
Rakesh Agrawal
70, L.G.F, World Trade Centre
Barakhamba Lane, New Delhi-110001
Tel: 91-11-4777 3434
Fax:91-11-4777 3400
Email - query@thedeccanodysseyindia.com
Mobile Num : +91 9717179408
Website : http://www.thedeccanodysseyindia.com