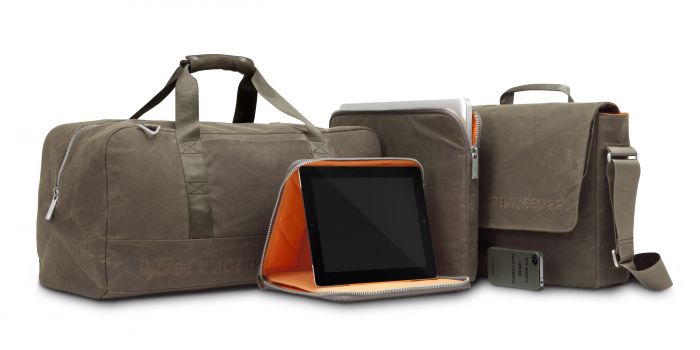 ACE
Incase and the Ace Hotel have just released a capsule collection of travel and technology accessories for Fall 2011, perfect for the tech-savvy traveler.
The five-piece collection includes a Duffel Bag, Shoulder Bag, 15" Sleeve, Portfolio for iPad 2 and Snap Case for iPhone 4, all inspired by the design of classic flight jackets.
The pieces are a perfect merging of Ace's rustic urban aesthetic and Incase's minimalist approach, creating a collection that meant to last for years with timeless style. Made from durable Martexin Original Wax textiles, the collection is crafted with both travel and technology well in mind.
"Incase knows travel, so they're a natural partner for us," says Alex Calderwood, co-founder of Ace Hotel. "This collection is the result of another great tandem effort, integrating Ace's design sensibility with Incase's expertise."
"Working with Ace Hotel has been a fantastic experience that has allowed us to bring together two distinct points of view in one collection," says Damon Way, Incase Chief Brand Officer. "We're excited to align our brands through this collection and bring Incase to unique travel destinations and the culturally progressive individuals that frequent Ace Hotels."
The Incase for Ace Hotel Collection is exclusive to Ace Hotel New York through September with availability to follow at all Ace Hotel locations and goincase.com in October. Prices range from $39.95 for the Ace Hotel Snap Case for iPhone 4 to $224.95 for the Ace Hotel Duffel Bag.