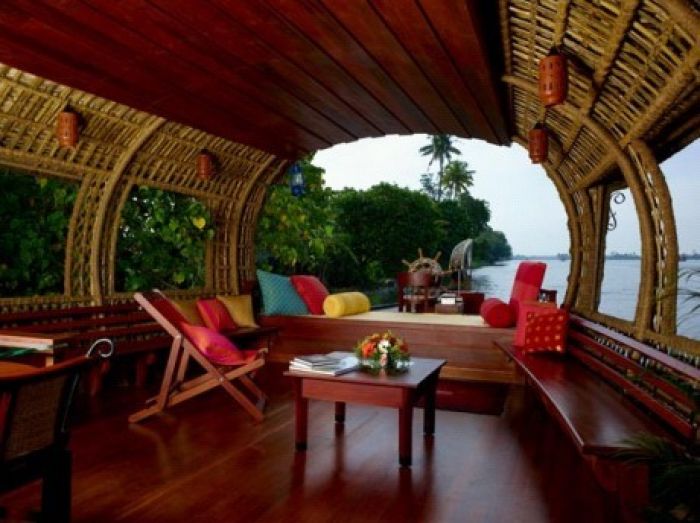 What comes to your mind when you think of Kerala? Do you think of Lakes, canals, backwater, rivers or houseboats? You must be thinking that all these terms are inter-related. However, there is one close connection in all these terms, you cannot enjoy the beautiful backwaters, flowing rivers and dense vegetation of Kerala without a house boat.
Backwaters of Kerala are best explored in a houseboat with luxury services. It gives you a serene and a relaxing experience and you can explore the beauty in its best form.
Houseboats of Kerala are known as Kettuvallam. Exploration of backwaters is incomplete without Houseboats. Houseboats are thatched roofed boats, which gives a unique experience on a boat.
Popularity of houseboats
Today tourist visit Kerala with a view of Kerala House boat in their mind. Due to the extreme popularity of houseboats today eco-friendly houseboats are available. Now you can plan an adventurous trip and explore beauty of Kerala Backwaters.
Houseboats are hired from Alleppey, in Kerala. These houseboats slowly move all along the backwaters. You can see and experience the nature and greenery all around you. You can hire these boats for round the day and for overnight trips. However if you want to experience the beauty of Kerala, you must hire these houseboats for two nights.
You do not have to worry about your meals. You can get sumptuous meals inside the houseboats. Even the best Indian cuisine is available for you. The chefs at houseboats freshly catch fishes, prawns and other seafood items and prepare uniquely with a dash of Kerala flavour. Enjoy the backwaters of Kerala with local cuisine and chilled beer.
The best season to visit Kerala is from November to January. The weather is cool, dry, and best to be near backwaters. Many tourists visit backwaters during monsoons. This altogether is a different experience, unique amalgamation of flowing river and heavy downpour.
There are different varieties of houseboats of Kumarakom or Kerala houseboats, which are known all over the world.
Canoe trip
There are many localities, which can take you on a small trip in a traditional canoe, which is propelled by bamboo pole. You can visit small villages and experience the traditional life.
Kerala Houseboats are special boats for honeymooners, travellers and those who wants to completely explore the backwaters.
Often people, who want to experience hustle and bustle of local Kerala, explore on a local ferry. These are advised for travelers who are looking for budget tour to Kerala as well as adventure tour.
Kumarakom is yet another beautiful landscape. It is nestled with lush green paddy fields and backwaters. You explore coconut palms, rich flora and banks of backwater in the Kumarakom . Here you also get houseboat cruise where you can see the actual life in Kerala. These are more like luxury floating castles. If you are looking for a comfortable holiday with luxury and backwater experience, you must explore the Kumarakom Houseboats.
Kerala backwaters are a memorable experience. To make this experience live long in your senses, you must explore backwaters on a houseboat. There are numerous houseboats categorized according to your pocket. Explore this incredible backwater experience and delve into the nature, which was never so close to you.