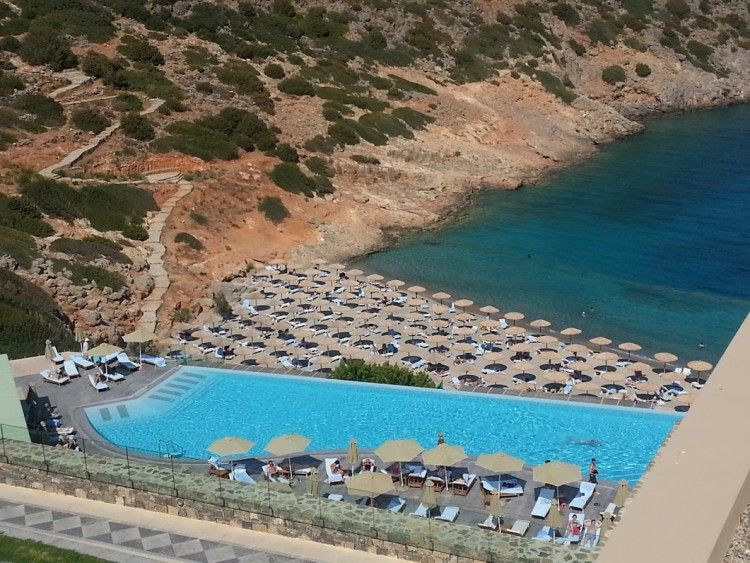 Nestling in a small corner Crete, the largest of the Cretan islands is what is unofficially referred to as the Greek Riviera, a craggy unassuming stretch of rock that on first inspection seems nothing short of distinctly average. This special length of coast is anything but however, proudly housing some of Greek finest hotels and resorts, this is the secret playground of the rich and famous, an understated yet highly fashionable location tucked away in a corner of the Mediterranean.
If you're not convinced then you might be by the not-so-new revelation that Jennifer Aniston reputedly held her wedding in The Elounda Palace, a Greek Riviera hotel. If that's not endorsement enough, well... You're probably not too entwined in celebrity culture, but movie stars or not the Greek Riviera is seriously luxurious, and you needn't be a celeb to be able to afford to stay here.
This part of Greece has plenty of hotels to choose from, but the finest is possibly the Daios Cove resort near Aghios Nikolaos. Built in 2010 This modern, luxurious hotel is built on a cliff face in a secluded cove, giving a private, exclusive feel. Featuring a multi-level design, Daios Cove is organised to make each individual part of the hotel feel as though it has a different personality, with the main bar, infinity pool, and beach all on different levels.
Accessibility
Daios Cove is around an hours transfer  away from Heraklion airport by coach, the journey is picturesque, as you wind through the Cretan hills will Terracotta coloured cliffs on one side and the deep blue alluring Aegean on the other. There is no doubt that Daois Cove is secluded, but that certainly doesn't mean it's isolated; if you want to spend the entire time not seeing another soul –aside from your fellow guests - then you won't need to . Similarly if you want to soak up the culture of the surrounding areas then towns are Elounda and Aghios Nikolaos are both charming and ideal for a stroll and a bite to eat – both are less than a half hour away by car.
Facilities
When it comes to all the facilities you'd expect from a luxury hotel, Daios Cove delivers over and above expectations. The pool is the centre piece of most hotels and it's even more special here, forming the second tier of this multi-layered property. Shielded from the level above but expertly overlooking the beach below Daios' infinity pool offers the ultimate in luxury and relaxation – combining privacy with a stunning view as the brilliant blue of the pool contrasts with the deep azure hue of the Aegean.
The Daios goes over and above the call of duty when it comes to Spa facilities, the entrance resembling a scene from Lord of the Rings with dangling illuminated purple vines creating a surreal yet inviting atmosphere. Inside is an indoor pool complete with loungers, Finnish sauna and Thai massage studio with expert staff on-hand to help you unwind, not that you should need any assistance with that when staying here.
Food
The culinary offering at Daios Cove is utterly exemplary considering the size and secluded location of the resort, which boasts no less than four restaurants and three bars, offering a wide array of different types of cuisine. Each eatery and bar has its own unique atmosphere and style, meaning you'll never get bored and can enjoy a different dish every night.
The Ocean restaurant is arguably the jewel in the crown here, located indoors overlooking the entire resort, this serves up a la carte cuisine specialising in Italian classics. Enjoy authentic Greek treats at The Taverna and Varka, buffet theme nights at Pangea and drinks at the Ocean Bar, Crystal Box Bar and the Beach Bar.
Service
There's not a great deal to say about the service at Daios Cove other than it's unlike anything you've ever experienced before. Staff go out of their way to make you feel welcome and will fulfil any special requests without hesitation. Want crushed ice instead of cubed with your Daquiri? Just ask. The thing that summed up the service for me was the fact that when I asked one of the bar staff the way to the lavatory, he physically walked me there rather than just pointing. Refreshing and utterly faultless.
Attractions
In all honesty, the Daios itself is an amazing enough spectacle to behold, and if you're staying here then you'll have absolutely no gripes with staying in the hotel for a week or more. If you do want to get out and explore then the aforementioned town of Elounda has some quaint taverns and bars arranged around the small harbour. The main attraction in this part of the world however is the island of Spinalonga, a former leper colony made famous Victoria Hislop's novel The Island.
Joe is a luxury travel expert specialising in luxury holidays in Greece and cannot recommend the Daios Cove resort enough.
Daios Villas
Spinalonga Island