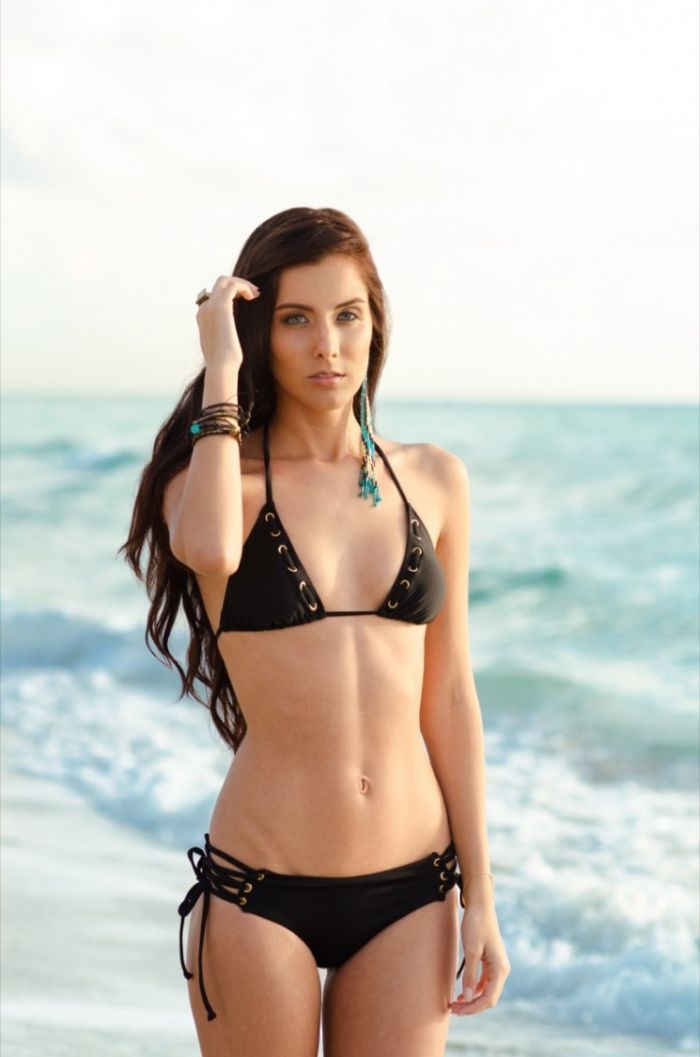 Fortune 421
Fortunately, summer is around the corner. Equally auspicious is Fortune 421's latest swimwear collection for this year. We sat down for with Cristina Alanis, designer for Fortune 421, a national fashion and music based company, to chat about the 2013 looks hitting the beaches, grottos and sun decks throughout Southern California.

Where did you get your background in fashion design?

Growing up I was always drawn to fashion. I started sewing handbags and making jewelry in middle school from scratch, then segwayed into sewing shirts and dresses. I never formally went to school to learn how to design and sew, it just came naturally to me. The skills I developed when I was young helped me tremendously when it came time to pick out fabrics and draw out my design ideas on paper models. The 2012 collection was my first time designing swimwear and luckily we found the most amazing pattern and sample makers to bring them all to life. Working closely with them was a great learning experience which then helped me design this new collection with more of the production process in mind.

This is Fortune 421's 2nd collection in swimwear. How is last year's look distinct from the 2013 collection?

The 2012 collection was made up of 4 basic cuts; bandeau and triangle tops with brazilian and moderate bottoms. Now that we've gotten a better understanding of what our girl is looking for, our new styles incorporate elements from our best selling cuts and colors. Our first collection also included a few prints where as this year's collection is made up of solids which can be mixed and matched with those previous styles. Both collections are timeless and classic but we went with more of a clean and glamorous look this new collection with the addition of gold trim pieces with our branding.

Places from around the globe, from Thailand to Playa del Carmen, inspired this year's look. Why the global emphasis?
Traveling has always been a big part of our lifestyle. Exploring new locations around the world is an amazing experience that we embrace and draw inspiration from. It opens up the imagination and serves as a reference point for colors, fabrics and even styles when it comes time to design. Another big reason for our global emphasis is because we strive to be a global brand one day and would love to see our swimwear on beaches all around the world!

The suits, along with all of Fortune 421's clothing, are made in San Diego and Los Angeles. How is this important to the Fortune 421 brand? We think it's important to keep as much of our production as possible here in our home state of California. A lot of factories got hit hard with the tough economy and some even shut down. But there are still some great production houses in LA if you search for them. If we can be a small part of building the industry back up with our orders then we feel that we are doing our part to help!

What's next for the brand?
We are excited for this coming summer season as we have some great events planned to expose this new collection. We will be hosting our annual Memorial Day, 4th of July and Labor Day pool parties at the Andaz Hotel San Diego as well as our Elevation fashion show in mid August. Beyond that we're going to start designing our 2014 collection and are aiming to show it at the Swim Collective trade show early next year to gain some new accounts.
For more info visit: www.fortune421swimwear.com
Fortune 421
Fortune 421