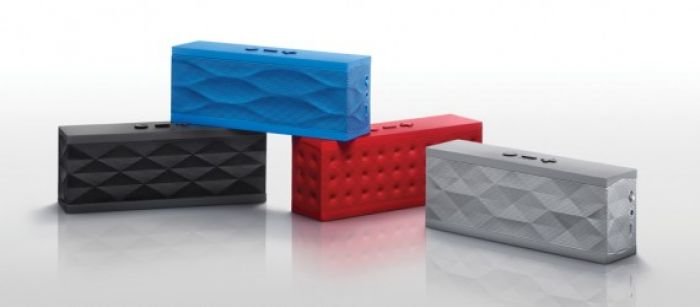 Jawbone
Jawbone has recently introduced a new wireless speaker and speakerphone known as Jambox, which is ideal for lounging around the pool this summer or simply listening to your favorite tracks from your iPod in the living room. We love the sleek look and compact design that is so small it can fit in the palm of your hand making it easy to travel with or simply bring from room to room.
Crank up the tunes and you will be surprised how much bass this little speaker actually projects, not to mention its high quality audio. What makes this speaker so unique is that it features an "intelligent and updateable" speaker system that is always up to date with apps, and seems to get smarter each time you turn it on with it constant downloadable software updates.
You can also stream wireless audio from any Bluetooth device so the speaker can be used with any compatible phone, mp3 player, tablet or laptop. The speaker can also be listened within 33 feet of wireless range.
We were skeptical that this small device would truly be able to truly pack in the sound, quality and volume that it claimed to until we turned it on. This portable unit actually did deliver just what it said it would with clarity and volume.
The retail price is $199. For more information, visit http://jawbone.com/speakers/jambox/overview.