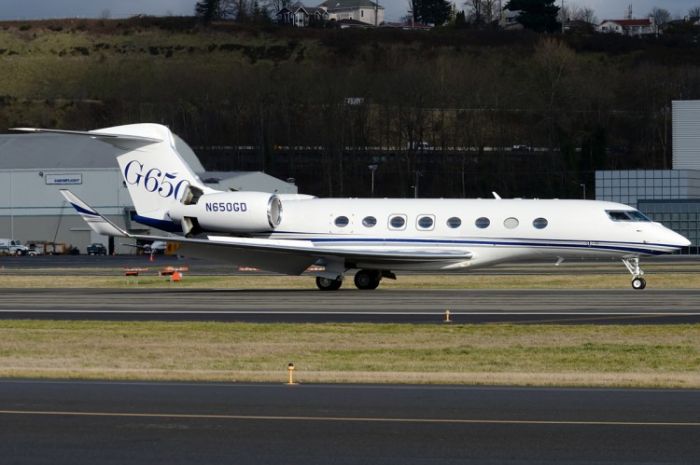 flickr.com
Have you ever wanted to own a private jet? If so, you will then be in the company of many other famous and wealthy people. However, aside from the pricetag, owning a jet comes with a lot of other 'baggage.' Paying for maintenance, upkeep, storage, personnel and a host of other expenses can even make the uber give pause.
Even so, for some (and perhaps one day for you as well) owning a jet outright is the only way to fly. Below are five of the more common private jets and those that own them.
Gulfstream 650
A new jet offered by Gulfstream is catching lots of attention. Oprah, media mogul David Geffen, and Ralph Lauren are interested in this plane. Some of the amenities include extra tall windows and a night vision pilot display for safer landings. But that is just a small part of the sophisticated avionics this high performance jet comes with. It seats up to 18 but has a typical passenger payload of eight. It has a range of around7000 miles and can get you there at .85 mach or 704 mph. This means the ultra rich can hop on in New York and not touch ground until Dubai. This jet is so impressive there's even a pop song about it. What's more impressive is the price tag. It can be yours for a mere $65 million.
Bombardier Global 6000
Oprah and Bill Gates both own a global 6000. This jet has a private stateroom in the rear of the plane and a central height of 6.5 inches. This jet has the size of a regional airliner, seats up to 19 and tops out at 590 mph. It has an endurance of 13 hours, enough for a flight from Los Angeles to London.
Embraer Legacy 650
This is the jet owned by Jackie Chan. It can fly nonstop from London to New York, or about 4,400 miles. It seats up to 14 of his friends and reaches a top speed of 609 mph. This jet includes a galley, Iridium satellite phone, 32 in HD LCD video monitor and iPod/iPhone docking systems.
Bombadier Challenger 850
Beyonce is reported to have given her husband Jay-Z one of these as a gift. This plane seats up to 14 and has a range of 3,200 miles. It tops out at 525 mph. It includes a galley and front and rear lavatories. It also comes with in-flight mapping systems along with audio and video.
Gulfstream IV
This is the plane of choice for Tom Cruise. It can carry up to eight passengers and has a range of 4,300 miles. In other words, it can easily reach Paris from the midwest. It can get you where you want to go fast, as its cruise speed is Mach .80. It can depart from Denver and touch down in Honolulu in just over seven hours.
These are just a few of the many private or business jets cruising the friendly skies on any given day. If you want to see the swanky interiors enjoyed by those that use these jets, simply go to YouTube and type in the name of a jet. But beware, once you see how others get around you will likely despise commercial air travel all the more.
Alan Carr is an avid aviation aficionado learning about the aspects of the flying world from the business to the technical, while also frequently writing on what he finds. He currently works with globalair.com to provide resources on aircraft related information.
commons.wikimedia.org
Bombardier Global 6000
commons.wikimedia.org
Embraer Legacy 650