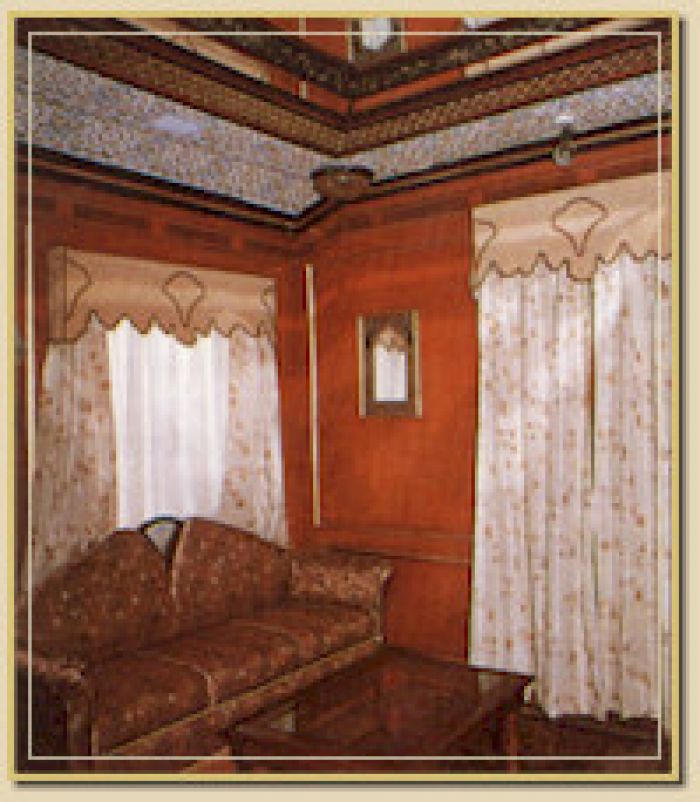 Photo by Palace on Wheels.
Luxury Adventures: The Palace on Wheels tour is an opportunity to experience India royally on a weeklong rail adventure where all guests are treated like maharajas. The trip begins in New Delhi with a ceremonious departure from theDelhi Cantonment station and returns a week later.
Jaipur, which is called the Pink City, is the first stop of the journey. The tour of the city starts at Hawa Mahal (Palace of Winds), which is a five-story building in the center of the Jaipur. It is perfect for taking in the area's ambience.
Amber Fort offers up a curious coupling of divergent activities: elephant riding and luxury shopping. Travelers also tour the City Palace and the Jantar Mantar, which is an observatory that took eight years to construct. It was completed in 1734. This observatoryconsists of 14 geometric devices that were used for measuring time, predicting eclipses, tracking stars in orbits, ascertaining the declinations of planets, and determining celestial altitudes. The same things we do now on a cell phone with Bluetooth.
Each day takes vacationers to a new city of India. The third day's stop is in Jaisalmer, which was founded in 1156 A.D. It is filled with numerous palatial mansions that are over 800 years ago. Jodhpur is next on the list. A stop at the city of Sawai Madhopur includes a visit to Ranthambhor National Park, which is located in the ruins of a fort from the 10thcentury. It is a wildlife sanctuary renowned for offering visitors the opportunity to observe tigers and other animals in their natural habitat. It. In-depth tours of Chittaurgarh, Udaipur, Bharatpur, and Agra follow.
The fabled Taj Mahal is in Agra, and Bharatpur is the location a world-famous sanctuary, theKeoladeo Ghana National Park. It is the nesting grounds ofthousands of egrets, Siberian cranes, migratory waterfowl, and other rare species of exotic birds.
The tour's train has 14 coaches that offer 14 luxury suites with two twin beds. A third bed can be added. There are two onboard restaurants that offerChinese, Indian, Rajasthani, and continental cuisines. There also is a lavish lounge and bar area to gather and mingle. Obviously, seeing India is the focus of the Palace on Wheels tour, but the train itself is a tour de force that truly enriches the experience.
Additional Palace on Wheel tours are planned, as reported by ZeeNews.com, as India's popularity with luxury travelers is rapidly increasing. Planning ahead is advised. But don't be surprised if there is a waiting list anyway.