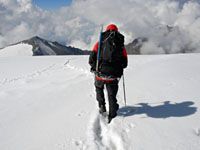 Here are some wild and wholly adventurous suggestions for lovers of adrenaline-charging activities by land, sea, and air. It is for those times when the call of the wild beckons, urges, perhaps even pleads, for a mega-dramatic 180-degree turn from the daily grind of the mundane routine. This is how you do it!
While quadrupling the health insurance coverage before embarking on any of these pursuits is not required, it may be a good idea to fully understand how much coverage you have. No joke. Calluses, cuts, bruises, or more could happen.
These escapades are for those whose luxury lifestyle takes on a wilder or a rougher path than traveled by most.
Alpine Ascents International
Alpine Ascents International offers extremely adventurous vacations for those seeking an outing that is a challenging proposition. There is definitely a lot of physical activity included. The company takes folk on mountain climbing adventures of various lengths. This is an opportunity to go scale the Himalayas, the Matterhorn of Switzerland, the Denali of Alaska, or all three and more. Forty of the world's most renowned and accomplished mountain climbers are tour guides for Alpine Ascents.
Some trips are not intended or recommended for new climbers. However, there are various trekking tours that are physically demanding but do not require technical-climbing expertise, such as the Trekking in Ladakh journey and the Cultural Tour of India. There also is a 13-day Alpine mountaineering course available to teach climbers prerequisite skills for the advanced-level expeditions. AAI also has three schools of mountain climbing that are located in the North Cascades of Washington, Talkeetna, Alaska, and Patagonia, Chile. The on-the-mountain-training courses are a great way to learn and to experience an expedition safely. Classes of six, eight, and 12 days are offered.
Zero Gravity
The Zero Gravity Corporation provides a day to thrill seekers searching for something original.Passengers who book a flight on the G-Force One get to experience the feeling of weightlessness or zero gravity. Yes, it is simulated, but the experience itself is very real. NASA utilizes the same simulation techniques to acclimate its pilots to zero gravity. This is an opportunity to find out what it feels like to float like an astronaut in a space capsule. Adequate training on procedures, what to expect, and how to handle weightlessness are provided before takeoff to passengers.
The G-Force One is a specially modified Boeing 727 that is used by Zero Gravity. The process to induce a zero gravity state is called a parabolic flight. The pilots put the aircraft on a 10-mile course that is comparable to a roller-coaster ride's quick ups and downs at an altitude between 24,000 to 34,000 feet. This flight pattern induces the feeling of weightlessness. Many who have flown GF-One claim that it is akin to the feeling of freefalling from an airplane in a controlled environment. The process begins at one-third weightlessness or Martian-G parabolas, as the objective is to take passengers gradually toward zero gravity. If it is done rapidly, it could prompt motion sickness. The aircraft has a seating zone and a 60-feet long "floating" zone. From start to finish, the zero gravity is sustained for 60 seconds, and a standard flight involves 15 occurrences of zero gravity.
Sports Adventures
Inside of most men, there is a little boy lurking who dreams of being a superstar sports hero. Age is of no relevance here. If given the chance, he knows that he could hit the bottom-of-the-ninth-inning homerun; or smote the puck past the goaltender and score. Sports Adventures makes those fantasies reality its fantasy sports-camp vacations.
An example is the Superstars of Hockey Fantasy Camp, which is held at the Las Vegas Ice Center. NHL Hall of Fame attendees include Bobby Hull, Larry Robinson, Billy Smith, Brad Park, Gerry Cheevers, Bernie Ferderko, Dale Hawerchuk, and more. Games are played against professional players, including practice sessions. Teams are drafted and a tournament is played out. All players receive two personalized hockey jerseys, team photographs, and a video. There also is an opening- and a closing-night reception that includes an autograph-and-cigar party. Campers can either play two rounds of golf with the pros or opt for more ice time. Since these jocks are hockey players off the ice, teeing up with them could be a real opportunity to kick some professional-athlete butts.
The 2008 Minnesota Twins All Star Baseball Fantasy Camp is another package by Sports Adventures.
The California Academy of Tauromaquia
The California Academy of Tauromaquia teaches the art of bullfighting. Classes are taught in San Diego, Mexico, and Spain. Since safety is a requisite of such a challenging curriculum, pupils spend substantive time in a classroom before they are matched against a bull. The instructors of the course are either experienced matadors or extremely skilled aficionado practicos of bullfighting. Before that first face-to-face encounter with the wild livestock occurs, students view videos and learn as much as possible about bulls and their fiery demeanors. At the end of the course, enrollees experience tientas, which means they face a live bull.
Much like delving into martial arts, this is a mind-set. Learning how to duel with bulls requires equal amounts of mental discipline and physical ability. The course is taught in weekly and three-day intensive sessions. It also is available on a long-term or an ongoing basis. The California Academy of Tauromaquia instills a sense of camaraderie into all of its students, as it offers assistance in arranging study groups to promote long-term training and commitment to the art.
Shark Divers
Mega Outdoors Adventures offers an extraordinarily stimulating vacation alternative that is truly a stand-alone experience of unforgettable magnitude. Metaphorically, we encounter so many "land-sharks" in everyday affairs that the term has become an intricate part of our vernacular. Shark Diver® offers the real experience and guarantees it to be much safer than encounters with those "land-sharks." This is an opportunity to experience a great white shark-up close and personal-in its own habitat. Although it is much more than a docile tour of Sea World®, it is very safe by comparison to other adrenaline-surging vacations.
A private jet whisks patrons to Isla de Guadalupe, Mexico, where a 120-feet length yacht is moored for boarding. Albeit cage diving with great white sharks obviously is the delineated event of this affair, there is a lot more to this jaunt than this singular activity. Hike up one of Guadalupe's mountain peaks or traipse along the beach and mingle with elephant seals and fur seals. Free dive with rare whales or chase after a school of big-game tuna. See volcanic islands with 1,600-feet peaks, or just relax in the expansively luxurious cabin of the yacht and watch satellite TV.