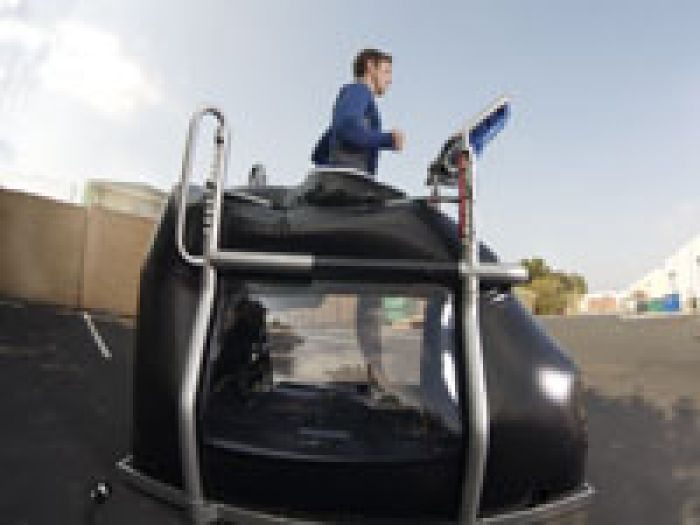 Photo courtesy of Alter-G
Health & Fitness: Here is an exercise machine that is deluxe, purposeful, futuristic, and, perhaps, even miraculous in regard to its potential in benefiting mankind. It is a lofty assertion to proffer on an exercise apparatus in the age of myriad 30-minute TV infomercials for health products that guarantee a whole new you or your money back less shipping and handling. This time it is for real. It was designed by NASA and backed by the FDA, renowned medical professionals, and numerous professional sports teams. The proverbial horse of the different color is the anti-gravity G-Trainer treadmill by Alter-G.
Lars Barfod, CEO of Alter-G, conveyed, "We are rapidly changing the way effective rehabilitation is done for a broad spectrum of medical conditions. We've created a disruptive technology that allows clinicians to prescribe 'un-weighting' exercise to more of their patients faced with lower extremity pain, soft tissue healing constraints or mobility limitations. We believe the G-Trainer can revolutionize rehabilitative exercise in recovering from stroke, weight reduction in the obese, rehab after lower extremity fracture or joint replacement, and arthritis treatment, to name only a few."
The G-Trainer, which is FDA-approved for medical and therapeutic purposes, utilizes air pressure to reduce impact and stress on lower extremities, specifically hips, knees, ankles, and feet. It works wonders for individuals rehabbing or recovering from an injury without risk of worsening their condition. It also is ideal for people looking to ease into exercising at a gradual rate. A user wears a pair of neoprene shorts akin to a wetsuit that creates an airtight seal from the waist down. The amount of pressure is set on an easy to use touch screen. The G-Trainer has users feel like they are running on air - and loving every moment of it.
The G-Trainer is making a significant impact on professional athletes and the sports world too. Los Angeles Lakers' center Andrew Bynum has used the space-age treadmill to recoverfrom a dislocated kneecap. Dathan Ritzenhein, a member of the U.S. Olympic Marathon teamand a Nike Professional Runner credits the G-Trainer for enabling him to qualify for the Olympic Marathon team.
"Without the G-Trainer I would not have been able to qualify for the Olympic Marathon team or win the USA cross country championships. I have trained right through a couple of season-ending injuries and come back even stronger than before," said Ritzenhein.
Major League Baseball's Arizona Diamondbacks has one at its spring-training quarters to assist players rehabbing from injury and to improve upon cardiovascular conditioning. Professional sports organizations using it include teams from the NBA, the NFL, the MSL, Major League Baseball, and major universities.
It is likely that many more teams will follow suit, as many G-Trainer users are claiming that their recovery time is shortened. It is being used to supplement traditional rehabilitation methods, such as aqua jogging, cycling, or exercising on an elliptical trainer. For example, the Lakers' Andrew Bynum began his rehab with aqua jogging and is now running on 60 to 70 percent of his true body weight. Bynum weighs 285 pounds. Four hundred pounds is the machine's weight capacity. The only systemic flaw attributed to the treadmill is that due to seal from the waist down, a runner's natural arm position is slightly altered outwardly.
The G-Trainer is FDA-approved for aerobic conditioning, weight control, gait training for neurological patients, and strengthening for elderly. Medical experts view its potential with great optimism. It is being used at Walter Reed Army Medical Center, the Palo Alto VA Hospital, Optimal Results Physical Therapy, and the Athletes' Performance Inc. Dr. Susan Lewis, orthopedic surgeon at Saint. Francis Memorial Hospital Center for Sports Medicine, commented, "I believe the G-Trainer will positively improve how rehabilitation is approached for a broad spectrum of injuries. At Saint Francis we want to offer the latest technological advances to benefit our patients, and the G-Trainer offers faster recovery by being able to adjust the rehabilitation program gradually as the patient improves."
Dr. Amol Saxena, a podiatric surgeon at the Palo Alto Medical Foundation who is internationally known for research on chronic ankle pain, Achilles and peroneal tendons, stress fractures, midfoot injuries, and arthritis of the first metatarsal phalangeal joint, succinctly said, "I believe the G-Trainer will become the standard in rehabilitation and training."
As I did my own "hamster on a wheel routine" on an average treadmill at the Brandywine YMCA today, I couldn't help wondering what it would feel like if my legs felt as if they were carrying only half my weight. Savvy health clubs catering to serious clients need to be on this one to stay vogue. I am scheduled to check one out at the Baltimore Ravens' training facility. That will, indeed, be a special day for me! Admittedly, the $75,000 price tag was the first thing that piqued our editor's curiosity. I mean, after all, we are JustLuxe. But when you consider the improvement in quality of life this exercise machine is capable of delivering on so many levels, the G-Trainer would be a bargain at any price.